Ezra Miller on 'Flash' Movie: 'We Have to Trust'
Ezra Miller is asking fans to have faith in DC films. Speaking with Playboy, the actor said, "We have to trust," when asked about the production status of The Flash.
"Nothing is ever certain in this world, but as certain as things get, we're making a f-cking crazy-dope Flash movie," Miller told Playboy. "It's one of my great life dreams, and just the fact that we're on the way—anyone who knows about Barry Allen knows he may arrive late, very late, but once he gets there, it's all solved."
Miller was cast as the titular hero, Barry Allen a.k.a. The Flash, back in 2016. The character has only appeared in Justice League (after a brief cameo in Batman v Superman: Dawn of Justice and Suicide Squad). The Flash release date has been pushed back many times due to production delays, and Miller's obligations with J.K. Rowling's Fantastic Beasts and Where to Find Them franchise have caused scheduling conflicts.
The film was once titled Flashpoint , but it's unclear if the classic, titular comic book storyline from 2011 is still the focus of the film. " What fans understand when they hear 'Flashpoint' would be almost like hearing a word like 'crisis,'" Miller told EW in July 2017. "We start to understand that our precious DC universe will inevitably be torn asunder to an endless, headache-inducing fabric of multiversality. The DC Hyper-Extended Multiverse, as I plan to call it. Quote me!"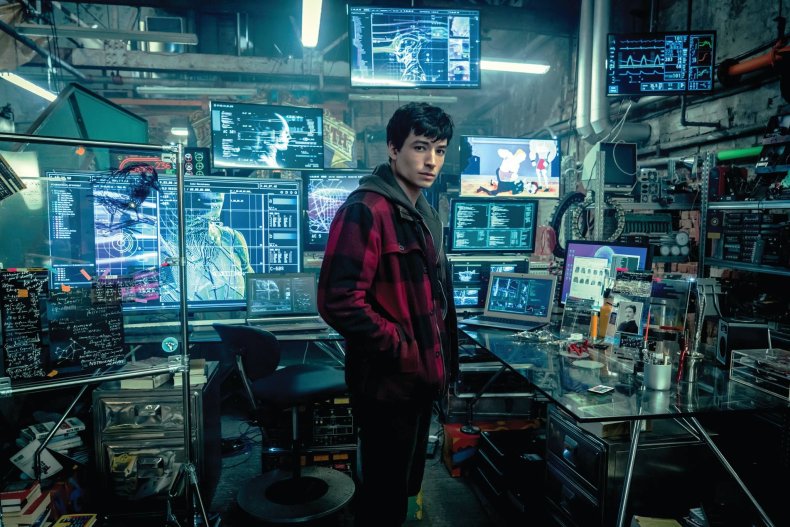 Jonathan Goldstein and John Francis Daley are confirmed to direct Joby Harold's screenplay. The pair were screenwriters for Sony's Spider-Man: Homecoming. Kiersey Clemons is set to play Iris West, and Billy Crudup is cast as Barry Allen's father. Seth Grahame-Smith of LEGO Batman was the original director of the film. He stepped down, eventually replaced by Dope director Rick Famuyiwa. He also stepped down. Creative changes kept pushing back the release date, and it's hard to see the film arriving before 2021.
Regarding rumors Justice League co-stars Ben Affleck is stepping out from his role as Batman and Henry Cavill stepping down as Superman, Miller suggested the reports have no truth.
"When there are these leaks of information—or however people get stuff—it's pretty unreliable," he said.
The next DC film to release is Aquaman on Dec. 21, followed by Shazam! On April 5, 2019, Joker on Oct. 4, 2019, Birds of Prey on Feb. 7, 2020 and Wonder Woman 1984 on June 5, 2020.