'The Flash' Season 6 Ending Explained: What Happened at the End of the CW Show?
The CW aired The Flash Season 6 finale on Tuesday, May 12, after the show had to finish early due to a production shutdown. Season 6, Episode 19, titled "Success is Assured," may not have been the finale the show was planning, but it did leave fans with some big cliffhangers for the next season. By the end of the episode, which is streaming now on The CW website and app, Eva McCulloch (played by Efrat Dor) has emerged as the show's "big bad," Joseph Carver (Eric Nenninger) has died and Iris (Candice Patton) seems to have escaped the Mirrorverse.
What happened at the end of The Flash Season 6?
WARNING: This article contains spoilers for The Flash Season 6, Episode 19
Before all of that happens, however, Team Flash has to find Black Hole, which they think is the best way of dealing with Eva. Luckily, they have the diamond that Sue Dearbon (Natalie Dreyfuss) stole, which contains a map to one of Black Hole's warehouses. However, Mirror-Singh (Patrick Sabongui) burns it down before they can glean too much information.
Eva and Mirror Singh are after Carver, who thinks he is safe because his Black Hole minions will protect him. However, after Ultraviolet (Alexa Barajas), Dr. Light (Emmie Nagata) and Sunshine (Natalie Sharp) get kidnapped by Eva, his position looks more precarious.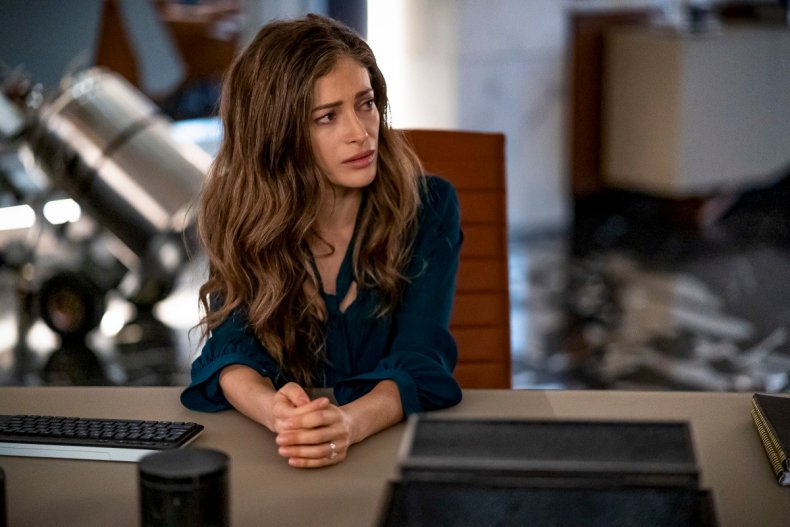 With Carver vulnerable, Mirror-Singh offers Barry Allen (Grant Gustin) a trade: Iris can be freed from the Mirrorverse in return for Carver's life. The Flash seriously considers this offer, but is teleported back to S.T.A.R. Labs by Nash Wells (Tom Cavanagh) before he can accept the conditions.
Team Flash takes Carver to a panic room at McCulloch Technologies, which has a force field that will atomize anyone who tries to break in. However, this force field is thwarted when the power goes out, leading Eva to send Carver's former minions after him. They have switched allegiances after their brief time in the Mirrorverse and are now willing to kill their former master.
It is Eva, however, who kills her husband in The Flash Season 6 finale. Her suit allows her to turn one of her arms into a cannon, which she uses to fire at Barry, before she begins firing mirror shards at Carver. Barry blocks her way, but she simply puts a shard straight through Barry and kills Carver. With her husband dead, Eva lets Team Flash go for now.
The Flash Season 6, Episode 19 then put to Eva's CCPD press conferences, where she frames Sue for her husband's death and says she is taking over McCulloch Technologies.
By the end of the finale, Eva is now a serious threat, and she may have a secret weapon that will yet again test Barry's loyalties. In the final scene of the episodes, we see Iris in the Mirrorverse. She finds out where Singh is, but as soon as she has done that she disappears. Though we do not find out where she has gone, it is assumed that Eva might have taken her as part of her plan. However, fans will have to wait until the release of The Flash Season 7 before they find out exactly what is happening.
The Flash Season 6, Episode 19 is streaming now on The CW website and app.