'The Flash': The CW Show Confirms Godspeed as Villain for Season 7
The Flash (played by Grant Gustin) has had to face off against some iconic DC Comics villains, from Reverse Flash (Tom Cavanagh) to Savitar (also Gustin) and two versions of Mirror Master (Grey Damon/Efrat Dor). Despite some close run-ins, however, Barry Allen has never faced off against the real August Heart, aka Godspeed.
That is, until the upcoming Season 7 of The Flash, coming to The CW in January 2021. Across Season 6, Team Flash has encountered a number of "broken modem" Godspeed, droid replicas that can only communicate using a sort of screeching digital sound, and are searching for the secret behind infinite speed for their master.
The character has also been seen in Season 5 episode "Godspeed," where Nora (Jessica Parker Kennedy) faced him in a 2049 flash-forward. However, the main Team Flash have not yet faced him in present day.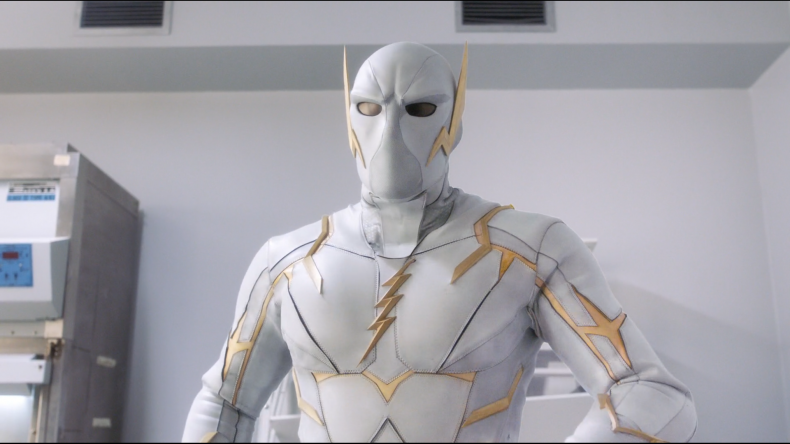 However, the show's showrunner confirmed to TVLine that the real version of Barry's fellow superspeeder is one of the villains in the next set of episodes.
Asked whether fans would see the real Godspeed in The Flash Season 7, Eric Wallace said: "Yes, you just might...Because that's where we're going!"
In the comics, Godspeed is August Heart, a police force buddy of Barry. However, when Heart's brother is murdered by a man who gets away with the crime, he gains super-speed powers and uses them to become a vigilante. He is identified by his white and gold speed suit, as seen on the numerous drones throughout Season 6.
The CW version of the character seen in Season 5, however, was slightly different. Then, he was identified as a former Mercury Labs intern who was trying to make an everlasting version of the speed drug Velocity 9. In his episode, he was played by Kindall Charters as August with BD Wong providing the voice of Godspeed, but it has not been revealed if the role will be recast.
Though it seems as if Barry and Team Flash will face Godspeed in the delayed Season 7, the group first have another villain to deal with. The show is expected to begin with the three episodes which did not air from Season 6 after production shut down due to the coronavirus, meaning Barry and co will first have to deal with Mirror Master.
This is confirmed in the CW summary for Season 7, which reads in part: "After a thrilling cliffhanger which saw the new Mirror Master victorious and still-at-large in Central City, The Flash must regroup in order to stop her and find a way to make contact with his missing wife, Iris. With help from the rest of Team Flash...Flash will ultimately defeat Mirror Master. But in doing so, he'll also unleash an even more powerful and devastating threat on Central City: one that threatens to tear his team—and his marriage—apart."
Whether that threat is Godspeed or another major villain alongside Barry's comic book nemesis, however, remains to be seen.
The Flash Season 7 is coming in January 2021 to The CW.