A Flat Tire Caused California's Deadly Carr Wildfire, Hundreds of Thousands of Acres Burned
Fire officials say that the root cause of California's catastrophic Carr wildfire was a flat tire.
On July 23, a trailer was driving through Redding, California when the tire gave out and the wheel's rim scraped against the asphalt igniting a spark that has since become the state's sixth-most destructive wildfire. The fire crept up the Highway 299, fueled by miles of dry brush. The cause of the fire, which has now been burning for almost two weeks, was first reported by CNN.
Six people have lost their lives in the Carr fire. Among those killed in the deadly incident include a firefighter, a bulldozer operator and three members of one family who were preparing to evacuate their home but could not get out in time.
One local resident, Ed Bledsoe, lost his wife and two great-grandchildren in the blaze, after efforts to evacuate their home had failed.
Firefighters are mourning the loss of Jeremy Stoke, who died battling the fire alongside the Redding Fire Department. The department said that Stoke left behind a wife, a 10-year-old daughter and a 14-year-old son.
The fire has burned over 134,000 acres of land in the California region and is about 41 percent contained, according to a recent Reuters report. So far the fire has destroyed over 1,500 homes, businesses and other buildings.The flames are so hot that they have created their own weather system.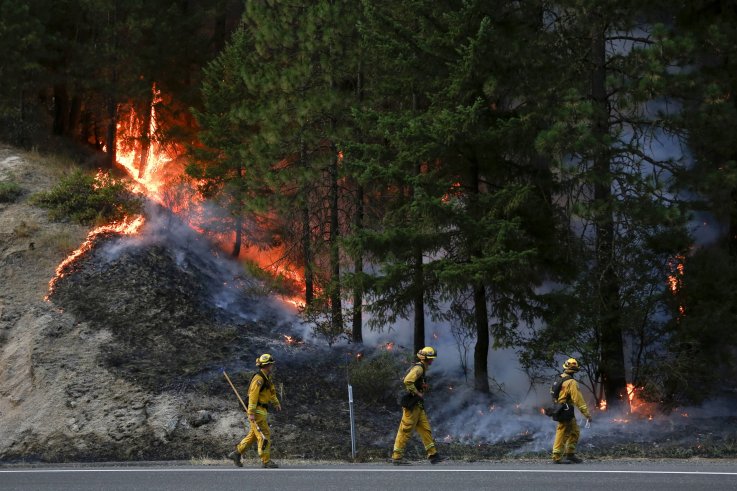 On July 26, winds were so strong that they created what experts are calling a "firenado" that uprooted trees and tore roofs of houses. Weather officials say that the intense heat caused the fire to form a tornado that pulled the fire in different directions.
Another wildfire about 100 miles south of Carr has now surpassed it in size. The Mendocino Complex Fire is now more than two-thirds the size of Los Angeles, at over 200,000 acres. It has forced about 16,000 residents to evacuate and destroyed over 100 buildings, Reuters reported.
The American Red Cross has said that it has hundreds of workers on the ground in California providing shelter, food and other necessities to area residents who were displaced from both fires.