Flat Tummy Co. Billboard in NYC Encourages Women to Suppress Appetites With Lollipops, Sparks Backlash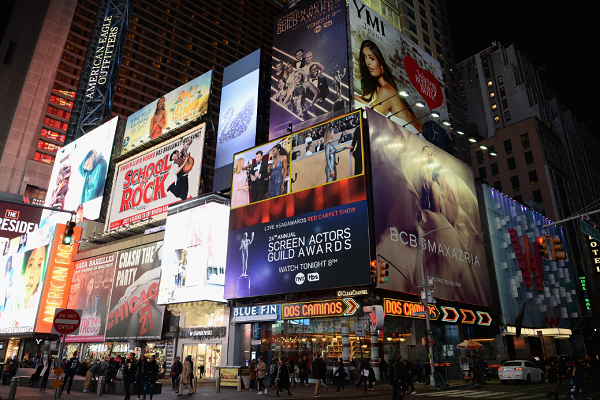 Women rallied against Flat Tummy Co. after the company put up a Times Square billboard encouraging women to suppress their appetites. The ad pictures a young woman enjoying two lollipops with the messaging, "Got Cravings?" and "Girl, Tell Them To #SUCKIT."
It's unclear when the ad was put up, but the backlash against the billboard first started after Random House social media editor Sophie Vershbow tweeted a photo of the advertisement on Monday. "Let's use our power for good by guilting @FlatTummyCo into taking down their Times Square billboard advertising appetite suppressants," she wrote.
Vershbow signed the tweet: "Love, A former-anorexic teenage girl."
The tweet went viral and had more than 2,300 likes as of Friday. A number of women responded to the tweet, similarly condemning Flat Tummy Co. for appetite-shaming and promoting a message that could be triggering to people who suffer from eating disorders.
Actress Jameela Jamil shared her frustration with the billboard on Tuesday, receiving more than 11,000 likes and 3,000 comments by Friday. "Even Times Square is telling women to eat less now? Have we actually gone mad? Why aren't there any boys in the ad? Why is it f**king pink? Because you feel men can look however they want? Their goals are to be successful. But ours are to just be smaller?" Jamil wrote on Twitter.
The lollipops, which feature an ingredient extracted from "natural plants," are supposed to help control food intake, cravings and weight, according to Flat Tummy Co.'s website. One to two of the lollipops a day is said to "have your hunger under control and cravings in-check" and will supposedly "help hold you over until your next meal."
This isn't the first time the lollipops have sparked an immediate backlash. Kim Kardashian, an ambassador for the company, deleted a May Instagram post that showed her sucking on a lollipop. Hundreds of her followers blasted her, saying she was advocating poor eating habits among women.
The company's mission statement claims the products, including its signature teas, are aimed to help customers "get that tummy flat."
"Whether you wanna cleanse your system, or go that extra step and move some of those stubborn lbs, we're here to get you to where you wanna be," the statement said.
Flat Tummy Co. did not respond to Newsweek's request for comment at the time of this article.