Flee or Die—Why Refugees are Flocking to Tijuana's Tent City
On the Tijuana side of the U.S.-Mexico border, about a five-minute walk from Trump's border wall, more than 2,000 people live in tents at the El Chaparral migrant encampment.
Some of the people have been waiting in the area for over five years. But a growing number of them are part of a surge in migration, in which Customs and Border Protection at the Southwest border encountered more than 100,000 people in February.
While Republican lawmakers, including Senators Ted Cruz and Mitch McConnell, have blamed the problem on President Biden, the surge began over a year ago, with a 20% average increase in crossings each month since April 2020, when Donald Trump was president.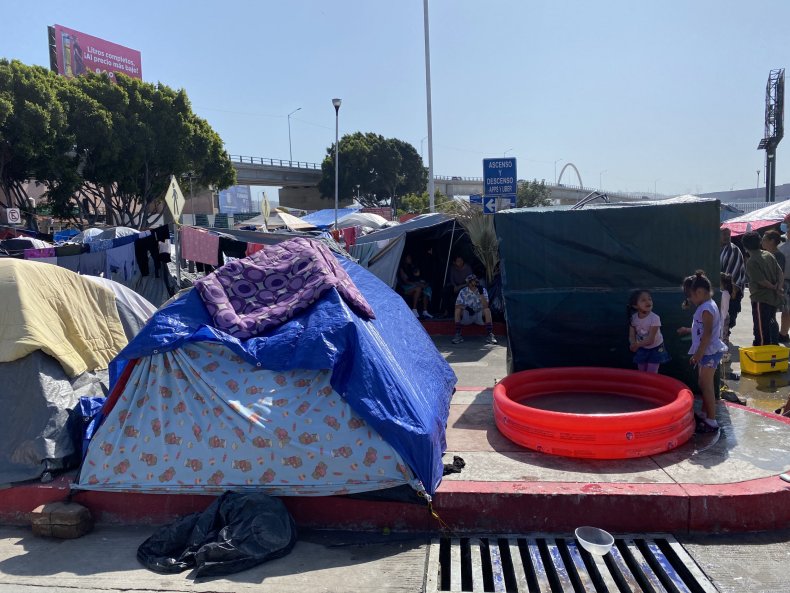 Gang violence, economic instability, corruption, and environmental devastation combine to make life unlivable for people in Central America, the Caribbean, and other developing nations. Newsweek gained access to the El Chaparral migrant encampment on the Tijuana side of the U.S. border near San Diego to hear the stories of those seeking refuge in the United States.
Accompanied by Mohammed, an African asylum seeker residing in Tijuana who provided translation services, Newsweek was asked to refrain from photographing people who were living in the camp, and to expect many individuals to provide pseudonyms rather than their legal names.
"These people are being persecuted and are in serious danger," Mohammed said during the walk from the San Ysidro crossing point to the encampment. "If you post their faces and names, they can be found easily."
Gang violence often came up as the primary reason for people seeking refuge, whether the individual was coming from Central America or Mexico.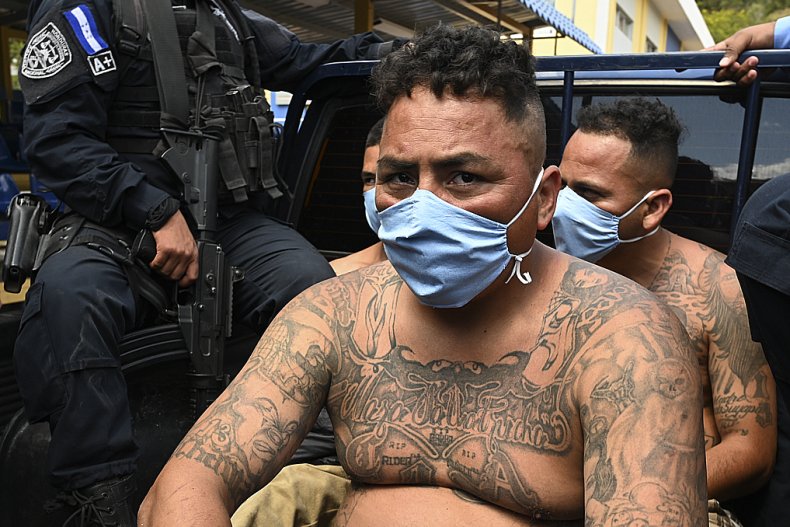 Camilla Hernandez arrived at the encampment from Michoacán, a Mexican state listed on the U.S. Department of State's "do not travel" list due to "widespread crime and violence." Unlike many others, she brought her whole family—a daughter, son, son-in-law, and three grandchildren—with her.
She told Newsweek she fled because they all faced death in their home province.
She said that last year, gang members broke into her house and killed one of her daughters. Six months ago, they killed another daughter. Thirteen days ago, they killed one of her sons. She said that for her and her family, the encampment is a much safer place than her estate in Michoacán.
"I'm not leaving anyone behind," she said. "If I do, they'll be killed. They don't care if they're children, adults, or a pregnant person. They just come and they kill whoever they find."
Hernandez says she and her family want to be "safe and work."
Another woman we spoke to was trying to escape domestic violence.
Sairi came to the encampment from Honduras after enduring brutal physical abuse at the hands of her husband. Fearing for her life, she left him and two daughters and fled for the United States. She told Newsweek that during her journey she was raped by Mexican cartel members, and she continues to face discrimination by Mexican citizens outside of the encampment.
With the recent influx of media to the encampment, Sairi's image ended up on the news back in Honduras. Her family members called her not long after saying her husband was on his way to find her.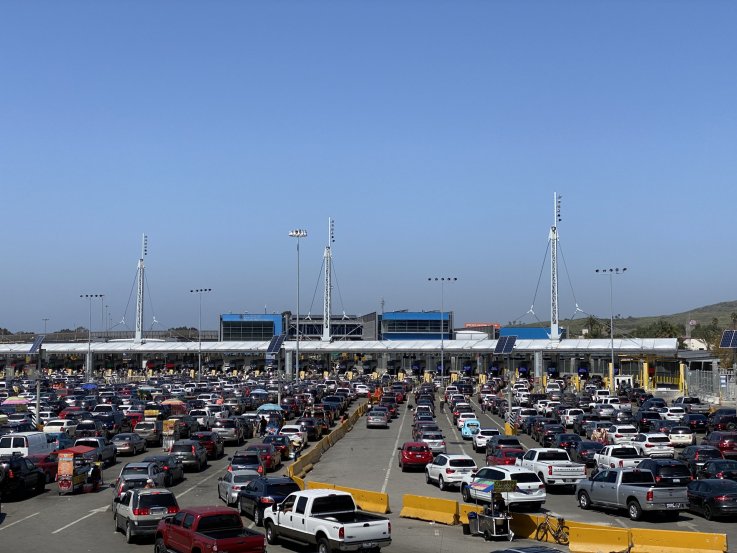 Cars line up on the Tijuana side of the border seeking entry to the U.S. at San Ysidro, near San Diego, on Tuesday, March 30, 2021.
Alex Rouhandeh
"I'm looking for safety in America," she said. "I'm not safe here or in my own country."
David, a man in his mid-20s, is seeking freedom to work, because in his native Honduras, the only jobs available were those that served gang interests.
Originally, David worked as farm hand, tending to crops, livestock and animals owned by a "powerful man" in his hometown, who had connections to both the ruling gang and the local police.
One day, the man told David that he had to help him move drugs from one location to another. David complied, but was afraid, and soon told the man he intended to quit. The man pulled out a gun, put it against David's temple, and told him he would either continue to move drugs or he would "end up in the ground."
David decided to flee.
"I'm looking for protection and safety in America," he said. "I never wanted to get involved in moving drugs. I'm an average person."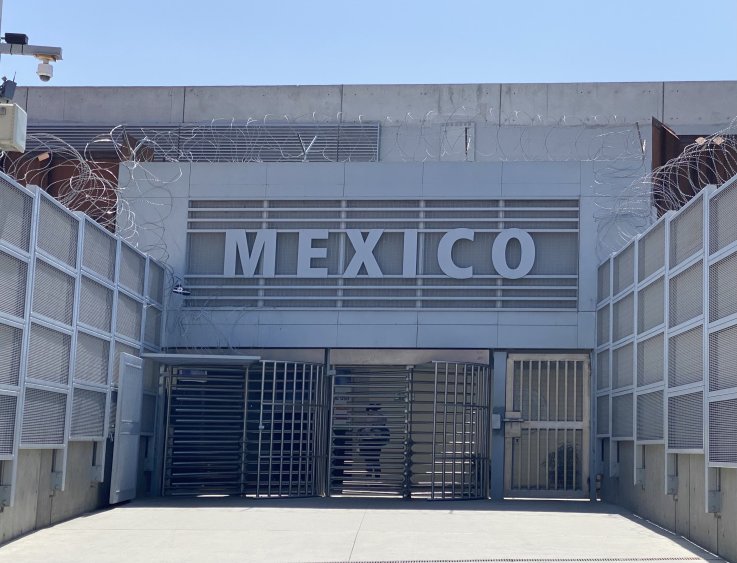 Border entrance to Tijuana, Mexico at San Ysidro, Mexico, near San Diego, on March 30, 2021.
Alex Rouhandeh
David's lack of freedom over his life highlights the power gangs hold over the communities in which they operate.
In an article previously published by Newsweek, Meghan López of the International Rescue Committee called the gangs of Central America "non-state armed actors," a term she said better describes the control these groups possess over people.
Rejecting the gangs like David did carries the penalty of death. However, some do not even have the choice to abide by the gang's wishes, even if they wanted to comply.
LGBTQ+ individuals in El Salvador face violence from both police and gangs, according to Georgetown's Law Human Rights Institute.
Anna Vilma's underage son identifies as gay. She decided to flee the country with him after the gang discovered his sexual orientation, proceeded to bully him, and attempted to take his life. Her daughter also became a target and was nearly raped by members of the gang.
Vilma left for the encampment with these two children, leaving her other son behind with her parents. She told Newsweek that although they have suffered discrimination in Mexico, she and her family are safer there than they were at home. She hopes to find a better life for her children in America.
According to the United Nation's 1967 Protocol Relating to the Status of Refugees, to which the United States is a party, anyone who has not already resettled in another country may seek refuge when facing persecution on the basis of race, religion, nationality, membership in a particular social group, or political opinion.
A 2020 Gallup poll found 77% of Americans see immigration as a "good thing" for the country as a whole. That same poll also reported 34% believe immigration levels should be increased, while 28% said it should decrease, and 36% said it should stay the same.
Mohammed, our translator, who left Africa to flee ethnic persecution, hopes Americans can see the individuals at the encampment for what they are—human beings.
"These people are looking for protection. They're all coming from dangerous places," he said. "I just hope that there is a solution for them. This is no life for someone. Life here is very bad. I don't know how long they're going to stay here or how long the asylum process is going to take, but I just hope that something changes."