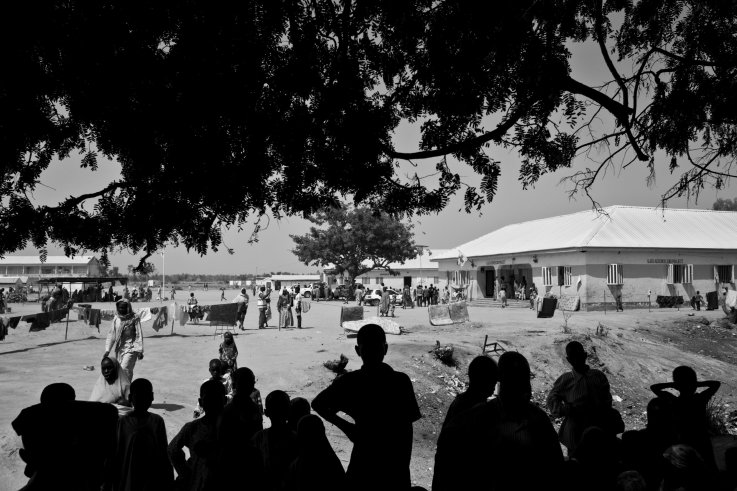 Six-year-old Kattale can remember the screams of neighbors as Boko Haram militants forced their way into her home. Once inside, she was made to watch as the fighters shot her parents. After the insurgents fled, a woman from Kattale's village found her crying next to her parent's bodies and carried Kattale south to the National Youth Service Corps government camp in Yola, Nigeria. Kattale hasn't seen or heard from her siblings in over a year.
Boko Haram has been named the deadliest terrorist group in the world by the Institute of Economics and Peace's Global Terrorism Index, having killed more people last year than the Islamic State group (ISIS). On January 31, Boko Haram attacked the village of Dalori on the outskirts of Maiduguri. The group left 86 people dead, including many children who were burned alive. A few days earlier, the group killed 39 people in Cameroon's Far North Region using young girls as suicide bombers. The insurgents have crucified Christians, beheaded captives and enslaved children while exploiting Islam as a mechanism for recruitment of the vulnerable, deprived and tyrannized.
[Related: What Happens to Boko Haram Women When They Are Captured]
An estimated 2.5 million people have been displaced in the Lake Chad region by the insurgency, leaving Nigeria with the largest population of displaced persons in Africa. Of those internally displaced people, over 90 percent live outside official state-run camps in hundreds of host community settlements scattered across the northeast. These unofficial settlements receive no government aid, and residents must contend with a lack of clean water, health care and schools. These settlements add to the burden of already crippled local economies as people choose to remain permanently rather than return home to villages that have been looted and burned by Boko Haram.
In Malkohi settlement, a host community of nearly 2,000 people to the west of Yola, newly displaced families show up weekly, constructing small thatch homes on arid land donated by a farmer and local district head. Many of these communities are dependent on assistance from charitable locals in a neighboring community or aid organizations. Other settlements have no arable land and all food is provided by the host, who is often a wealthy member of a neighboring community.
President Muhammadu Buhari declared victory over Boko Haram in December after signs that the group was no longer able to maintain its territorial gains. However, many believe this development represents a strategic shift rather than a defeat. The group is increasingly using suicide bombers to terrorize the region rather than direct attacks on villages. More and more, young girls are being brainwashed or tricked into carrying a bomb into a crowded area. Out of the dozens of suicide bombings attributed to Boko Haram in the last six months, the majority have been carried out by young girls.
This is a systemic crisis that is quickly devolving, unable to be constrained by local governments, and will most likely lead to an expansion of brutal, fundamentalist extremism in the poorest areas of sub-Saharan Africa in the coming years.