Flexispot Comhar EG8 Review: An Affordable Standing Desk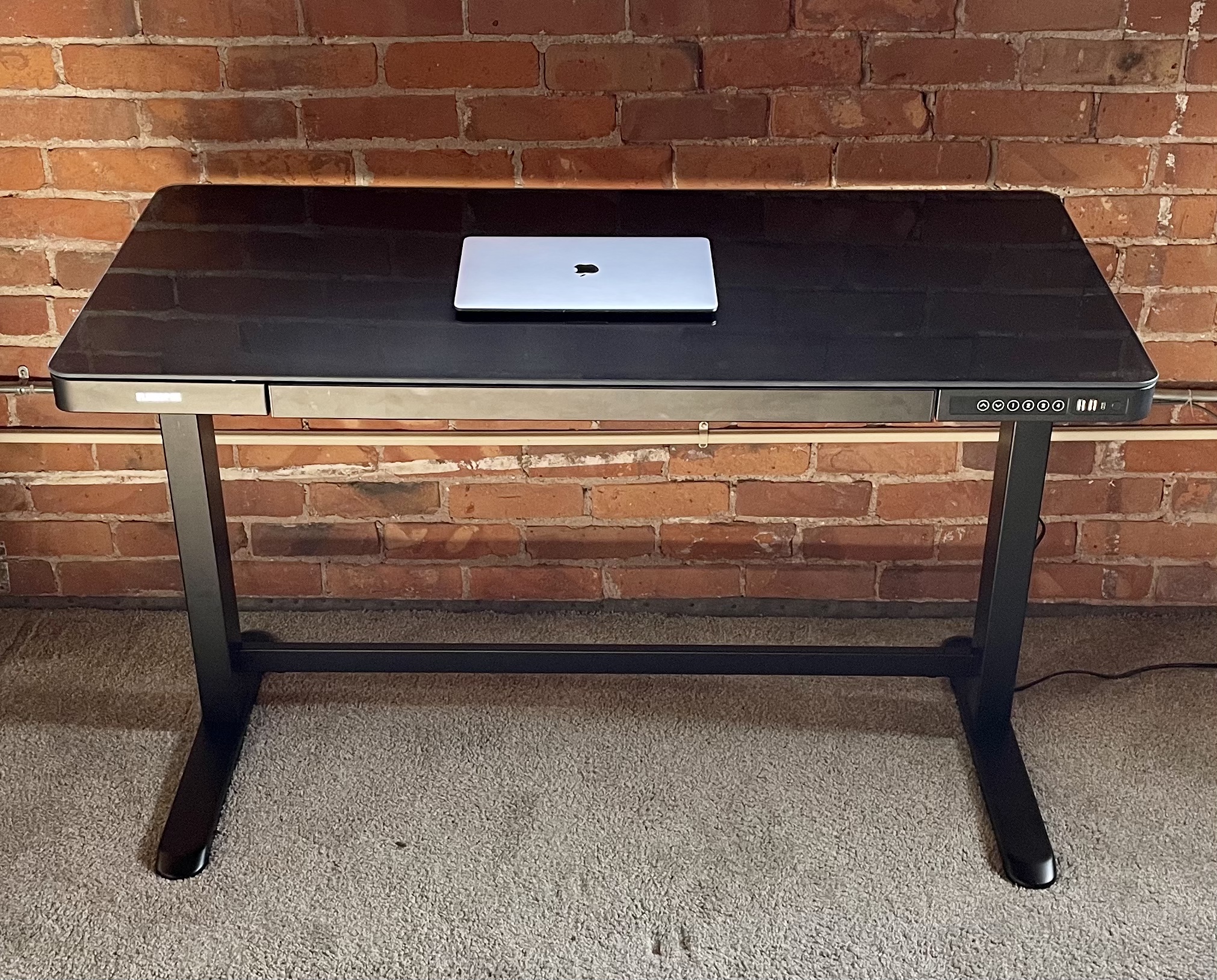 The Flexispot Comhar EG8 is an affordable standing desk that is an excellent work-from-home upgrade.
This standing desk features four memory positions, so it's easy to switch between sitting and standing and to share it with another person. A drawer in the front lets you reduce clutter, and handy charging ports make it easy to keep your gadgets charged.
I tested the Flexispot Comhar EG8 as part of my work from home setup over the last month, and it offers a lot of value for the price.
The Flexispot Comhar EG8 is $429.99 direct from Flexispot.
Design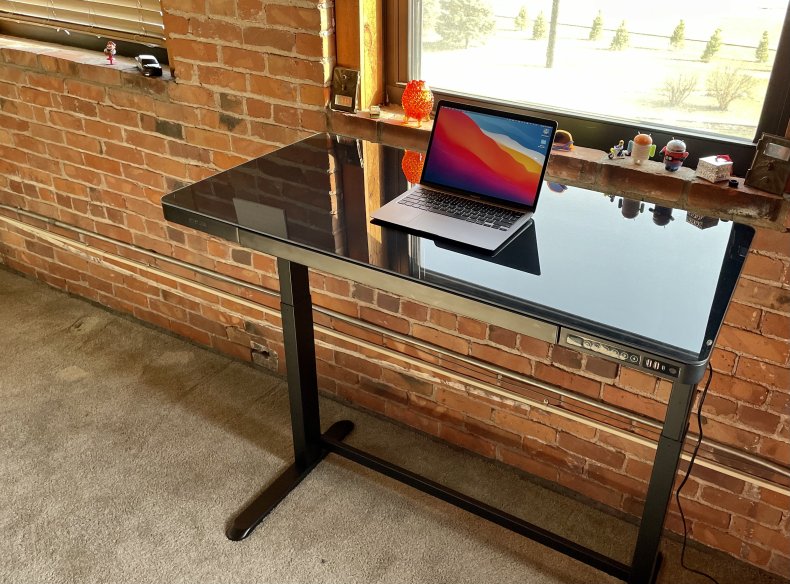 The Flexispot Comhar EG8 is available in black or white color options. The desk is primarily metal with a tempered-glass top. The design looks nice in a home office, but it isn't as high-end looking as the Vari Electric Standing Desk I recently reviewed.
This model is 48 inches wide and 24 inches deep. The height adjusts from a low of 28.3 inches to 47.6 inches. The drawer is about 24 inches wide and 12 inches deep and can hold objects up to about 1.5 inches thick.
The tempered-glass top looks nice, but it does collect dust and fingerprints, so plan on cleaning it often or using a large desk mat. The front drawer is a useful touch that I don't see on many standing desks. It helps me keep clutter off the desk and things I need during the day close by.
Touch buttons on the right front edge control the height of the desk and can store four memory settings. I'm the only user of this desk, so I set one sitting height and two slightly different standing heights. If I shared this desk with someone in my apartment, I would program sitting and standing options based on their preferences. There is a button that allows you to lock the adjustment so that a child can't change the desk height.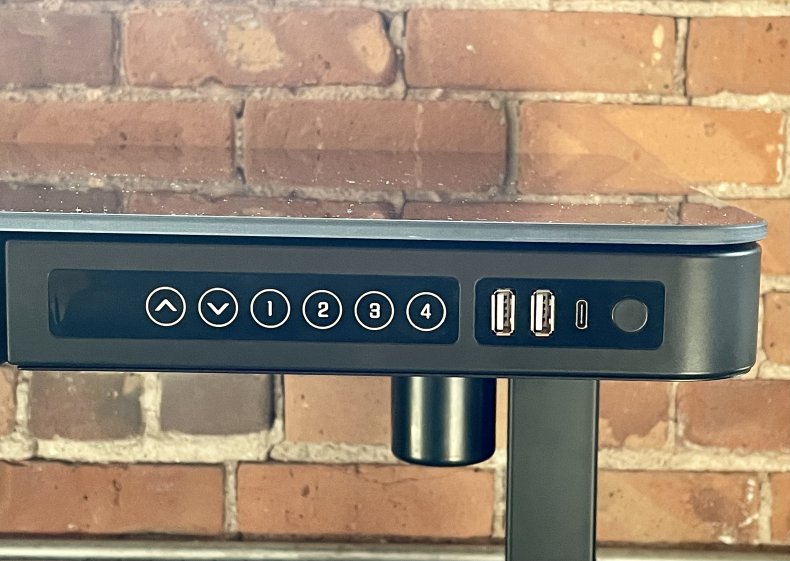 Two USB-A and one USB-C charging ports next to the controls allow me to charge my phone, mouse and keyboard, or other gadgets easily. I wish there were a built-in surge protector on the back for plugging in a computer charging cord. It's possible to use zip ties or Velcro to secure one to the metal frame.
This design is not conducive to using a monitor mount. The back metal edge is narrow, and I wouldn't use a pressure mount on tempered glass.
This desk is rated to hold 110 pounds, which is more than enough for a typical work-from-home setup, even if you add two monitors or an ultrawide monitor and a laptop.
Performance and Features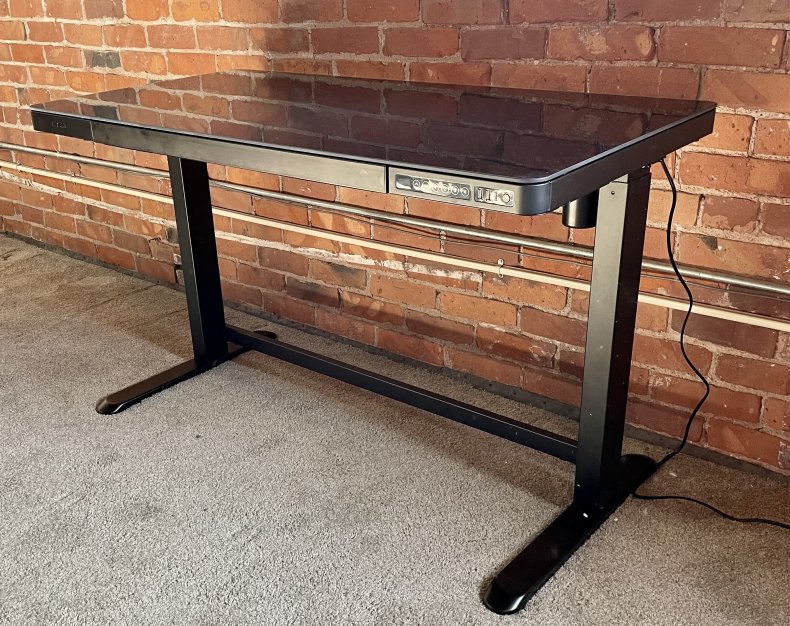 I like how quietly the Flexispot Comhar EG8 changes height. Flexispot rates the speed at 1 inch per second. There is an anti-collision feature that works well. If my chair is in the way, the desk senses the obstacle, stops lowering and then raises slightly.
The buttons are easy to use with a firm press. To adjust to a preset height, I press the button for about a second, and then the desk moves until it reaches the set point. There is no need to hold the button while the desk moves. The child lock button is a nice touch to prevent accidental movement of the desk.
I'm a heavy typer, and there is some sway to the desk while I use it in standing mode. This is fairly common with many standing desks. At 43.5 inches tall, the movement is not enough to prevent me from using the desk, but it is something to be aware of.
Assembly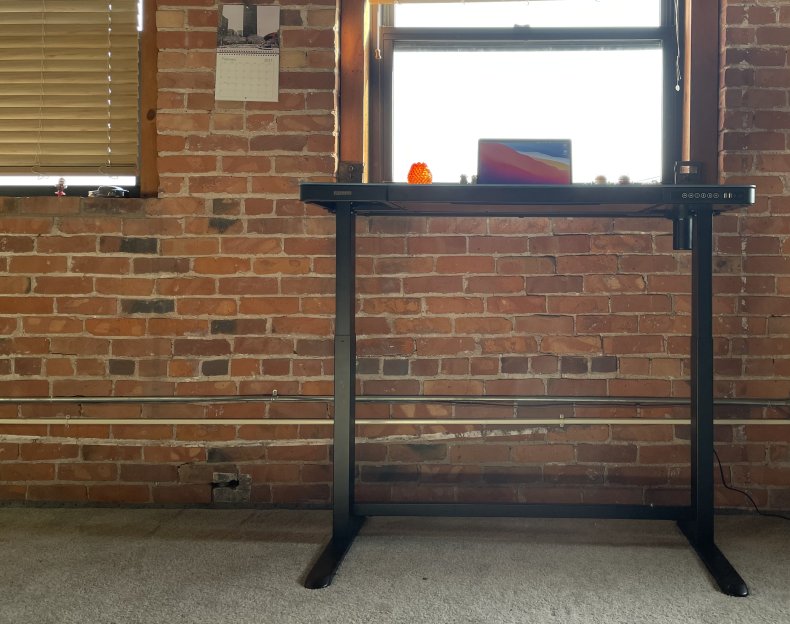 The Flexispot Comhar EG8 standing desk is easy to put together. I was able to assemble the desk in about 10 minutes without any help. The included Allen wrench and instructions simplified this process.
Most of the desk is already assembled when it arrives. I attached the legs and plugged in a cord to connect the lift to the controls mounted on the front of the desk, and it was ready to go. The included power cord is sufficiently long to reach an outlet, and its length allows you to raise the desk without being right next to an outlet.
Depending on your space or strength, you may want someone to help you flip the desk right side up.
Is the Flexispot Comhar EG8 Worth Buying?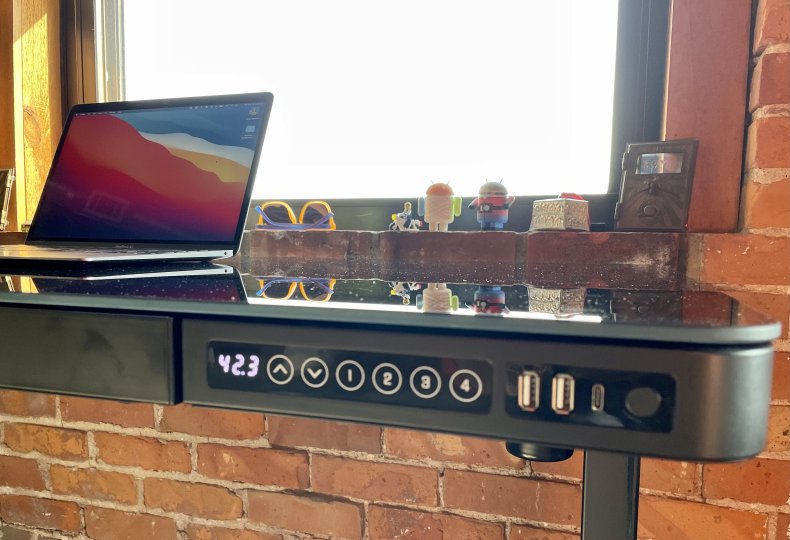 The Flexispot Comhar EG8 is a great standing desk to add to your home office. The price is right, and it offers a lot of value. I like the height range, the overall quality of the desk and how quiet and quick the motor is.
I would love to see an integrated power strip or surge protector on the back, or an official mount to simplify adding one, but this is something that you can affix with Velcro or zip ties.
Shoppers looking for an electric standing desk under $500 will be happy with this purchase.
Buy the Flexispot Comhar EG8 at Flexispot.
Newsweek may earn a commission from links on this page, but we only recommend products we back. We participate in various affiliate marketing programs, which means we may get paid commissions on editorially chosen products purchased through our links to retailer sites.