Flight in 10-second Nose Dive 30,000 Feet Over the Pacific
A Qantas Airways "superjumbo" passenger jet plummeted towards the Pacific Ocean from more than 30,000 feet after flying through the wake of another plane.
For 10 long seconds, the A380 plane plunged towards the sea as passengers sat helpless in their seats, Bloomberg reported.
Two hours after taking off from Los Angeles en route to Melbourne on Sunday, flight QF94 hit the wake of another Qantas A380 was heading to Sydney. According to Airservices Australia—the country's aviation safety body—explains aircraft wake is made up of two vortexes spinning in opposite directions. In certain conditions, such vortexes can remain for up to three minutes.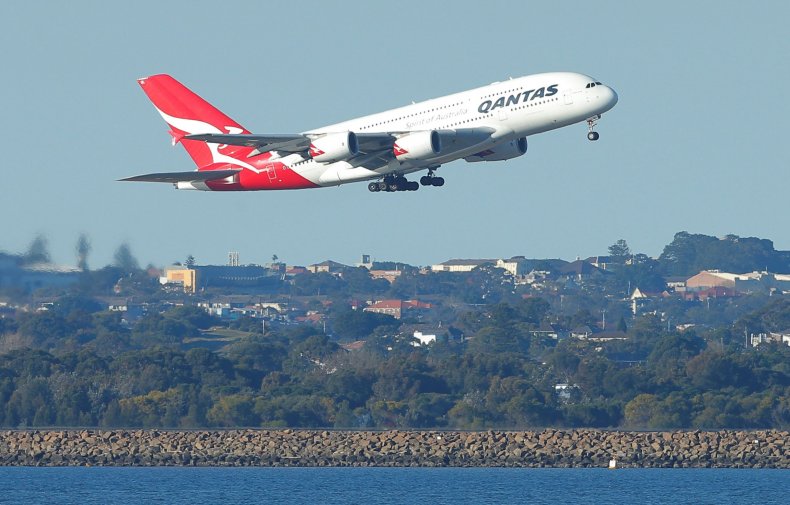 Passing through a wake can cause extreme turbulence or even an unrecoverable induced roll. The vortexes can cause structural damage and, if encountered close to the ground, may produce "catastrophic results."
No injuries were reported on flight QF94. The two planes were separated by a distance of 20 nautical miles and an altitude of 1,000 feet.
The West Australian newspaper quoted passenger and radio host Eddie McGuire, who said on his Today Show the descent felt like "when you just go over the top of the roller coaster." McGuire experienced that "uneasy feeling as it pitched forward and to the side." The radio host said the pilot quickly came on the radio to reassure the passengers and explain what had happened.
The Australian spoke to passenger Janelle Wilson, who described the experience as "an absolute sense of losing your stomach." She recalled, "The lady sitting next to me and I screamed and held hands and just waited but thought with absolute certainty that we were going to crash. It was terrifying."
A Qantas statement said its aircraft are "designed to handle [sudden turbulence] safely," acknowledging such incidents "can be a jolt for passengers." The airline said it is "hard to eliminate" the likelihood of wake turbulence encounters, which is why its staff always recommend passengers keep their seatbelts fastened, "just as pilots do in the flight deck."
Pilots have described flying into wake turbulence as like hitting a wall, according to a Federal Aviation Administration (FAA) guide. On one flight from New Jersey to Florida, an encounter with wake turbulence saw passengers "jettisoned to the ceiling and slammed to the floor."
Between 1983 and 1993, the FAA recorded 51 air travel accidents in the U.S. from wake turbulence encounters. The incidents killed 27 people and damaged or destroyed 40 aircraft. It notes the real number of incidents is probably much higher than its own count.