Flight Attendant Hits Roof as 'Heavy Turbulence' Hospitalizes Passengers
Two people were hospitalized after a Qantaslink flight hit severe turbulence while landing in Brisbane, Australia, according to local media.
On Wednesday afternoon local time, Brisbane-based 9News Queensland reported that the incident occurred as the flight—which had left around midday for Hervey Bay—was landing back into the city's airport after encountering major turbulence. According to reports, the flight had been in the air for just a few minutes when it was forced to head back.
Though the plane eventually landed safely in Brisbane, seven people were assisted for injuries, according to the local news channel. Two of these seven people were a female flight attendant who had neck injuries and a male passenger with minor head injuries, reportedly cuts and bruises. They were both taken to a hospital in the city.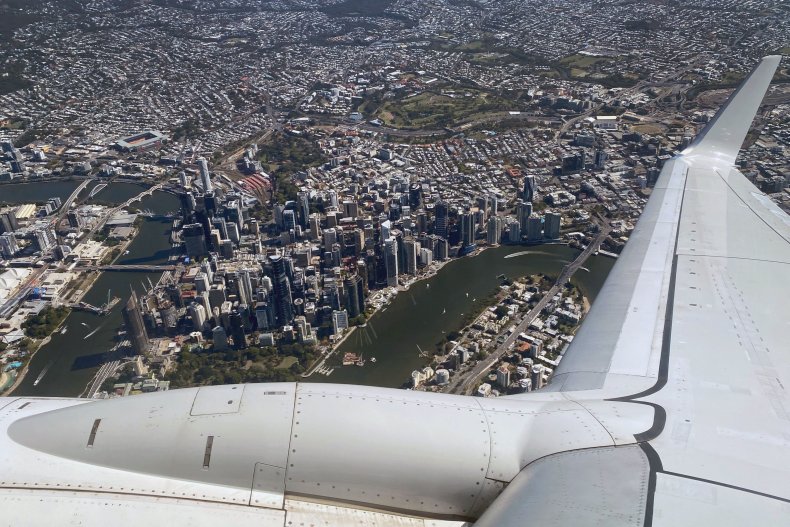 Passengers told 9News Queensland that the plane met turbulence as flight attendants were serving drinks to passengers, and "drinks were flying all through the aircraft." Passengers told reporter Natarjsha Kramer, who was at the Brisbane airport: "it happened extremely quickly."
According to Qantas, there were about 40 people onboard. They have reportedly re-boarded that flight for Hervey Bay, now scheduled for 4:30 p.m. local time.
Passengers interviewed by 9News Queensland said that "everything went mad and everyone was scared" when the plane met turbulence as drinks were flying all over the aisle and "the whole plane started shattering." Some passengers reported having wet hair because of the drinks that were spilled during turbulence.
Qantaslink is the regional branch of Australian airline Qantas. Newsweek has contacted Qantas for comment.
Qantas has recently experienced similar incidents—though without injured passengers and crew members—with several flights being forced to turn back on their tails because of different issues.
On January 18, a Qantas flight from Auckland to Sydney was forced back to the airport where it had taken off after one of its engines failed mid-air over the Tasman Sea. Another flight headed to Fiji was turned back a day later for a reported mechanical issue.
On January 20, two Qantas planes that had just left Melbourne airport were forced to circle back because of mechanical issues. Four days later, a flight from Perth to Kalgoorlie was forced to turn back for an unspecified mechanical fault.
On January 29, a Qantaslink flight from Sydney to Coffs Harbor was turned back because of a problem with its landing gears, according to reports. Passengers were switched to another flight, and nobody was hurt.
Update, 2/01/2023 4:30 a.m. ET time: This article was updated to offer more context on the story.