Flight Attendants Fined $11,000, Ordered to Leave the Country After Turtle Smuggling Attempt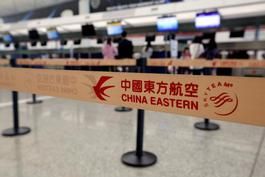 Two flight attendants who attempted to smuggle turtles to China were ordered to pay $11,000 to the U.S. Fish & Wildlife Service (USFWS) and leave the United States within 72 hours on Monday.
China Eastern Airlines employees Huaqian Qu, 41, and Renfeng Gao, 31, attempted to smuggle 45 turtles on a 13-hour flight from Los Angeles to Shanghai on May 12. On Monday, U.S. District Judge S. James Otero ordered that the flight attendants pay $5,500 each to the USFWS. The fine must be paid before the flight attendants return to China, and they must return to China within the next three days. The fine and order to leave the country was an alternative to a jail sentence, according to KUSI.
Otero explained that he rejected the 10-month jail sentence prosecutors proposed due to nonviolent and cooperative behavior from the accused throughout the case, according to the Hastings Tribune. Both Qu and Gao also exhibited good behavior since they were arrested in May. The U.S. District Attorney's policy said illegally smuggling animals is typically punishable by up to five years in prison.
"Freshwater and terrestrial turtles and tortoises are some of the most endangered vertebrates. Asia is the major destination where they're used as food, pets and traditional medicine," Rachel Kramer, World Wildlife Fund manager of wildlife conservation and wildlife trade monitoring network TRAFFIC, told Newsweek. "As populations are depleted in one area, sourcing often shifts to other regions and/or different species are targeted. Unfortunately for them, unlike many species, they are portable. Traffickers have been known to tape their legs and heads inside their shells and ship US species by mail to Asia."
While at the Los Angeles International Airport, Qu had 14 box turtles and 10 spotted turtles in pillowcases and plastic bags tucked away in his work luggage. Gao had 21 spotted turtles in his carry-on bag, KUSI reported. Two of the 45 turtles died and two others got sick in the attempted smuggling.
"Cases like this involving the smuggling of rare wildlife by airline staff are the tip of the iceberg of a much bigger global wildlife trafficking crisis," WWF Senior Director for TRAFFIC Crawford Allen told Newsweek.
The pair spent approximately $9,000 to buy the turtles in Los Angeles, a fraction of the estimated $41,000 they may have earned as a profit, according to the San Bernardino Sun report. Prosecutors cited in the article said the employees may have smuggled turtles on previous occasions.
A Transportation Security Administration (TSA) inspector detected "unusual round objects" in their bags while conducting an X-ray luggage check. He recognized the animals based on his enthusiasm for turtles as a teen, according to a court report cited in the Hastings Tribune.
Spotted turtles are protected by the Convention on the International Trade in Endangered Species of Wild Fauna and Flora, a law which regulates trade in over 36,000 living species, including plants and animal products. Neither of the flight attendants had a permit to track any instance of a trade involving the species.
The TSA directed Newsweek to the USFWS after an interview request. The USFWS and China Eastern Airlines did not respond in time for publication.