Watch This Man Play 'Flight of the Bumblebee' Entirely on a Watering Can
Who needs a real instrument? Musician Martyn Stroud shared a video of him playing around on Facebook and performing "Flight of the Bumblebee" on a watering can.
Sitting outside in what appears to be a garden, Stroud, whose Facebook profile identifies him as a trombonist and brass tutor, opted to have some fun and take a break and play Nikolai Rimsky-Korsakov's instantly identifiable interlude.
Dressed in a yellow shirt with black gaffer tape to resemble a bumblebee (with a bumblebee lawn ornament hidden in the background), Stroud pulls up his bucket, before making a crack about his ability to play the song on the watering tool.
"This is not an art form. It's not even really accurate, but it is good fun," he says, pulling up the can. "Cue the music!"
In the video, Stroud proceeds to play, what sounds to be, an incredibly accurate take on the Rimsky-Korsakov piece. He blows into the water spout to play the fast-paced song.
At the end of the video, Stroud makes another joke about his outfit. "There you go. Next time, I might show you how to make this wonderful bumblebee outfit out of nothing more than an old yellow T-shirt and some black gaffer tape," he says.
Stroud told Newsweek that the video was actually part of a longer piece, encouraging young musicians to practice. "The clip itself is the end of a slightly longer video that I made for Wight Music Tuition (a co-operative of music teachers that I'm a member of) to try and encourage younger children to use a bit of creativity and and have fun when they practice, and to encourage older students to maybe do a bit of mouthpiece buzzing (essential, but boring, for for brass players)," he wrote.
The music teacher explained that "Flight of the Bumblebee" was an "off-the-cuff choice," for two reasons. He wrote that it was "partly because of the quirkyness [sic] of it when it comes to brass, must mostly because I already had the accompaniment!"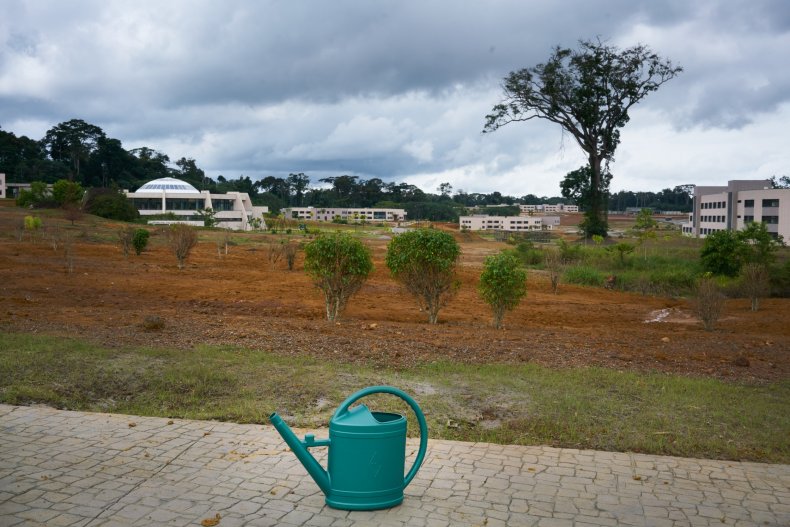 He said that it took a few takes, but his neighbors were likely the ones that struggled the most. "It took 3 or 4 takes to get right, and I still haven't apologised to my neighbours yet," he wrote.
While Stroud said that he doesn't have any immediate plans for any more watering can pieces, he may be tempted if the right arrangement presents itself. "As regards to more watering canning (if is that's even the terminology), I never had any plans in the first place - it was just laying there. Having said that, if I can get a few like-minded people together, it might be fun to do a Beethoven or Tchaikovsky mash-up," he wrote.
Stroud isn't the first person to record an unorthodox cover of "Flight of the Bumblebee." It's long been a favorite for heavy metal musicians just to show off their shredding abilities. In 1990, Katherine Thomas (who performs under the stage name The Great Kat) performed her own version for her album Beethoven on Speed. Manowar included its own bass-centric take (although titled "Sting of the Bumblebee") on its album Kings of Metal.
A few remixes are also available, including a version included in the video game Tetris 99.