The trend over the past week of flight cancellations continued Wednesday, partially due to harsh winter weather across the Pacific Northwest, but mostly because of COVID issues caused by the continued spread of the Omicron variant.
Just over 900 flights within, into, or out of the U.S. have been canceled as of mid-afternoon Wednesday, according to flight-tracking website FlightAware.
Flight cancellations started to rise around Christmas, as COVID cases shot up in many areas of the country and airlines were left unable to assemble complete crews of pilots, flight attendants and workers on the ground at airports because of positive tests or exposure to someone who has tested positive.
The end of the year holiday season is consistently one of the busiest times of year for airlines, as the Transportation Security Administration (TSA) said it expects the Monday following the New Year's holiday to be one of if not the busiest travel days of the year.
About 13.6 million people passed through TSA security checkpoints over the past week, about double the number for the same period around the holiday season in 2020, and still about 15 percent short of the number of travelers in 2019.
The increase illustrates the growing confidence many Americans had this holiday season of traveling because they have been vaccinated or received a booster shot, while also still showing the hesitance some potential travelers likely had, canceling plans because of the spread of the Omicron variant.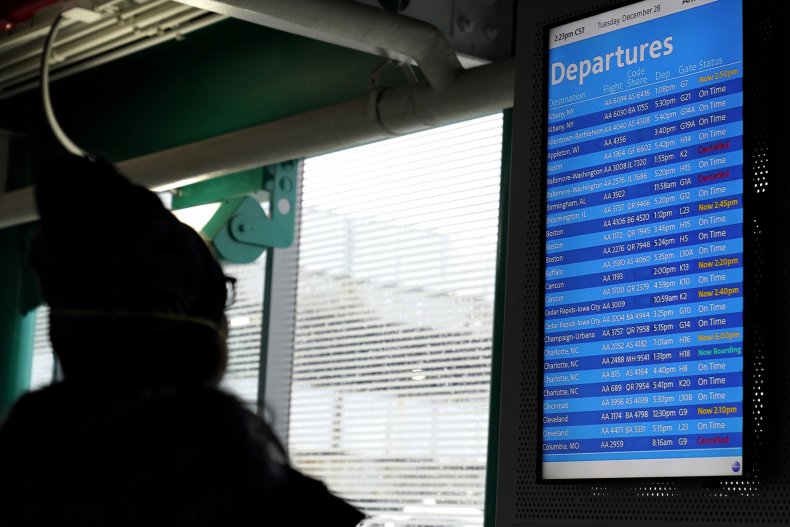 There were nearly 1,300 cancellations for flights entering, leaving or inside the U.S. Tuesday, and about 1,500 on Monday.
Delta, United and JetBlue have all said that the Omicron variant was causing enough staffing issues that flights were canceled.
SkyWest led U.S. carriers with 195 cancellations, followed by United with 158 and Delta with 103. SkyWest, a regional airline based in Utah, has suffered an elevated level of cancellations after severe weather hit several of its hubs, but it's reporting the same staffing issues due to COVID-19.
The Pacific Northwest was slammed with cold and heavy snow over the weekend. Among U.S. airports, Seattle-Tacoma had the highest percentage of incoming and outgoing flights canceled Wednesday, according to FlightAware.
Omicron has intensified already significant staffing issues for airlines, which winnowed workforces in 2020 as air travel collapsed, only to be broadsided when vaccination rates jumped and millions of people felt comfortable flying again this year.
That could translate to travel headaches for hundreds of thousands of people if cancellations maintain the current pace into the weekend.
The Associated Press contributed to this report.