Flight Cancellations Surge as Buttigieg Demands Airlines Hire Staff
Flight delays and cancellations are continuing to surge in the U.S. as Transportation Secretary Pete Buttigieg urged airlines to hire more staff ahead of the looming July Fourth holiday weekend.
Over 700 flights heading in or out of the U.S. have already been canceled on Sunday, while more than a thousand have been delayed, according to Flight Aware.
Some 48 flights out of Newark Liberty airport in New Jersey have been scrapped, while 42 flying out of Hartsfield–Jackson Atlanta International Airport were canceled.
It comes after 860 flights coming in or out of the U.S. were scrubbed on Saturday and over 6,000 were delayed.
Amid the chaos for travelers, Buttigieg met with airline leaders earlier this week to question them about about widespread flight disruptions.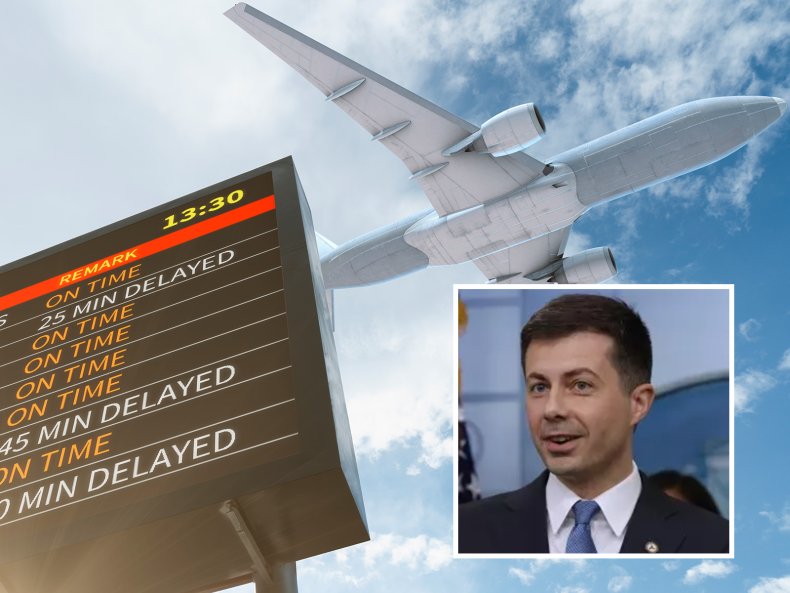 "I let them know that this is a moment when we are really counting on them to deliver reliably for the traveling public," he told NBC News.
In an interview with The Associated Press on Saturday, Buttigieg revealed that a flight he was supposed to catch on Friday was canceled and he ended up driving from Washington to New York.
"That is happening to a lot of people, and that is exactly why we are paying close attention here to what can be done and how to make sure that the airlines are delivering," he said.
During Buttigieg's virtual meeting with airline executives, they described the steps they are taking to ensure flights run smoothly over the summer and avoid a repeat of the travel chaos over the Memorial Day weekend.
"Now we're going to see how those steps measure up," Buttigieg told the AP.
He said he is pushing airlines to test their summer schedules to ensure they can operate all planned flights with the employees they have, and to add customer-service workers.
Buttigieg also said his department could take enforcement actions against airlines that do not live up to consumer-protection standards.
Buttigieg's office has been contacted for additional comment.
According to the Bureau of Transportation Statistics, some 54,992 flights were canceled in the first two months of 2022, or 5.3 percent, the highest ever recorded for the first two months of the year in the data.
The statistics also show that that there were overall 103,000 flight cancellations last year, representing 1.7 percent of flights. In 2020, the first year of the COVID pandemic, there were 281,000 cancellations, which was 6 percent of flights.