A hilarious clip of a plane passenger who found herself in an unsightly situation after discovering chocolate in her seat has left TikTok users in hysterics.
The viral video, which had 1.2 million views at the time of writing, was posted by @moniquevdamm.
A message overlaid on the video read: "Pov: u accidentally sat on a chocolate the entire flight." The footage showed splashes of brown patches in the crotch area of a person wearing white trousers.
The latest viral footage came as air travel climbs back to pre-pandemic levels, having ground to a halt during the height of the COVID-19 outbreak.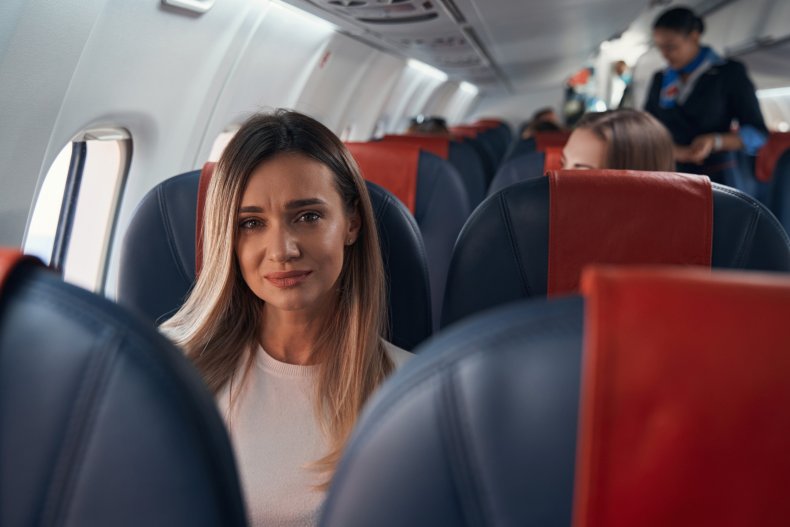 More than 2.3 million passengers were reported to have passed through a TSA checkpoint this year as of May 30.
Total passenger traffic globally is "now at 84.2 percent of January 2019 levels," the International Air Transport Association (IATA) said in a March report.
Willie Walsh, the IATA's director general, said in the report that the demand for air travel had a "very healthy start in 2023" and "we have not seen the many economic and geopolitical uncertainties of the day dampening demand for travel."
Overall traveler numbers are expected to reach 4 billion in 2024, exceeding pre-pandemic levels, which would amount to 103 percent of the total numbers reported in 2019, according to a March 2022 report from the IATA.
Giggling was heard in the latest viral TikTok clip before a woman was seen in hysterics, holding her hand to her mouth. Another woman beside her was also seen laughing before the clip ended.
In a caption shared with the poster, the TikToker wrote: "still haven't recovered from this."
Several TikTokers were left in stitches over the latest video, some of whom could relate to the original poster's experience.
Jennifer wrote: "That happened to me too and my pants were WHITE," while Leahhhbeauty said: "I DID THIS ONCE."
User marykane wrote: "No this is so funny."
User kingz said: "I could not handle the situation, better not to notice until getting home."
User RS wrote: "this is so me," while user2320010721 said: "This will a 100 percent happen to me someday too."
User @artsyschoolgirl said: "I would cry actually," while jessicaaa_rae95 wrote: "I would be telling everyonnneeeeeee I walked by 'it's chocolate I swear'."
Newsweek has contacted the original poster via TikTok for comment. This video has not been independently verified.
Do you have a funny video to share? Send it to life@newsweek.com with some details and your story could be featured in Newsweek.