Around 20,000 Bees Delayed Flights at an Airport After They Swarmed a Plane's Engine
A swarm of bees delayed three flights at King Shaka International Airport in Durban, South Africa, on Sunday.
"This is incredibly rare. I have certainly never seen anything like this in my eight years in the aviation industry," Sergio dos Santos, a Mango Airlines spokesman, said after around 20,000 bees flew into the engine of one of the airline's planes. He said it was the first time the airline's flights were delayed because of bees, according to South Africa's News24.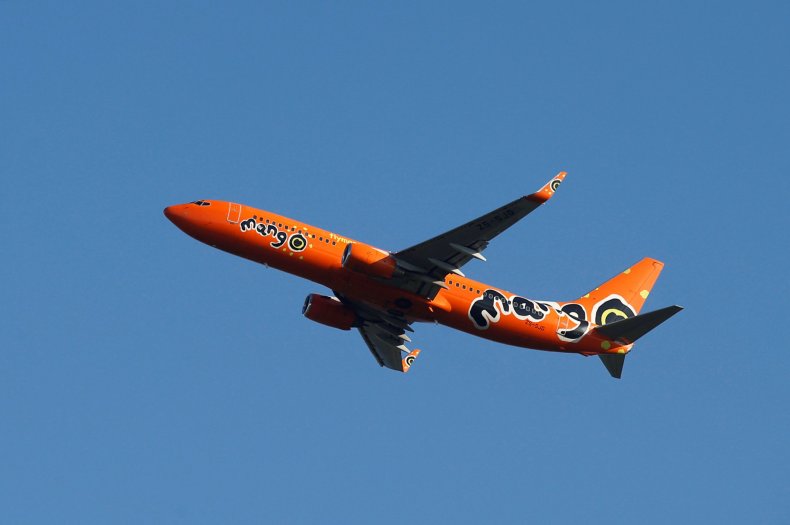 The airport called a bee removal company to get rid of the insects, which took over the engine in less than 25 minutes.
"Two beekeepers were called in to remove a swarm of bees that had started building a nest in the engine of one of our aircraft in Durban on Sunday. This, unfortunately, meant delays on three of our scheduled flights. The bees were safely removed," the low-budget airline tweeted on Wednesday.
After obtaining permits and following aviation regulations, bee removal company A Bee C was able to remove the bees. The business's owner, Melvyn Dawson, told South African radio station Jacaranda FM that he and his assistant used a palm frond to move the bees from the airplane. Dawson used the leaf because the traditional technique of using a smoker could have damaged the plane's engine.
"Normally, those places are greasy, smelly and hot and not at all ideal as a permanent home for bees. Bees prefer secluded wood cavities. This is very unusual," Mike Miles, chairman of the South African Bee Industry Association, told News24. The bees most likely did not plan on staying in the engine permanently, he added.
A similar incident occurred last year when an American Airlines flight at Miami International Airport was delayed for four hours after a swarm of bees clung to the aircraft. A beekeeper was eventually able to remove them.
"The bees were in the area where they load the cargo, putting the employees at risk. Because the bees were there, they couldn't load the bags. We had to take care of the situation," American Airlines spokeswoman Alexis Aran Coello told CBS News.
In Virginia, 20,000 bees kept a fighter jet from flying in 2016 when they made a hive on the plane's exhaust nozzle. A vacuum was used to clear the bees and their hive, which weighed about 8 pounds, according to CNN.