Flint Water Trial Alleges Workers Treated Water Using Hole in the Floor
During a criminal trial of several civil employees from the state of Michigan over their involvement in the Flint water crisis, prosecutors have tried to show the court regulators never had an adequate handle on the region's water treatment facilities.
The special prosecutor in the case, Todd Flood, in court Monday pointed to a log book from a Flint water treatment plant showing employees administered chemicals to treat water through a hole in the floor of a building, as opposed to a pump or other more standard procedure, according to Michigan Live. The log was made in 2013.
Prosecutors have asserted that the Michigan Department of Environmental Quality (DEQ), of which four current or former employees stand trial, should have spotted issues for Flint's water plan ahead of the crisis.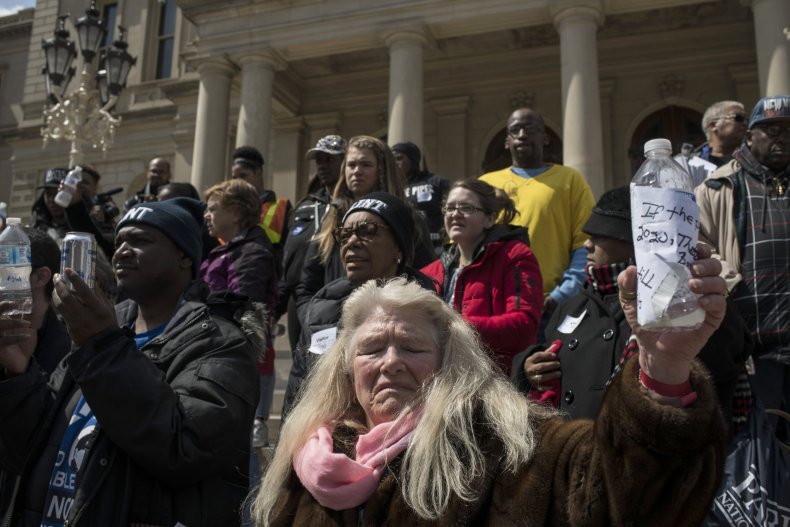 Flint, in an attempt to save money, switched its water source from the Detroit Water and Sewerage Department to the Flint River in 2014. Residents quickly began to complain about the smell and color of the water. The new water supply, allegedly improperly treated, was corrosive and leached lead from the city's pipes–causing a widespread crisis. The DEQ has been accused of acting too slowly during the incident.
Flint eventually switched back to its old water source and has spent million correcting the original corrosion. An outbreak of Legionnaires' Disease in the region in 2014 and 2015, which resulted in several deaths, has been linked to the crisis.
Administrators from the DEQ Liane Shekter-Smith, Stephen Busch, Patrick Cook and Michael Prysby all face various criminal charges for their involvement and alleged mishandling of the crisis. Other Michigan officials are mired in their own trials for their involvement in the emergency, including Michigan Department of Health and Human Services Director Nick Lyon.
Michigan's DEQ did not immediately respond to Newsweek's request for comment.