2020 Candidates Are Talking About the Flint Water Crisis, but Local Advocates and Lawmakers Want Action This Time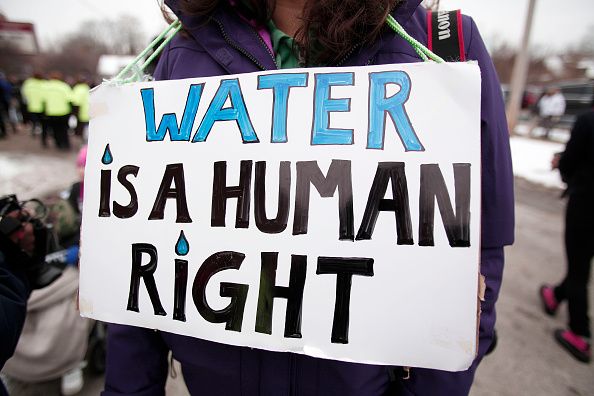 In 2016, presidential candidates flocked to Flint, Michigan, in the midst of its deadly water crisis and vowed to fix it. But this week, as the city observed the five-year anniversary of the disaster, activists and politicians say those promises fell flat.
"We were at the debates hoping that the attention to our crisis would force change for us and the rest of the country when it comes to water quality and safety," Melissa Mays, a Flint resident who founded the clean water advocacy group Water You Fighting For? told Newsweek.
"We were also worried about being a photo op or exciting backdrop for the candidates. Both sides made us promises that neither followed through with," she added.
This time around, Flint residents and clean water advocates are going to need a lot more than well wishes from 2020 candidates on the campaign trail. But it remains unclear if any of the nearly two-dozen people currently vying for president are up to the challenge.
"What I want to see is action. What I want to see is people have a plan," Jim Ananich, a state senator and Flint native, told Newsweek. "Anybody running for president has a responsibility to come to Michigan."
While residents first reported problems with the water in April 2014, when officials switched its supply source from the Detroit River to the polluted Flint River in an effort to save money, it was only after former President Barack Obama declared a federal emergency in January 2016 that national politicians began to seriously comment on the issue.
Hillary Clinton and Bernie Sanders held a debate in Flint two months later, during which they railed against the country's crumbling infrastructure and called for millions in federal aid to be allocated to the city. They also called for then-Governor Rick Snyder to be removed from office.
Clinton even wondered in her post-election book What Happened if her focus on issues disproportionately affecting black communities caused her to lose favor with white voters: "I don't know if my advocacy for the heavily African American community of Flint alienated white voters in other parts of Michigan but it certainly didn't seem to help."
Even Donald Trump made a campaign stop in Flint ahead of Election Day. Though he received a chilly reception from local leaders, he expressed sympathy for Flint's "pain" and later remarked that the situation demonstrated "failure in every single level of government."
But after the election, the spotlight on Flint quickly vanished. So far, the only aid provided by the Trump administration has been money that was first approved by Congress and signed by Obama in 2016. Most of that money, $77.7 million of the total $120 million granted, was just given to the city earlier this month as a loan.
Officials say the conditions are improving in Flint, with water quality being restored and all of the city's rusted pipes, which were the cause of the toxic lead levels, on track to be replaced by the end of the summer. But local lawmakers argue that the biggest casualty of the crisis was the community's faith in their government officials.
"Broken trust is a lot harder to repair than broken pipes," Ananich noted.
To make matters worse, 2016 calls for state leaders to face punishment quickly died down and proved to be ineffective. Governor Synder stayed in office until the end of his second term in December 2018. Of the 15 officials charged with crimes, not one has gone to jail over the water crisis.
"We've come to the conclusion that talk is cheap," Representative Dan Kildee told Newsweek. Kildee, who grew up in Flint, has represented Michigan's 5th Congressional District since 2013.
The Democratic congressman added that the only times he has heard President Trump talk about Flint is using the city "as a punchline to a joke." Trump once remarked that "it used to be, cars were made in Flint and you couldn't drink the water in Mexico. Now, the cars are made in Mexico and you cannot drink the water in Flint. That's not good."
"He uses us an anecdote but he doesn't really have much to show for it in terms of being willing to step up and do something either to help Flint or to prevent the next Flint from happening," Kildee said.
Given Flint's reputation of being a historic example of environmental injustice, it's no surprise that presidential candidates—especially the more progressive ones—are once again talking about the water crisis. Many of them have either already visited Michigan or plan to in the upcoming months.
Bernie Sanders, in a tweet about the five-year anniversary of the water crisis on Thursday, said that "we must root out institutional racism everywhere it exists, provide the resources Flint needs to recover and hold those responsible accountable for their actions."
Kirsten Gillibrand, Julian Castro and Elizabeth Warren all tweeted praise of Mari Copeny, the 11-year-old activist also known as Little Miss Flint for her advocacy campaign. Washington Governor Jay Inslee said that Flint was a "humanitarian crisis" and California's Kamala Harris stated that it's a "disgrace that we can't guarantee access to clean water for everyone."
Even venture capitalist Andrew Yang, a longshot candidate, made Flint a key talking point in a video interview with The Root in early April. Yang proposed using more federal money to repair Flint's infrastructure if the state of Michigan was unable to come up with a solution. To prove the water crisis was fixed, he said he'd have his two young children drink directly from the tap.
But activists and politicians, having seen this game before, urge candidates to take a different approach than their predecessors.
"What we want to see is candidates taking our crisis in Flint seriously and following through with promises made to get us what we need to recover," Mays said, adding that candidates also need to think about how to prevent similar crises from happening across the country.
"I know a lot of the candidates personally, a lot of them are really good friends of mine," Representative Kildee said. "I know them to be people of good will and I know they mean it when they say they want to do something about this.
"But if you're a Flint resident, you don't really make a distinction between candidates when they say things. The only thing that matters is what they do."