Flipboard Turns Twitter Into Your Own Magazine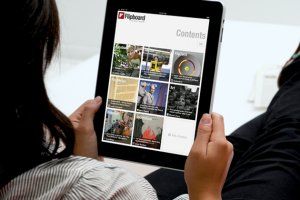 Things have been pretty wild around the headquarters of Flipboard lately. This tiny company (19 employees) launched its first iPad app in July, and so many people wanted to download it that within 20 minutes Flipboard's servers were maxed out. Engineers scurried around trying to fix the problem, but after 36 hours, the only thing Flipboard could do was put people on a waiting list. Two weeks later it finally got everyone signed up. "It's just an incredible reaction that we've gotten. We never anticipated it would be so instantaneous," says cofounder and CEO Mike McCue.
A decade ago, McCue, now 43, founded Tellme Networks (which made software that lets people search for things like stock quotes and movie listings using voice commands over the telephone) and sold it to Microsoft in 2007 for a reported $800 million. But the reaction to the free Flipboard app, he says, is "like nothing I've ever seen before."
What's the big deal? Flipboard has found a way to take the news feeds that you get from friends on Facebook and Twitter and turn them into what McCue calls "the world's first social magazine." Instead of the ugly little links to articles you have on Twitter, on Flipboard you get a glimpse of the original articles and photos, laid out the way they might be in a magazine. To browse, you just flip with your fingertip, the way you would turn the pages of a magazine. I follow film critic Roger Ebert's Twitter feed, for example. Ebert sends out a stream of links to eclectic articles and photos. Reading him on Twitter is a pain because you have to click on each link. But reading Ebert on Flipboard is amazing—suddenly you've subscribed to this wonderful little magazine run by a really smart, funny editor.
It sounds simple, but it's actually pretty profound. Now anyone who is gathering up Twitter feeds is, in effect, curating a magazine. It means that we're stumbling toward a completely customized form of journalism, and it shows how the media business is being transformed not by giant conglomerates but rather by tiny shops in Silicon Valley.
One possible glitch is that most of that material doesn't belong to Ebert—or Flipboard. Only hours after Flipboard went live, blogs were buzzing with speculation that what the company is doing might not be legal, since its software works by "scraping" content from other Web sites. But McCue insists there is no problem because Flipboard displays only a small part of an article, not the entire thing, and then embeds a link that takes a reader to the original. He says publishers love the idea—in the first four days that the app was available, 150 media companies called him, seeking meetings or entry onto Flipboard's "recommended" lists.
McCue's partner at Flipboard is 29-year-old Evan Doll, a former Apple engineer. The pair hit on the concept of a "social magazine" after agreeing that reading news feeds you get from friends on Twitter was clunky. When Apple introduced the iPad in January, they knew they'd found the ideal platform and immediately began writing code.
Flipboard hasn't worked out a business model yet, but plans to put ads next to articles and then share some advertising revenue with publishers. McCue believes that Flipboard on the iPad can deliver better-quality ads than the cheapo ones you see on the Web. And there's no big rush to make money: Flipboard has raised $10.5 million from venture-capital firm Kleiner Perkins Caufield & Byers and other investors. "The first thing you have to do is create an experience that people are excited about and using a lot," McCue says. That part, it seems, Flipboard has already accomplished.
Daniel Lyons is also the author of Options: The Secret Life of Steve Jobs and Dog Days: A Novel.