Houston, East Texas, Louisiana All Under Threat of Flash Floods as Severe Thunderstorms Roll In
Heavy rain was in the forecast Friday and Saturday for areas across east Texas and Louisiana. "There is a slight risk of excessive rainfall over the western and central Gulf Coast states," said the forecast from the National Weather Service (NWS).
Flooding began Thursday and was so severe it was likened to the flooding brought on by Hurricane Harvey. Some schools in Houston were closed due to the storms and continued flooding.
The risk was most severe over Texas, Louisiana and Mississippi. "Certainly the potential is there for additional significant impacts from flash flooding if new heavy rain occurs in areas already saturated, mainly in the Slight Risk area," said the forecast from the NWS.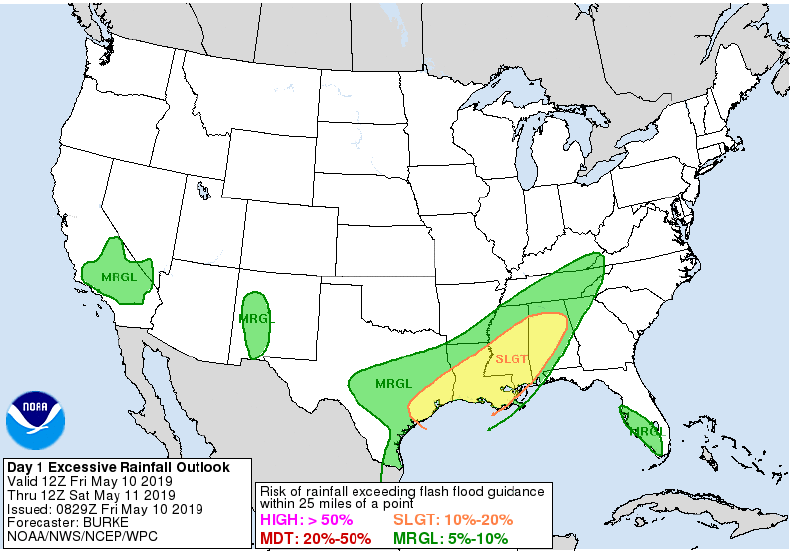 Small creeks and bayous were overflowing their banks where 3 to 5 inches of rain fell. There were flash flood warnings and watches covering parts of Texas, all of Louisiana and central Mississippi.
A flash flood watch is issued when the conditions are right for a flash flood to develop. When a flash flood watch is issued, there is no flash flood occurring, and no flood necessarily will occur—it simply means it could develop. A flash flood warning, on the other hand, is more severe and a much higher risk for those in the areas where a warning is issued. Flash flood warnings are issued when a flash flood is happening or just about to happen.
Those in the areas where the flooding is expected should take all warnings from the authorities seriously and follow all instructions from local authorities. Flooded roadways should be avoided, as the NWS slogan "Turn around, don't drown," suggests. The NWS website and social media channels like Twitter will have updates about the storms, as will local authorities.
While some parts of the country were experiencing flooding Friday and into Mother's Day weekend, other areas were also expecting less severe rain through Friday evening and the weekend.
Areas along the East Coast were expected to get rain Friday leading up to the weekend, including some on Mother's Day rain, though nothing as severe as the conditions in Texas.