Oklahoma, Missouri, Kansas Tornado, Flooding Maps Update: Deadly Storms Pummel Central States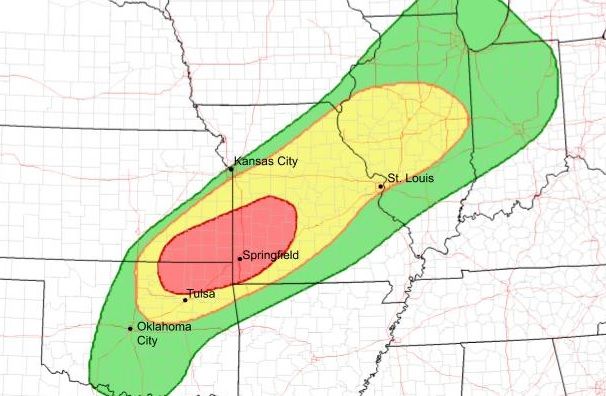 At least six people have been killed in the severe weather in the Plains and Midwest, with one Missouri city getting hit by a tornado on the eight-year anniversary of a twister that left 161 people dead.
The National Weather Service in St. Louis said that a violent tornado ripped through Missouri's capital Jefferson City at around 11:45 p.m. local time, causing extensive damage to the area.
In a tweet, the Missouri Department of Public Safety confirmed that three people have been killed in the Golden City area of Barton County and several people have been injured in the Carl Junction area of Jasper County. The department said power lines are down and advised people to still consider them live and to stay away from the damaged areas.
Local media reports that many people are still could still be trapped in their homes as a result of the tornado.
"Major tornados across state tonight, including Jeff City. We're doing okay but praying for those that were caught in damage, some are still trapped—local emergency crews are on site and assisting," Missouri Mayor Mike Parson tweeted.
A warning was issued for the city of Joplin eight years after a catastrophic twister killed 161 people. The 2011 twister in Joplin was one of the most destructive in U.S. history. It is unclear how much damage the latest severe weather caused the city.
In the town of Webbers Falls, Oklahoma, a mandatory evacuation order was issued as a result of flooding from the Arkansas River described as a "life threatening situation" by officials.
"Evacuate Webbers Falls immediately," a statement on the town's Facebook page stated. "The barges are loose and has the potential to hit the lock and dam 16. if the dam breaks it will be catastrophic."
The National Weather Service (NWS) has issued flood warnings across Oklahoma as a result of the "ongoing life-threatening" situation.
"Additional rainfall will be possible this afternoon and tonight in areas that are already experiencing life-threatening flooding. The additional rainfall will exacerbate and likely continue these dangerous flooding conditions across the area for an extended period of time," the NWS said in a statement.
The Oklahoma Highway Patrol said one woman has died in Payne County after she got swept away attempting to drive around a high water sign on a road. Emergency services attempted to rescue 54-year-old Laura Renee Moorman after she got submerged in the water but she was pronounced dead at the scene, reports KFOR.
Two people were killed after crashing their vehicle into a tractor just west of Springfield, Missouri. Authorities said heavy rain played a factor in the deaths of Brandon Beasley, 23, and his wife, 24-year-old Christin Beasley, said the Associated Press.
Elsewhere, a tornado warning was issued for parts of Kansas along with neighboring Missouri, although the extent of the damage is still unclear.
"Things are very preliminary, and we are still issuing tornado warnings, so right now it's kind of our focus to get through the night with the flash flood and the tornado warnings," Doug Cramer, senior meteorologist with the National Weather Service in Springfield, Missouri, told the Kansas City Star.
The NWS warned severe thunderstorms, strong tornadoes and flooding will continue across central parts of the country.
"The second low pressure system develops across the western High Plains Thursday night (May 23) and lifts northeastward across the Upper Midwest by Friday evening," an NWS forecast said.
"A corridor of enhanced rainfall along with severe weather is likely from the Texas Panhandle to Wisconsin over the next couple of days. Flash flooding is possible across portions of the central plains during this time, and SPC has an enhanced risk of severe storms from northwest Texas to central Kansas on Thursday."