Flood of Trump Yard Signs Tries to Stop Democrats' Momentum in Key Georgia County That Clinton Flipped in 2016
Enthusiasm for politics has been growing in Cobb County, Georgia, for some time, and that enthusiasm is blossoming in the Peach State at election time.
Cobb County Democrats were buoyed by Hillary Clinton's victory in this traditional Republican stronghold in 2016. Although rising star Stacey Abrams came up short in her run for governor in 2018, she made Joe Biden's short list for the vice presidential spot on the national ticket.
"In the circles I've been in, there has been a lot of excitement about the Democratic slate," said Lisa Cupid, the lone Democrat on the Cobb County Board of Commissioners. "There's a lot of confidence on the Democratic side."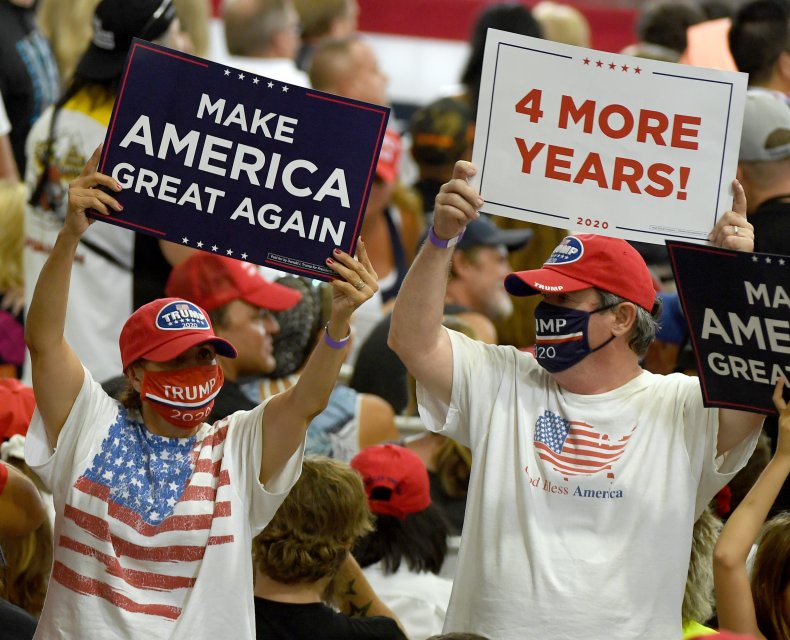 This year, she is running for chair of the Board of Commissioners.
Local issues such as transit infrastructure and the directions taken by political leadership and elected officials have been dominating political conversations in the county as more citizens become involved in party politics, Cupid told Newsweek.
Clinton captured the county by 2.1 percent in 2016, after Romney won it by 12.42 percent in 2012, and McCain carried it by 9.4 percent in 2008. Donald Trump won Georgia in 2016 by 5.09 percent taking its 16 Electoral College votes in a year when he lost the national popular vote but won the presidency.
Jacquelyn Bettadapur, chair of the Cobb County Democratic Committee, said major demographic shifts over the past several years, as people have moved from out of state to the suburbs northwest of Atlanta for jobs, have given Democrats momentum.
"Seeing Hillary Clinton win in this county was the first sign of the reemergence of the Democrats as a force to be reckoned with," Bettadapur told Newsweek. "It was the start of it all."
Cobb County's estimated population was 760,141 in 2019, making it one the state's largest, according to the US Census Bureau, and the county has 530,451 registered voters as of October 1, 2020, according to the Cobb County Elections and Registration Office's website.
In 2016, voter turnout in the county was 79.09 percent, according to the Cobb County Elections and Registration Office, dwarfing the national turnout of 55.5 percent. In the 2018's midterm election, when the state's governorship was up for grabs, 64.21 percent of registered voters turned out, according to official summary on the Cobb County Elections website
The league of Women Voters of Marietta-Cobb County has seen an increase in emails, texts, and calls from voters with questions about voter registration, the presidential election, state legislative campaigns, the county sheriff's race and the Cobb County Commission chair contest.
"People are concerned where to drop off their absentee ballots, people are concerned about getting an absentee ballots, others are concerned where they can find information about where they can find information about the candidates," Elizabeth Melville, co-president of the League told Newsweek, "and just general information about the election that is coming up."
Part of the suburban Atlanta "bedroom county" is in Georgia's 6th Congressional District, which had been represented by former House Speaker Newt Gingrich, the Republican firebrand who spearheaded the impeachment of Bill Clinton in 1998.
Trump's first Secretary of Health and Human Services, Tom Price, also held that seat earlier in his career. He resigned his Cabinet post after a controversy over his use of private jets and military aircraft to travel.
Republican Mike Boyce, chairman of Cobb County Board of Commissioners, said he has knocked on "5,000 doors, easily," socially distancing while talking to people in their yards since mid-July in his own re-election bid against his Democratic challenger Lisa Cupid.
"We vote bipartisan here," Boyce told Newsweek. "People spend their time here looking at the issues, taking the time to consider them and then they vote their conscience."
Because of increased interest on the Democratic side for local, county and state candidates, concerns over COVID-19 and the tightening presidential race, the GOP in Georgia has mobilized.
Donald Trump Jr. was scheduled to speak in Kennesaw, Cobb County, Georgia, on Monday, but the event was postponed.
This past Saturday, GOP faithful in the county gathered for their monthly in-person breakfast, which featured local and county candidates among other speakers. The event was livestreamed on the Cobb County Republican Party's Facebook page. The real-time and recorded video had garnered 546 views and 25 likes as of Tuesday.
The marquee speaker at the livestreamed event was first-term Sen. David Perdue, first cousin of United States Secretary of Agriculture Sonny Perdue.
The senator made a stop as he barnstormed across the state with recent polls showing him in a dead heat in his reelection bid against Democratic challenger Jon Ossoff, CEO of media production company Insight TWI.
Perdue emphasized Cobb County's importance to the state and the nation, and to both Trump's and his own reelection.
"There are about 20 counties, and you're sitting in one of them right here, Gwinnet County's another one, that will determine the next president of the United States," Perdue said. "And as the president goes in Georgia, so goes I, I believe."
Perdue and county Republican Chairman Jason Shepherd encouraged party members at the breakfast and watching online to get out to canvass and campaign for GOP candidates at every level.
If lawn signs, banners, and hats are any measure, Republican supporters are highly motivated in this county.
"We have, just in Cobb County alone, distributed more Trump-Pence signs yard signs than the Georgia Republican Party dispensed in the 2000, 2004 and 2008 elections combined, and we're still going," Shepherd told Newsweek. "We can't keep signs at the headquarters because the constant flow of people coming has not stopped and it's been steady."
Shepherd is a lawyer, a part-time assistant professor at Kennesaw State University and assistant faculty advisor of the university's College Republicans and the school's branch of Turning Point USA.
In his career, Shepherd has worked for Gingrich and on John McCain's presidential campaign, but said he's never seen greater enthusiasm than this year.
.
"It's like nothing I've seen in 26 years of being in politics," he said.
Of the county's population, 62.4 percent identified as white and 28.8 percent as black or African-American, according to the Census Bureau. In addition, 13.3 percent identified as Latino or Hispanic, defined as being of Cuban, Mexican, Puerto Rican, South or Central American, or other Spanish cultures or origin. The Census Bureau considers Hispanic or Latino an origin, not a race, so people who identified themselves as Hispanic or Latino may also be included in race categories.
Shepherd said the county GOP's ranks are more diverse than some would think. They include County Tax Commissioner Carla Jackson, the first African-American woman elected countywide, and Cobb County District Attorney Joyette Holmes, who was the first African American and first woman to serve as Chief Magistrate of Cobb County, he said.
"We have more women candidates running than we've ever had," Shepherd said.
"So, that kind of throws in a more interesting dynamic to Cobb County politics," he said. "We're mostly thought of as the home of Newt Gingrich and (former Republican U.S. Senator) Johnny Isakson."