Flood Warnings in Effect for Ohio Valley, Ohio and Kentucky, as Water Levels Rise to Flood Stages
A flood warning has been issued and extended by the National Weather Service (NWS) for the Tiffin River in Ohio.
According to NWS, recent rainfall and additional overnight rain of around one inch will result in rising river levels on the Tiffin River at Stryker in Williams County, Ohio. The weather service has forecast that river flooding will persist through the week from tonight.
In the latest warning report, the stage of the river was at 8.2 feet and rising yesterday at 9:00 p.m. local time. The flooding stage is 11 feet. It is forecast that the river will rise above flood stage early tomorrow morning and crest near 12.8 feet by 1:00 p.m. local on Thursday, January 2.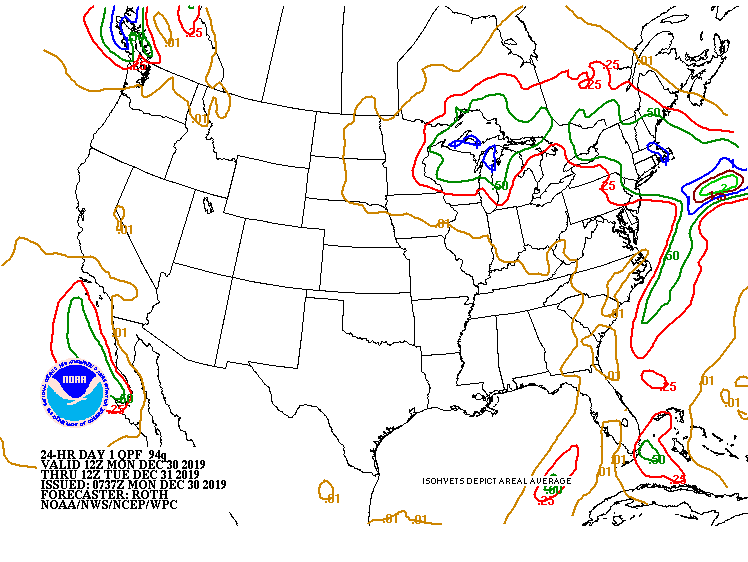 NWS warns that flood waters will begin to affect farm buildings near Stryker as well as flood secondary roads at 13 feet. In the case of flooding, the weather service warns residents to not drive their vehicles through flooded areas, as it may be too deep to allow safe passage.
The wider Ohio Valley is also under warning from flash flooding, with the majority of the alerts focusing on Kentucky. The warning is in place for the Red River at Clay City from this evening until tomorrow afternoon; the current stage is 14.2 feet, according to NWS, with the flooding stage at 17 feet. According to the latest warning, Maple street near the Red River Ranch as well as Pompeii Road off of Highway 15 are impassable.
More information on the flooding in Ohio Valley can be viewed on NWS's website.
In Lawrence County, Ohio, NWS reports that area gauges have recorded 1.5 to as much as 2.5 inches of rain over the past 12 hours. The concern raised in its special weather statement for the area is that there will be the continuation of excessive runoff, creating elevated levels on creeks and streams this morning. This could also result in low lying areas to experience high water levels into the morning hours, according to NWS.
According to the Department of Homeland Security, anyone under a flood warning should seek safe shelter immediately. It also advises to take the following steps:
Do not walk, swim, or drive through floodwaters; six inches of moving water can knock someone down, and one foot of moving water can sweep a vehicle away
Stay off of bridges over fast-moving water
If required evacuate or move to higher ground or a higher floor in a building, as well as move possessions
Sign up the local community emergency system, the Emergency Alert System (EAS) and the National Oceanic and Atmospheric Administration (NOAA) Weather Radio to get the latest warnings and updates
Gather supplies in case of an emergency or if services are cut off
Keep important documents in a waterproof container and create password protected digital copies.
Declutter drains and gutters and install check valves
After any flooding, only return home when authorities say it is safe to do so, according to the Department of Homeland Security, and avoid driving except in emergencies.
Once home, wear heavy gloves and boots during any cleanup and be mindful that snakes and other animals may end up in the house. There is also a risk of electrocution, so do not touch electrical equipment if it is wet or standing in water.
For more information on how to stay safe during flooding, visit the Department of Homeland Security's website.