'Floor is Lava' Location: The Netflix Show is Filmed in an Old Ikea
Floor is Lava is a childhood dream come to life, with the Netflix show featuring assault courses where contestants have to jump from platform to platform and avoid the bubbling red 'lava' (or proprietary brand of slime). A number of the courses are based on households rooms like kitchens and bedrooms, and it not the first time the building the show is filmed in has featured fake household interiors.
The Netflix show was filmed in a building in Burbank, California, that was once the home of the state's first branch of Ikea, which closed in February 2017. The space can be found in the old Burbank Town Center mall on the city's E Magnolia Blvd
Speaking to House Beautiful, Floor is Lava production designer Bruce Ryan said: "The lava tanks were filled in what was the self-serve area, where the customers would load their flat furniture boxes. Anyone who has purchased from IKEA knows how heavy these flat boxes can be, so imagine a floor that could withstand hundreds of tons of heavy boxes and you can see how it was perfect to withstand the weight of the lava, where many Hollywood Studios would have surely failed."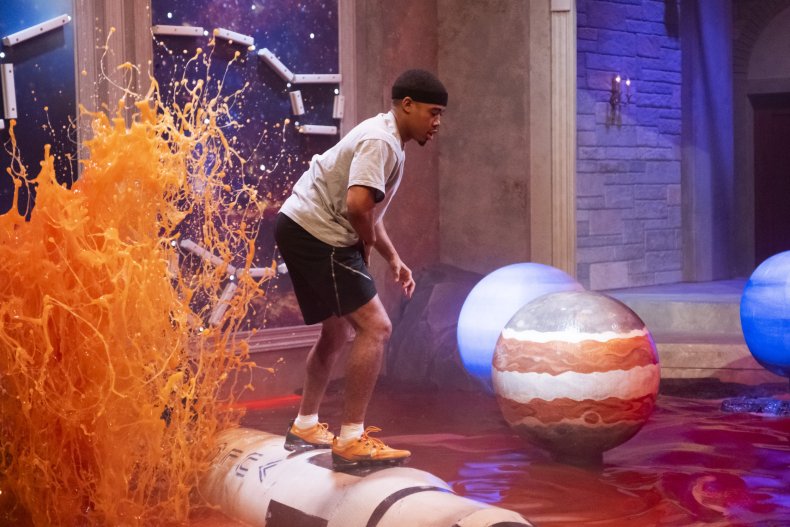 Fellow production designer Bruce Ryan said that the show used "over half a million pounds of lava." and show producer Irad Eyal told Fast Company that the show produced "close to 100,000 gallons" of red slime to fill each room with.
Eyal told USA Today, "A lot of Hollywood studios turned us down because they did not want 100,000 gallons of lava on their sets. We ended up filming it in an old IKEA in Burbank, which was a perfect space because it was enormous and structurally sound enough to support all of the lava."
Asked how deep the lava was on set, he said: "That's another thing that's under wraps, but the goal was safety. We wanted to make sure that they could fall from 10 feet up and not get hurt." As one contestant reveals while traversing The Kitchen in Episode 6, a number of the furnishings that seem to be made of wood are actually made of foam to make them less dangerous.
This choice of location may have given Floor is Lava the perfect space for its first season, but the makers of the Netflix show may have to look elsewhere if they make more episodes of the game show. In 2018, plans were unveiled to turn the Ikea into retail space, hotel rooms and apartments, which prior to the coronavirus were planned to be completed this year.
However, there are some hints that the show may have already filmed a batch of episodes that we have not seen yet. Speaking to Entertainment Weekly, he revealed there are a number of room we have not seen yet, which can be glimpsed in the opening of each episode.
Floor is Lava is streaming now on Netflix.