'Floor is Lava' on Netflix: What the Lava is Made Out Of
Floor is Lava on Netflix upgrades the classic childhood game of jumping from piece of furniture to piece of furniture with the addition of 'real', bubbling lava. Part of the pleasure of the show is watching an unlikely contestant slip into the slime, which seems to be warm and fairly disgusting.
An NBC preview of Floor is Lava said that the 'lava' is "bubbling water, dyed red and, one assumes, of some vaguely warm temperature." However, a Fast Company interview with show producer Irad Eyal revealed that the lava is actually a type of slime.
The producer said: "We tasked Hollywood's number-one slime manufacturing lab with coming up with the proprietary blend and then ordered more slime than any show had ever produced—close to 100,000 gallons.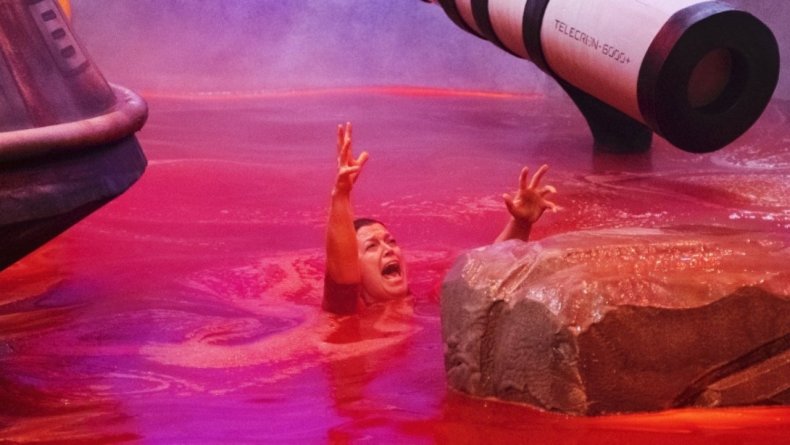 "I can't tell you what's in it, but our showrunner Anthony Carbone always joked that the closest thing to it is Panda Express orange sauce. So if you can get 100,000 gallons of orange sauce, you actually can try this at home."
Among the ingredients of this sauce are water, modified food starch, and xanthan gum, which are possible components of the Floor is Lava gunge. However, the lava is unlikely to include such ingredients as soy sauce and sugar unless the makers of the show want to deal with a sticky, smelly set.
Though the Floor is Lava slime is unlikely to feature many food ingredients for health and safety reasons, previous slime-based shows have used some pretty gross combinations.
For example, the first batch of gunge on You Can't Do That on Television was made by adding water to the leftovers for the studio's cafeteria, which grew a green scum on it.
There has been some debate by the makers of that show whether that rancid mixture was ever used, with show developer Geoffrey Darby telling Food and Wine that they did drop it, while crewmember Bill Buchanan told Mental Floss it was replaced with a Jell-o and flour mixture.
You Can't Do That on Television eventually settled on a slime made of cream of wheat, green food coloring, cooking oil, and baby shampoo, while Nickelodeon's Double Dare replaced this with what host Marc Summers called in a Tech Insiderinterview: "Vanilla pudding, applesauce, green food coloring, and a little oatmeal."
Nowadays, most TV slime is mostly a thickener named hydroxyethylcellulose, which is also used to make the thick sauce found in some fruit pies, while other slimes use cornstarch mixed with water, dyed with non-toxic colorant in whatever slime or lava color a show desires.
Both of these have the advantage of being edible, meaning there is little risk of accidental poisonings if slime gets in the contestants' eyes and mouths.
Other productions, however, have found other solutions. The Predator blood in the movie Predator, for example, is said to have been created by mixing a lubricant like KY Jelly with the insides of glowsticks.
Though most TV slime is edible, that does not mean the lava in Floor is Lava will taste nice. iCarly star Jennette McCurdy said of the iconic green Nickelodeon slime: "It tastes disgusting actually."
Floor is Lava is streaming now on Netflix.