Florence Aerial Photos: NOAA Releases First Damage-Assessment Data
It's been only days since Hurricane Florence made landfall and brought record rainfall to the Carolinas, but the National Oceanic and Atmospheric Administration has already captured data on the damage the storm inflicted.
The data, in the form of aerial images, was captured after the bulk of the storm hit. So far, the only images available cover Cape Henry, Virginia, down to Oregon Inlet in North Carolina, and from Ocean Isle Beach, North Carolina, to Charleston, South Carolina. The National Geodetic Survey was completing data collection, attempting two missions a day. The images in the database are expected to be updated roughly once every 12 hours in an effort to make more images available online on the Hurricane Florence Imagery site.
The images were captured with remote-sensing cameras onboard the King Air aircraft run by NOAA. The craft flew between 500 and 1,500 meters (1,640 to 4,921 feet) above the ground to capture the images, which were then compiled into a map.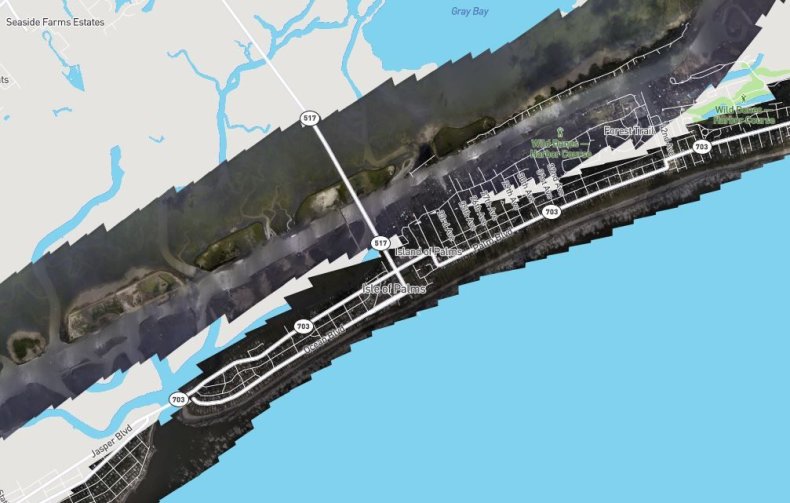 Within the database, users can look at the images arranged by the date they were collected and then compare them with same map and land in satellite images before the storm hit.
The map lets users zoom in and out as well as drag the map up and down the coastline, the only area where the images had been uploaded as of Monday. Users could also select whether they wanted to view data from one day, or several days, and whether they wanted street names included in the map.
While the data is available to the public, it's also used for research opportunities and emergency response, according to NOAA. The data is also available for download.
Similar data was collected for the Houston area after Hurricane Harvey hit in 2017. Mapping Houston took nearly a dozen flights and once it was done, the aerial images showed the roofs of homes surrounded by brown water, with front lawns, driveways and pools all submerged underwater.
The same thing was done for the Florida Keys after Hurricane Irma and most of Puerto Rico after Hurricane Maria.
Florence Aerial Photos: NOAA Releases First Damage-Assessment Data | U.S.