Florence Flood Map: Storm Still Poses Danger to North Carolina
Tropical Depression Florence battered the coast of the Carolinas over the weekend, and while the rains and winds are expected to start petering out, rising water and flash floods still pose a major threat to residents.
By Monday, five areas of North Carolina had broken tropical cyclone rain records, according to The Weather Channel. Swansboro, Hofmann Forest, Sunny Point, Nature Conservancy and Newport/Morehead City all surpassed the previous record of 24.06 inches, which was sustained during Hurricane Floyd in 1999.
North Carolina rivers also toppled the flooding record, with Little River in Manchester, North Carolina, reaching 32.19 feet. The National Weather Service (NWS) in Raleigh, North Carolina, issued a new set of river flood warnings at 6:30 a.m. EDT on Monday for Neuse River, Cape Fear River, Haw River, Deep River, Little River and Rocky River.
Major flooding was expected for Neuse River at Goldsboro, Little River at Manchester and Rocky River at Norwood. Warnings of moderate flooding were issued for Neuse River at Smithfield and Cape Fear River at Fayetteville. Other river flood warnings were issued for Cape Fear River at Lillington and Haw River at Bynum, plus Haw River and Deep River at Moncure.
Moderate flooding means that road closures will increase and water may begin to enter houses and businesses. At the flooding stage identified as major, roads closures will spread, and a foot or more of water could enter structures.
Evacuations were ordered for areas near McLaughlin Lake after Kaco Dam was declared to be in imminent failure. On Saturday, officials said they expected the dam banks to overflow and encouraged residents to evacuate to a nearby shelter, according to WNCN.
On Monday, the NWS in Raleigh issued a flash flood warning for areas of Southwestern Granville County, Northwestern Wake County and Durham County in central North Carolina, including:
Raleigh
Durham
Cary
Creedmore
Butner
RDU International
Rougemont
Morrisville
Stem
Lake Michie
Up to three inches of rain had already fallen in the area by 8:00 a.m. EDT on Monday, and the NWS reported that flash flooding was already occurring.
Other areas under flash flood warnings were New Hanover County, Pender County, Robeson County, Bladen County, Brunswick County, Columbus County, Southeastern Florence County, Northeastern Georgetown County, Dillon County, Horry County, Marion County and East Central Williamsburg County.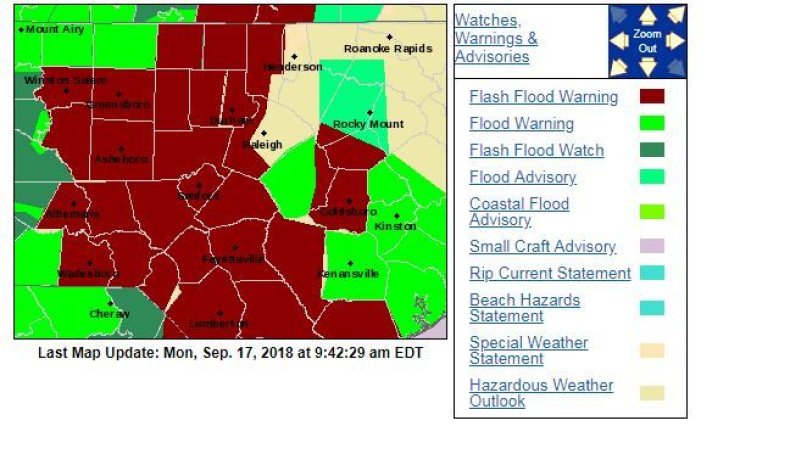 Wilmington, North Carolina, surpassed its annual rainfall record, and flooding made it impossible to get in or out of the city. At least 450 people were rescued from the dangerous floodwaters in the Wilmington area, according to The Washington Post.
"Every single road coming into the city or New Hanover County is impassable. The river has not crested and will not until possibly Tuesday," Wilmington Mayor Bill Saffo told the newspaper.
Areas of I-95 were shut down due to flooding, and I-40 is largely impassable in some areas, according to ABC News, and soldiers from Fort Bragg and the Coast Guard were dispatched to help with evacuations.

Eleven people have already been killed during the storm in North Carolina. Zach Taylor, a meteorologist with the NWS, told Reuters that the worst could be yet to come.
"The soil is soaked and can't absorb any more rain so that water has to go somewhere, unfortunately," he explained.
Although Florence has weakened to a tropical depression, the National Hurricane Center (NHC) expects it to re-intensify on Tuesday and Wednesday. Governor Roy Cooper urged residents to not become complacent because of the storm's status and said during a Sunday news conference that the storm has "never been more dangerous than it is right now."
Florence continues to move north-northeast at about 13 miles per hour, according to the NHC, and in the coming days is expected to bring heavy rainfall as far north as New York and New England.