Florence Path, Map, Latest: Where Is Storm Going Next?
Though Hurricane Florence is now a tropical depression, it's still bringing heavy rain as it continues to move inland. Florence made landfall Friday morning as a hurricane and brought record-breaking rain to the Carolinas before heading inland. The storm knocked out electricity for hundreds of thousands of people across North Carolina alone and killed more than 15 people, ABC News reported.
On Monday, the storm was still a threat to those in its path. Though the wind speeds had slowed, Florence still had plenty of rain to bring along with it whenever it went. In some areas where rainfall was prolonged, there was a possibility that structures such as bridges would be washed out and trees uprooted because of saturated soil.
The latest bulletin from the National Hurricane Center, issued Monday morning, said, "Florence continues to produce widespread heavy rains over parts of North Carolina and northeastern South Carolina into western Virginia. Flash flooding will continue over portions of the western Mid-Atlantic region."
In Chesterfield County, roads and bridges were washed out Monday morning, and the National Weather Service (NWS) estimated that many areas there saw 20 to 22 inches of rain.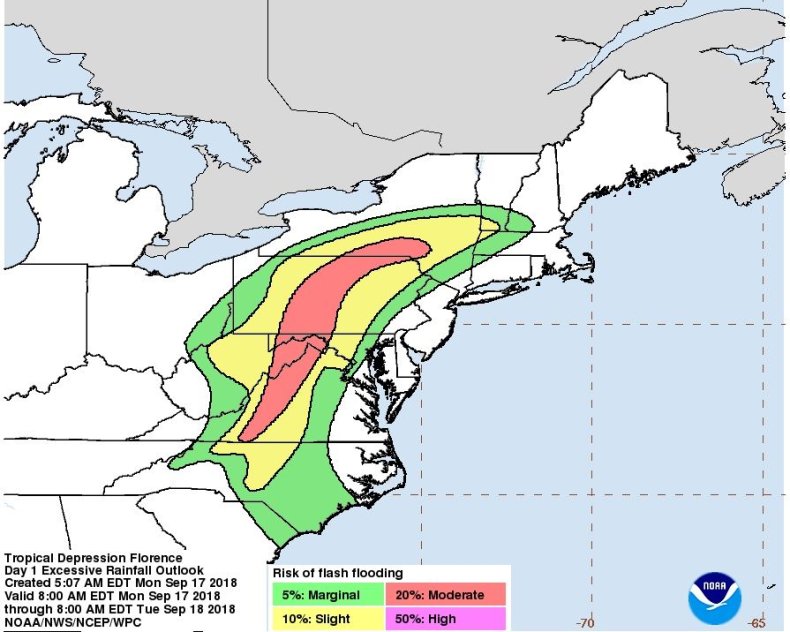 The maximum sustained wind speeds of what was left of Florence were just 30 miles per hour Monday, and flash flood warnings and watches were still in effect. The areas that should be the most on guard for the flooding were parts of western North Carolina, northeast South Carolina and southwest Virginia.
Florence was expected to bring rain elsewhere in the country as well. The states in the Mid-Atlantic west of Interstate 95, along with southern portions of New York and New England, were expected to see 2 to 4 inches of rain, on average, over the next two days, with 6 inches in some areas, the NWS said.
Those living in the areas that might get rain or possible flooding should monitor the advisories for where they live, including watches and warnings issued by the NWS.
A map from the NWS showed the areas most likely to get rainfall over the 48 hours after early Monday morning. The lighter-green areas were expected to see roughly 2 inches of rain, while those in dark green were likely to see 4. Later on Monday, the NWS is expected to update the rainfall outlook again.