Hurricane Florence Will Mean Bacon Prices Rise, Analyst Says
Hurricane Florence's effects will likely be felt at grocery stores around the country as a shortage of bacon and pork-products causes prices to rise.
North Carolina is the second-largest hog producing state in America, accounting for about 15 percent of all pork in the U.S. There's concern that the flooding and hurricane-force winds that hit along the coast of the state this week will kill enough animals to significantly reduce supply.
Even if hogs are able to make it to higher ground, slaughterhouses and processing facilities in the path of the storm will be shut down until further notice, slowing pork deliveries. Smithfield Foods's Tar Heel, North Carolina pork processing site, the largest in the world, was forced to close last week, holding up production and delivery. The company also closed its Clinton, North Carolina facility.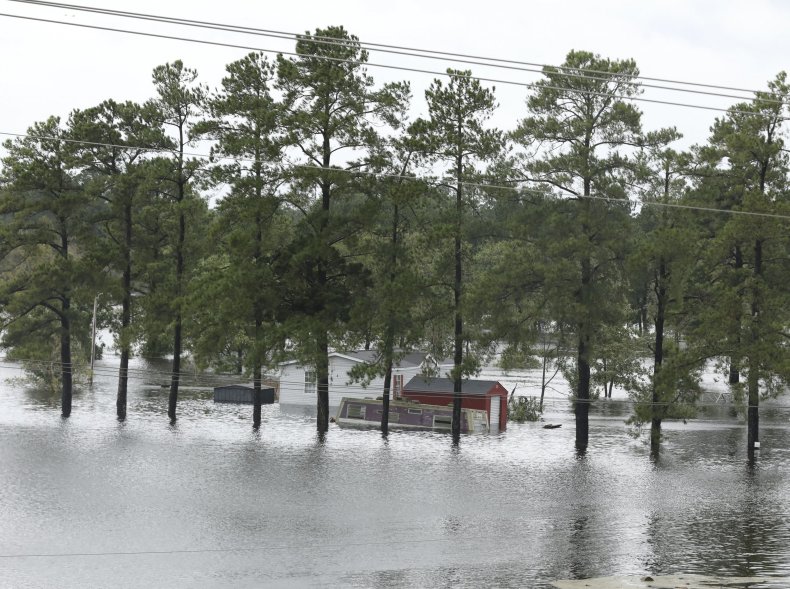 "North Carolina is the second producing state of pork in the country. They have over three million head of hog and a lot of those hogs are going to be wiped out because of the storm," said Phil Flynn, an analyst with the Price Futures Group, to Fox News. "You can only do so much to protect the hog crop and with this incredible flooding you're probably going to lose millions and millions of pigs and hogs because of the storm."
Bo Stone, a hog farmer in North Carolina, explained to Reuters that most local farmers did not have the ability to relocate their animals aheads of the storm. "Nobody would have the capacity to handle your animals," Stone said. "That's not really an option."
December hog futures reached highs last week as concerns of a pork shortage set in ahead of the storm.
North Carolina Senator Thom Tillis said Sunday morning that the state's agriculture industry was severely damaged and that the worst is yet to come. "The floods that come midweek are likely to be as damaging or more damaging than the original event," he explained. "I think it's fair to say in terms of economic impact, rebuilding, that we are talking in the billions of dollars."
There is also concern that large, toxic pits of hog manure kept on many farms will be swept up in flood waters and taint the drinking water throughout the Carolinas, an event that last occured during Hurricane Floyd in 1999.
Andy Curliss, Chief Executive Officer of the North Carolina Pork Council, explained last week that livestock on large farms will be safe unless rains surpass 25 inches. Some areas of North Carolina have now received more than 30 inches and rain is expected to continue over the next few days.