Florence Pugh's Response to Dress Backlash Praised by Celebrities—'Respect'
A string of celebrities have been heaping praise on Florence Pugh after the actress called out sexist comments on her sheer gown.
Aubrey Plaza, Jameela Jamil, Gemma Chan and many other high-profile stars have shown their support for Pugh as she opened up about being body shamed.
The Little Women star wore a sheer dress that showed her breasts to the Valentino haute couture show in Rome over the weekend and found herself facing a barrage of criticism over her body.
"It isn't the first time and certainly won't be the last time a woman will hear what's wrong with her body by a crowd of strangers, what's worrying is just how vulgar some of you men can be," the 26-year-old said in a powerful Instagram post, in which she called on society to "free the f*****g nipple."
"What's been interesting to watch and witness is just how easy it is for men to totally destroy a woman's body, publicly, proudly, for everyone to see. You even do it with your job titles and work emails in your bio..?" she wrote in the lengthy post.
The dress itself is a breathtaking fuchsia pink gown which Pugh suggested was designed by Valentino director Pierpaolo Piccioli.
"It makes me wonder what happened to you to be so content on being so loudly upset by the size of my boobs and body..?" Pugh asked in her caption.
"ok this is what i been sayingggg," wrote Parks and Recreation star Aubrey Plaza in response.
While West Side Story star Ariana DeBose added: "RESPECT. Period."
Joey King, of The Kissing Booth fame, wrote: "You are truly so amazing. You put into words what so many feel but can't articulate."
Nicola Coughlan from Derry Girls and Bridgerton added: "Adore you."
While the Good Place star Jameela Jamil responded with: "You're a magical f****** queen and we do not deserve you."
Singer Kate Nash said: "free the nips and f*** all the c****," while Eternals star Gemma Chan added: "Love you."
Samantha Logan from 13 Reasons Why added: "what are they so pressed for??? like damn."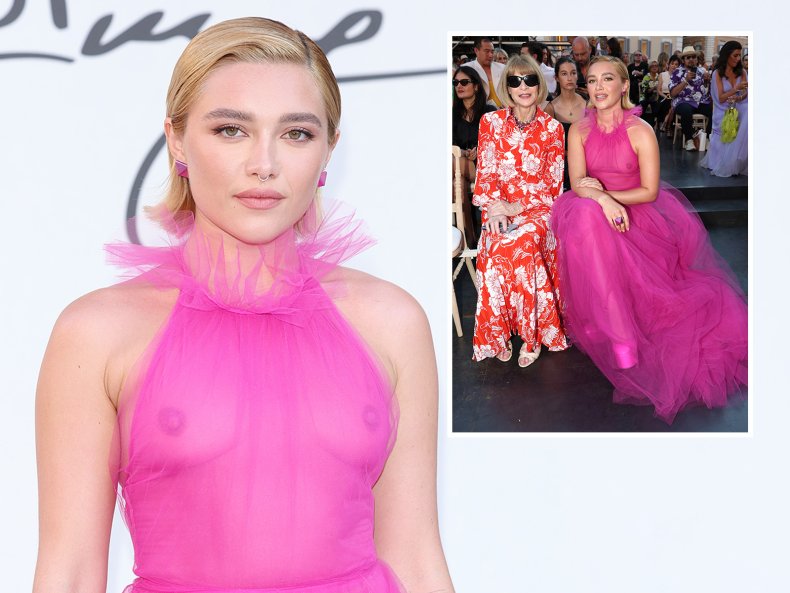 While singer and Doctor Who star Billie Piper wrote: "Never looked better. You are simply stunning. Beautiful beautiful women."
Dan Levy, Karen Gillan and Anna Sophia Robb are among the other celebrities praising Pugh on Instagram.
Pugh ended her piece by telling her followers: "Grow up. Respect people. Respect bodies. Respect all women. Respect humans. Life will get a whole lot easier, I promise. And all because of two cute little nipples...."
Update 07/11/22 8:15 a.m. EDT: This article has been updated with a new picture.