Florence Pugh and Zach Braff's Relationship Timeline
Florence Pugh (Little Women) has once again defended her relationship with older man Zach Braff, 46 (Scrubs).
The pair have been together for a few of years now and Pugh, 25, made waves when she addressed their relationship, and their 21-year age difference, in a lengthy Instagram video.
While promoting her new movie Black Widow, Pugh has once again commented on their situation, telling The Sunday Times: "I think it bugs people that it's not who they expected but it's my life and I'm not doing anything to please people or to make it a better headline or story. I want to also be a person!"
Braff, 46, and Pugh have been together for years now and even worked together on a project in 2019. Let's take a look at some of the milestones from their relationship timeline.
When Did Zach Braff and Florence Pugh First Meet?
Neither star has ever publicly confirmed how they met or when their relationship officially started.
The first public sign of affection between Pugh and Braff came in August 2018 when Braff started liking photos of Pugh's on Instagram. This may have been around the same time that she was cast in his short film.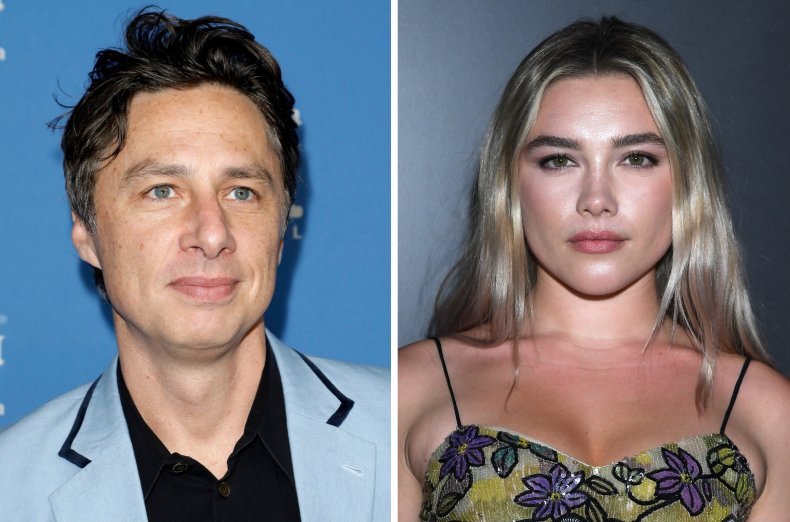 Zach Braff and Florence Pugh's First Project
Braff cast Pugh as the lead in his short film In The Time it Takes to Get There, which was released in April 2019. She played Lucille, a disenchanted social media influencer in the 18th century. The 11-minute movie, which is available to watch in full on YouTube, was written and directed by Braff and also stars Alicia Silverstone (Clueless).
The movie was inspired by an Adobe Cloud competition where students were invited to design a movie poster. Sam West from Boston University won and had her poster developed into a short Hollywood movie.
Braff shared some behind-the-scenes images of Pugh getting fitted for her costume in the movie ahead of its release.
Later in April 2019, E! spotted them out in public for the first time together holding hands on a Friday afternoon in New York City.
Appearing on Each Other's Social Media
After the movie came out, it took a little while for Pugh to appear on Braff's Instagram again. But on June 7, 2019, while on a trip to the U.K., he posted a selfie of himself and actor Toby Sebastian who is also Pugh's older brother.
Finally on October 10 that year, Pugh appeared in a group shot on Braff's account, with the caption reading "people I love."
Ozark actress Julia Garner commented that she loves Florence Pugh too.
They then appeared in an image on social media together on November 8, 2019 when Braff shared a picture of a group together in Disneyland with Braff and Pugh posing together in the middle.
The couple started to attend public events but not obviously together. They were both photographed at the L.A. premiere of Marriage Story as well as Pugh's Oscar-nominated film Little Women.
On December 28, 2019 Pugh came to Braff's defense online after he commented on one of her pictures on Instagram. Someone replied to Braff's comment reminding him of his age before Pugh replied, "and yet he got it??"
When Pugh got nominated for an Oscar in January 2020, fans speculated that the images she shared of herself in bed finding out about the news were taken by Braff. Later that day he shared images of her on his Instagram Stories of Pugh getting ready.
From there, they started to appear more regularly on each other's Instagram posts, in their Stories and by liking and commenting pictures.
After the pandemic started, they appeared to enter lockdown together in March 2020 and by April they'd adopted a dog. Braff confirmed online that they started fostering a pup named Billie but fell in love and adopted him.
Florence Pugh Makes the Relationship Instagram Official and Backlash
On Braff's birthday on April 6, 2020, Pugh shared a picture of him and their dog on her account and wrote a sweet message in tribute to her partner. She wrote: "Today we shall smile wider than the clouds are grey. April 6th and we're celebrating hard! Happy Birthday wishes, boogies and cheers for this special person. Raise those bubbles and jiggle!"
Two days later she posted an almost four-minute-long video addressing the "abuse and horrid comments" she'd received on Braff's birthday post. She told her followers that she is 24 years old and she "does not need to be told who she should and should not love."
Her rebuttal proved to be effective and the Instagram video received over 2.6 million views. It wasn't just fans who responded well to the video as singer Ariana Grande also shared her support and reposted the video.
A month later, Pugh further explained her video defense to Elle UK, saying it was a "necessary" move and "people need to realize that it's hurtful. I have the right to hang out and be with and go out with anyone I want to."
In November 2020, Braff discussed the video Pugh posted with British retailer Mr Porter. Opening up about why he also didn't say anything, he said: "She literally sat down, hit record on her phone, and said that. I thought, 'how could I possibly follow anything as intelligent and articulate as that?' So I chose not to."
One Year on From the Instagram Video
In 2021, the couple have been very open about their love for each other, with both of them sharing sweet messages on Instagram at different points.
On January 3, Braff posted pictures of Pugh for her birthday, stating how blessed he would have felt to smile with her for just one night but instead he gets to giggle with her every day.
On Braff's birthday this year, Pugh reflected on their time together claiming his "constant generosity and love for others is infectious."
The pair appear to be together and stronger than ever after Pugh's latest defense of Braff and their relationship in The Sunday Times.
Pugh can be seen in Black Widow coming to theaters and Disney+ on Friday July 9 while Braff is currently working on a remake of Cheaper By The Dozen alongside Gabrielle Union.