Florence Regains Hurricane Strength, Poses Serious Danger to Southeast Coast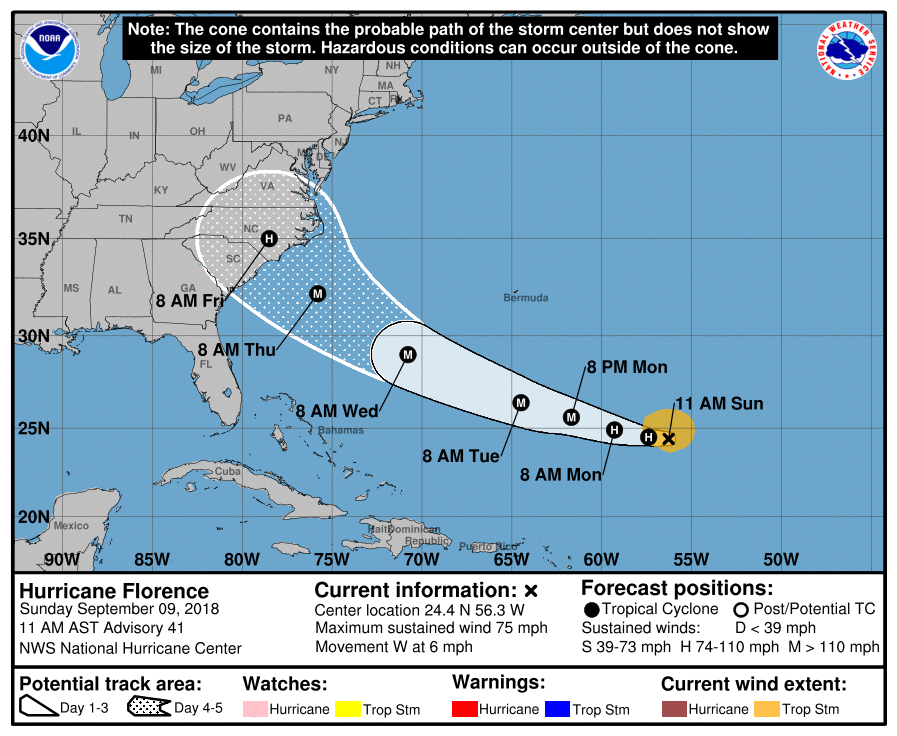 It's official, Florence has regained its strength and is now a hurricane again. And the latest forecast continues to suggest the storm will keep strengthening before crashing into the southeast U.S. coast next week as a major hurricane.
"Satellite images indicate that Florence is strengthening," The National Hurricane Center said in its 11 a.m. ET update Sunday.
The National Hurricane Center said interests along the southwest coast and inland face "storm surge at the coast" and "freshwater flooding" from Florence next week. The NHC also warned that Hurricane Florence could stall after landfall due to an Ohio Valley Ridge expected to form midweek. If Florence stalls inland, it could deliver "a serious heavy rain episode and inland flood hazard."
The NHC said NOAA Hurricane Hunters flew through Florence's eye this morning, finding increased winds and pressure dropping. "This data confirms that Florence has become a hurricane again, and the initial windspeed is set to 65 kt.," the NHC said.
Previously the Atlantic 2018 season's first major hurricane, Florence weakened for a couple of days into a tropical storm due to wind show. But Florence has moved into more favorite conditions late Saturday and into Sunday, regaining strength. The National Hurricane Center said Florence will likely keep strengthening, becoming a major hurricane on Monday.
The latest NHC forecast models suggest Hurricane Florence will likely strike somewhere between South Carolina and North Carolina late Thursday night and into the early hours of Friday morning with winds of 120 miles per hour or higher. That would make Florence a major hurricane at landfall.
"There is an increasing risk of two life-threatening impacts from Florence: storm surge at the coast and freshwater flooding from a prolonged heavy rainfall event inland," the NHC said Sunday.
"While it is too soon to determine the exact timing, location, and magnitude of these impacts, interests at the coast and inland from South Carolina into the mid-Atlantic region should closely monitor the progress of Florence, ensure they have their hurricane plan in place, and follow any advice given by local officials."
Florence is still more than 700 miles southeast of Bermuda, moving due west towards the U.S. Its currently a category 1 hurricane, with winds of 74 miles per hour. Florence is moving into warm water and less wind shear, however, proving conducive conditions for rapid strengthening.
"All indications are that Florence will be an extremely dangerous Category 4 hurricane while it moves over the western Atlantic toward the southeastern United States," the NHC said.
States along the U.S. East Coast have already declared states of emergency, including South Carolina, North Carolina and Virginia.