Florence Welch on Her Break-Up, Ceremonials, and Virginia Woolf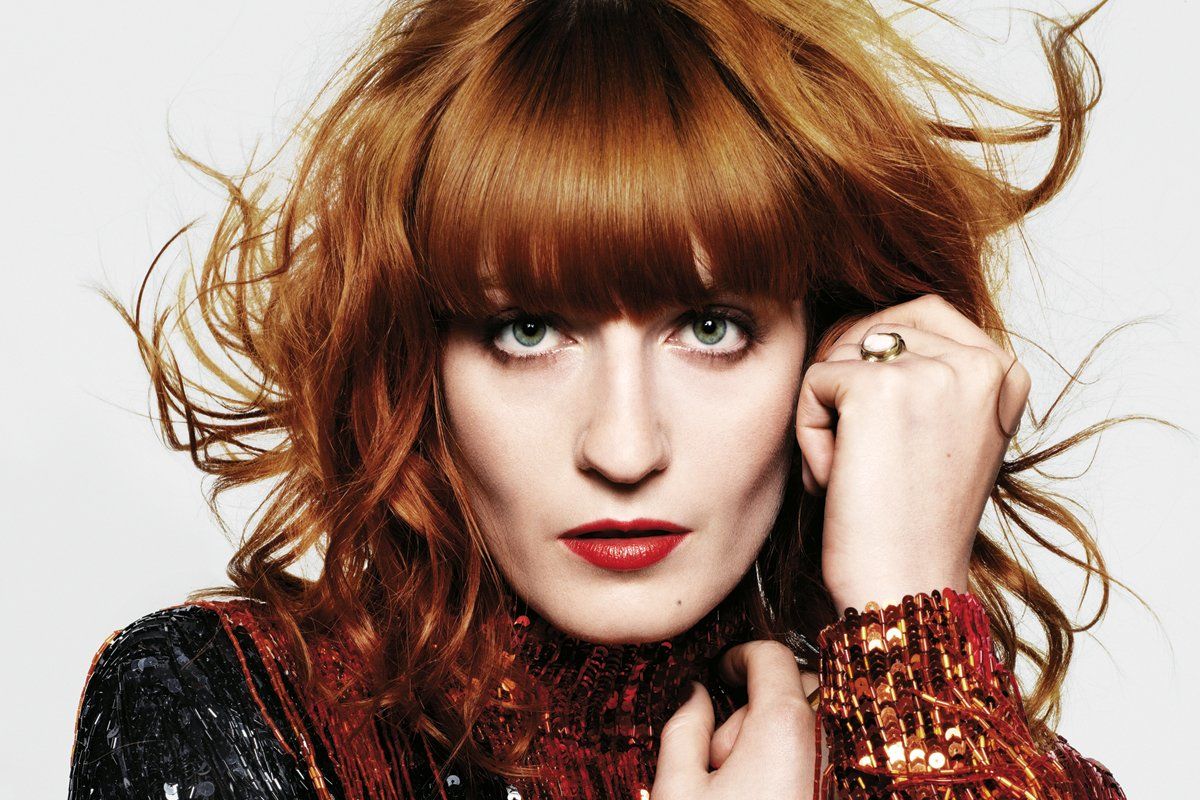 Florence Welch, the beloved Brit singing sensation, is having a blockbuster fall. Her new album, Ceremonials, lands Nov. 1 amid a storm of buzz. And she's coming off a tour where she was outfitted by Gucci, a remarkable endorsement for a celebrated fashion house.
But one recent morning, Florence was also running nearly an hour late. She'd lost her cell phone, having left it—atop a speaker, she thinks—at the Boom Boom Room, a swanky Manhattan nightclub where she had performed the night before. And she has a vicious hangover, which is the first thing she announces once she finally appears in the lobby of her hotel. "I decided to have one vodka martini," she explains. "And then that turned into seventeen."
Soon, Florence herself is lost. Looking for a museum just two blocks from her hotel, she walks, with no small amount of determination, in exactly the wrong direction. In person, "Flo," as her friends and family call her, is surprisingly tiny—fragile, even. "I feel bad for people because I think they expect me to walk in, 7 foot tall, brandishing a broadsword and a chariot," she says. "And I come in 5 foot 9 in pumps." Her stage presence, however, is as big as her voice. The previous night, she appeared onstage in shimmering turquoise, and sang a handful of songs to a rapturous crowd. During "Shake it Out," the first single off of her forthcoming album, Ceremonials, she looked positively blissful—the perfect image of a star at the ascent of her rise. But now wandering up and down the Bowery, her hair pinned in a messy-chic pile against the nape of her neck, wearing a Victorian-era high-necked ivory blouse, slim black pants, and flats, she resembles a lost little girl—like some slightly overgrown orphan from another era.
Performing with her band under the name Florence and the Machine, her first album, Lungs, released in 2009, was a smash hit, selling some 2 million records on the strength of the catchy single "Dog Days Are Over." After an invasion of cookie cutter pop stars, Welch swept in with remarkable force. With the face of a Rembrandt painting—all auburn waves and milky-white skin—and timeless but utterly unique sense of style (you'll never catch her in a dress made of meat) the 25 year-old Brit was quickly adopted as the fashion world's new darling. She inspired Gucci's latest line, with creative director Frida Giannini calling her "a strong and somewhat mysterious muse." Earlier this month, she appeared at Paris Fashion Week, in Karl Lagerfeld's Chanel show. Fittingly, Lagerfeld put her in a giant clam shell during his underwater-themed presentation. The world, it seems, is her oyster.
But first, on this overcast afternoon, Florence needs a cup of tea. She changes course again, crossing the street, heading towards the Bowery Poetry Club. "John Berryman," she says absent-mindedly. "He drowned himself, too." Who? "My favorite poet." Don't let the soaring ballads fool you: Florence isn't afraid to get dark. Very dark. Death by drowning is a theme that permeates her new album. "What the Water Gave Me" is plainly inspired by Virginia Woolf's suicide. On another track she sings rhapsodically about "the arms of the ocean, so sweet and so cold." She tells me she's always been sort of fascinated by water, and clips drowning stories out of newspapers. "It happens quite a lot with kids," she says. "Kids will get swept out to sea and their parents will dive in after them. And because of the weight of children compared to the weight of adults, quite often the children will get swept back into shore but the adults will drown. It's like the ocean wants its sacrifice. But would their parents have it any other way? They wouldn't."
This life of a star requires sacrifices too—most notably, the very recent demise of Welch's relationship with her long-term boyfriend, literary editor Stuart Hammond. Their previous split in 2009 famously provided fodder for the band's first album—and Welch's first bout of depression. Just like the last one, this album bears the emotional weight she carried when she wrote it. "Some of the songs are so much about that feeling of guilt and feeling like you're not able to be there for people," she says. "On this record, I think I'm questioning….You can be a good girlfriend or you can sink yourself into being a performer."
"I wonder what it would be like if I were a male rock star?" she wonders. "Maybe I just could be like 'fuck it' and keep someone hanging there."
Their decision to separate was a mutual one. But every time her ex comes up in conversation, she gets noticeably weepy. "It seems really unfair to take someone who has their own stuff to do and try to fit their life into this mad schedule. We were both really sad, but kind of just not able to have the time to fix it. It's not a sense of someone dumping someone else."
"I wonder what it would be like if I were a male rock star?" she continues. "Maybe I just could be like 'fuck it' and keep someone hanging there. But, I don't know…It just doesn't feel right. And I definitely don't have groupies. No, the evening always ends with me and my friend in my hotel room watching romantic comedies going, 'We're never getting married.'"
Yet for now, at the start of a two-year stretch that will see her crisscrossing the globe many times over—first to promote her hotly-anticipated new album, and then to tour—there are plenty of distractions. "It's a sacrifice to make but I can't think of anything else that I'd rather do than to sing and to be able to perform for other people. Right now there's not going to be any balance. Right now it's all or nothing…." she says. "When I get on stage and I start singing it does all make sense! Everything is just so and it's all the way you want it. For a second you're absolved and everything is soaring and upwards. And then it kind of sucks because [when it's over] you're just yourself again. Incorrigibly yourself."
It's enough to drive a girl to drink. And as for that missing cell phone? "It's a sacrifice to the party gods," she says with a sigh, falling into the arms of the hotel doorman. "New York demands her offerings."