Florida 10-Year-Old Calls Mask Guidelines Hypocritical During School Board Meeting
John, a 10-year-old student at Felix A. Williams Elementary school in Florida, called his school's face mask guidelines hypocritical during his nearly 3-minute speech at a recent school district meeting.
The boy spoke at a meeting of the Martin County School District which resides near the state's southeastern coast, about 45 miles north of Palm Beach. Video of his speech has already gained over 500,000 views on Twitter as of May 18.
"It seems unfair teachers take their masks off while they yell at us kids, and that we need to pull ours up. I asked my mom if there's a word for this and she said there is: hypocrisy," the boy said.
The boy also said that his school's COVID-19 guidelines forbid students from using the playground, holding student council meetings or facing each other at lunch.
He said that one teacher in particular hands out referrals to discipline students who lower their face masks. The teacher also forbids students from drinking water outside. She tells them they should wait until they're reunited with their parents before drinking water.
"We also have to wear masks outside at [physical education] and on track," he said. "I love my school and all, but my teachers seem really stressed and that makes me feel bad ... Breathing really doesn't seem like something we should have to ask any other people's permission for."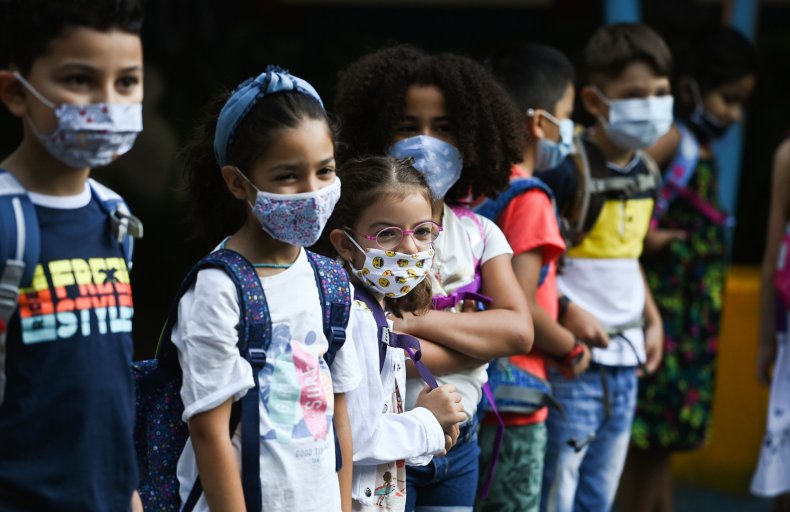 Near the end of his speech, the boy said that wearing his mask all day makes it hard to breathe and makes him feel "claustrophobic" and "anxious." He also said it makes him "feel really tired and gives me really bad headaches."
"It's really stressful," he added.
The boy concluded his speech by asking the district to make mask wearing optional for the rest of the school year. "It would be so awesome to end the school year on a really happy note like that," he said.
Some Twitter users praised the young student for publicly sharing his thoughts and opposing restrictive mask policies. Others have assumed that the child's parents helped write his speech.
Later on in the meeting, the school district voted 4-1 to keep its mandatory mask policy, according to Fox News. The policy will remain in place for the current school year's 12 remaining days. However, masks will become optional in the district beginning in June.
Martin County has had 12,518 confirmed COVID-19 cases and 324 related deaths since the start of the pandemic. As of May 18, the county ranks 31st among the state's 67 counties with the highest overall number of COVID-19 cases.
As of the same date, Florida ranks third among states with the highest overall number of COVID-19 cases. The state has reported over 2.3 million COVID-19 cases and 36,226 related deaths.
Newsweek contacted the Martin County School District for comment.