Florida Suspects Caught on Video Destroying 7-Eleven Store, Throwing Bananas at Clerk During Rampage
Police in Florida are on the hunt for the remaining group of vandals who were captured on surveillance footage trashing a 7-Eleven store.
Two people have already been arrested in connection to the incident which took place at the convenience store in Davie at around 1 a.m. on May 5.
Video footage released by the Davie Police Department shows four men and one woman entering the 7-Eleven and walking over to the clerk behind the tills.
Following a brief exchange, one of the male suspects starts throwing bananas at the employee before the whole group begin to vandalize the store.
According to police, the individuals began yelling at the clerk believing that he said something to one of their girlfriends. The clerk then locked himself inside the store's back office for his safety and called police.
"They're right here, I got them on camera and all," the clerk said, according to audio of the 911 call released by police. "Yo, they're right here. They're going crazy in the store. Can you get somebody here, please? They're vandalizing the whole store. They're breaking the computers and everything."
As the group left the store, one of the suspects, later identified as 18-year-old Damon Parrotta, punched and smashed the front glass window.
"In the 911 call, we can hear that the clerk is very concerned," Davie Police Sgt. Mark Leone told WSVN. "He's trying to get the police there as quickly as possible. This all happened within a matter of seconds, them completely trashing the store."
The group left before police arrived. However, one of the suspects, Jacob Jones, 18, had accidentally dropped his wallet inside the store. Jones and Parrotta then went back to the 7-eleven at around 2:40 a.m. to look for it. The clerk called 911 again and officers returned to arrest the pair.
According to Broward County Court records, Jones and Parrotta were charged with third-degree felony criminal mischief charges and released from custody after having their $500 bond paid.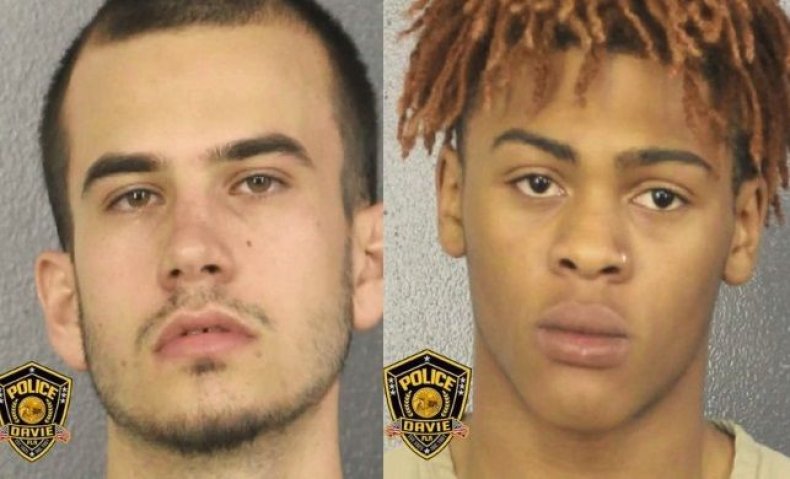 Police still looking for the other three suspects seen in the surveillance footage.
"The other two males and the single female that was with them were not identified. They [Jones and Parrotta] claim that they don't know them, but we don't believe that," Leone added.
If you recognize any of the other individuals in the video, please contact the Davie Police at 954-693-8200 or Broward Crime Stoppers at 954-494-TIPS (8477).