Florida 8th Grader Says 'White Lives Matter' After Threat to Kill Minorities, LGBTQ Members
An eighth grade student in South Florida was arrested after he made threats in a group chat last week to kill minorities and LGBTQ community members.
Miami-Dade police were alerted of the threat made on Wednesday, and arrested the child Thursday at Leewood K-8 Center, according to the Miami Herald. The student was charged with a felony charge of writing a threat to kill.
The story begins last week on a group chat in which the eighth grader said minorities complained too often, and that he had enough "military training" to kill them, according to the report.
He also claimed his verbiage would have "shock value" because he is a "straight white male," and he said systematic racial oppression was equivalent to that his shotgun ammunition faces.
"I don't care if you are oppressed because we all have our problems," the police report stated that the student wrote. "Wanna hear what is oppressed? My shot gun ammo because I am wasting it on minorities like you."
Later in the chat, the child allegedly wrote, "White Lives Matter."
On Thursday when police confronted the student about the threats, he claimed to have copied and pasted the text to the thread. Law enforcement officials took him to a juvenile holding facility, where he was charged.
A Miami-Dade County Public Schools spokeswoman issued a statement about the incident, saying the district will "swiftly" resolve the matter.
"Miami-Dade County Public Schools goes to great lengths to promote a culture of respect, restraint, and tolerance among our students," district spokeswoman Jackie Calzadilla said. "Students who choose negative words or actions over the values we promote will learn a tough lesson. Written and verbal threats of any kind will be handled swiftly and may result in severe consequences."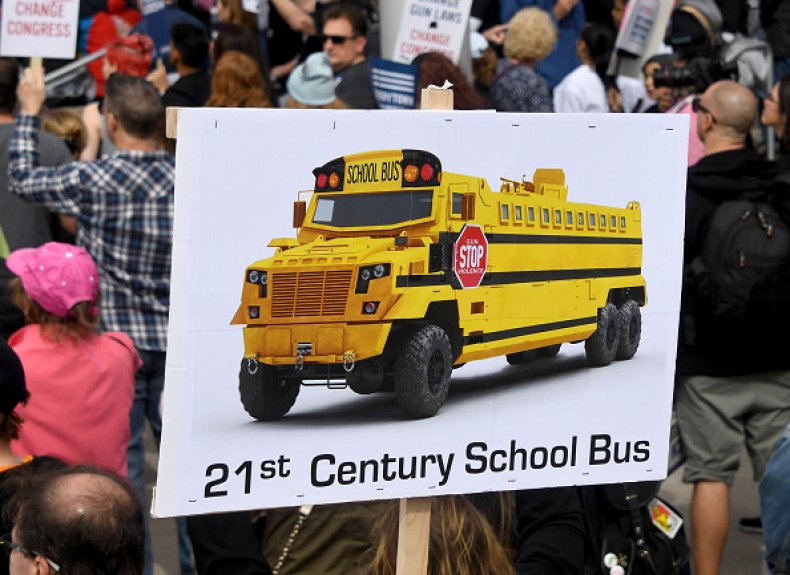 Florida residents have been on high alert for any potential shootings, or killings, in the last few years after the Pulse nightclub shooting in Orlando during 2016 that claimed the lives of 43 people and injured 53 others at the gay nightclub. That shooting was followed two years later by the massacre at Marjory Stoneman Douglas High School in Parkland on February 14, 2018 that took the lives of 17 students and teachers.
The mass shootings in Florida have prompted statewide debates on gun control and background checks for those purchasing guns. Though most state lawmakers—even Republicans—lean toward stricter gun laws, the National Rifle Association's (NRA) top lobbyist last month said that if laws were passed, young girls could not celebrate their birthdays by shooting rifles.
"How do you tell a 10-year-old little girl who got a Ruger 10/22 with a pink stock for her birthday that her rifle is an assault weapon and she has to turn it over to government or be arrested for felony possession?" the NRA's Marion Hammer asked at an August meeting.