Florida Airports Quit Screening Tri-State Passengers as COVID-19 Spiked
Florida public health authorities are no longer enforcing an executive order from Governor Ron DeSantis requiring visitors from New York, New Jersey and Connecticut to self-quarantine.
DeSantis issued the order requiring visitors from the Tri-State area to self-quarantine in March. Visitors who failed to abide by the order were subject to a $500 fine and a jail term of up to 60 days. People arriving by car or by plane were required to complete contact information forms and told to self-quarantine. Members of the Florida National Guard (FLNG) were deployed to obtain the information forms from travelers. Although DeSantis' executive order is still officially in effect, enforcement of the order appears to have ended.
"Florida Department of Health representatives will however no longer screen arriving passengers with a questionnaire and collect contact information effective June 30, but travelers are still required to self-quarantine upon arrival in Florida," read a statement on the Fort Lauderdale-Hollywood International website.
Newsweek reached out to the Florida Department of Health for comment.
According to a statement sent to Newsweek by the Florida National Guard on Wednesday, "The FLNG is no longer involved in the airport screening mission, per direction from the Florida Division of Emergency Management."
In March, DeSantis said the executive order was needed to stem the tide of visitors to Florida from areas in the U.S. that were seeing high rates of positive coronavirus cases.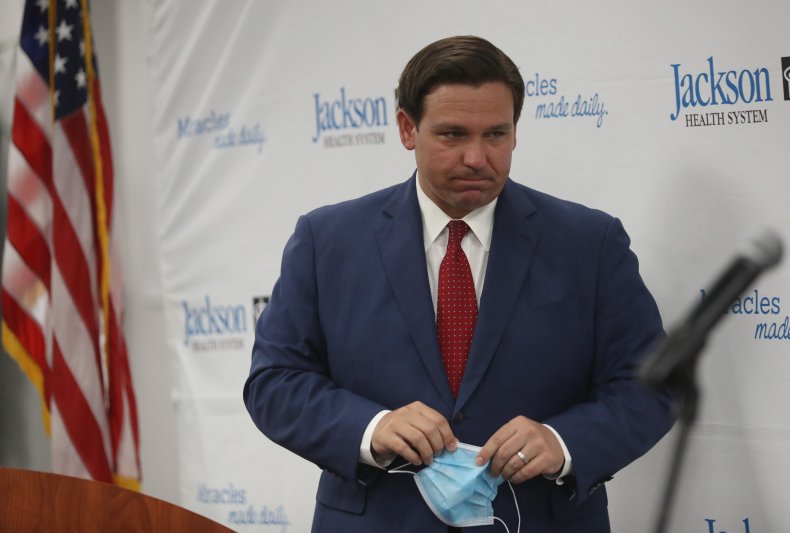 "After the stay-at-home, shelter-in-place order was issued, you started having a flood out of New York City, taking hundreds of flights to the state of Florida," DeSantis said. "It is mostly South Florida, but we saw 30-40 flights direct to Orlando."
Quarantine directives were initially planned to be in effect until the state of emergency ended in Florida. DeSantis extended the state of emergency in July after a statewide surge of positive cases of the virus. The state of emergency is currently expected to be lifted in September.
According to recent data, 10,508 new positive cases of the virus were reported in Florida on Monday. Cumulatively, Florida has the third-highest number of positive cases in the U.S. with a total of 360,394 reported as of Monday.
One of Florida's largest tourist attractions, Walt Disney World, reopened in July after being closed because of the potential spread of coronavirus. More than 58 million people visit Walt Disney World per year. Monday, the park added to its coronavirus mitigation protocols by prohibiting visitors to eat and drink while walking.
"Please bring your own face coverings and wear them at all times, except when dining or swimming," read the Walt Disney World face-covering policy. "You may remove your face covering while actively eating or drinking, but you should be stationary and maintain appropriate physical distancing."
Park guests are expected to undergo temperature screening before entering. Employees at the park will not be allowed to take photographs of guests with their own personal phones or cameras.
Updated 10:50 p.m. EST 07/22/2020: This story has been updated with a statement from the Florida National Guard.