A Florida man who has offered a very tongue-in-cheek alien abduction insurance policy for decades has now added coverage for anyone plotting to raid the top-secret United States Air Force facility known as Area 51—but it's best to read the small print.
Mike St. Lawrence, who spearheads The Saint Lawrence Agency in Altamonte Springs, says that the operation has existed since 1987—charging $19.95 for a digital lifetime plan and $24.95 for a paper version. Thanks to a recent social media sensation, business is on the up.
A line of text on St. Lawrence's retro website references the "Storm Area 51, They Can't Stop All of Us" campaign on Facebook, which spawned a new meme and forced a response from the U.S. military. It reads: "We have just added Area 51 Coverage! If you get in, but don't come out."
The alien abduction scheme says it provides $10 million compensation in the event the policyholder is beamed up. It covers medical issues (all outpatient psychiatric care), sarcasm coverage (immediate family members only) and double indemnity coverage to the sum of $20 million in the event aliens insist on conjugal visits or the extraterrestrial encounter results in offspring.
St. Lawrence told WFLA last month his business has sold upwards of 6,000 policies since 1987. He says there have been two claims since the company formation—and only one big payout. The catch is in the fine print: cash is paid in installments of $1 per year for 10 million years.
A form has to be submitted that asks for proof of abduction. St. Lawrence says the firm needs evidence such as a signature from an "authorized, on-board alien" or a UFO tag number.
The business owner's story has been consistent from the get-go.
In a 1999 appearance on Fox13, published to YouTube, St. Lawrence laid out the same pitch with deadpan humor. "I am as serious as I can be without serving jail time," he said in the interview.
At one point St. Lawrence said the head of the firm's claims department, called Mr. McClaim, was adept at analyzing policyholders' claims of alien abduction. "He didn't have any credentials whatsoever, but so far he has never made a mistake," St. Lawrence said, with a wry smile.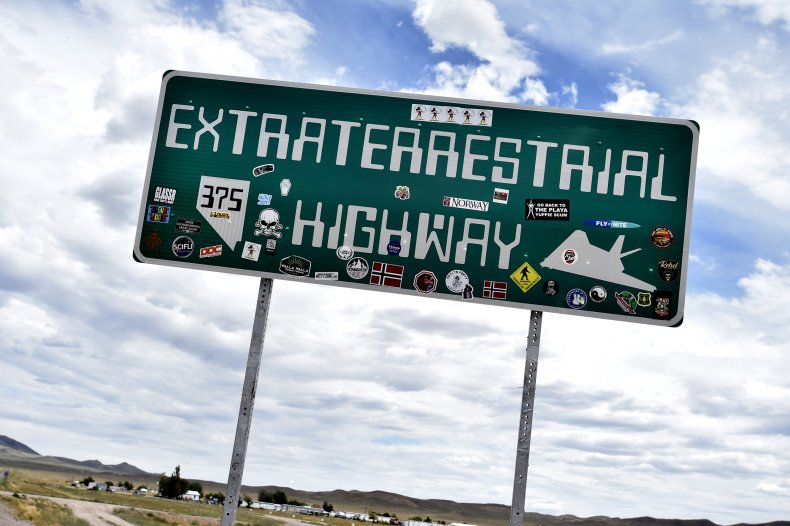 An older version of the insurance paper from 1999 listed the policyholder as Dana Scully and the beneficiary as Fox Mulder, a reference to the long-running television series The X Files.
The new version has been given a modern, more political, slant. In an example on its website, the policyholder is shown as Stormy Daniels, with the beneficiary being Donald J. Trump.
St. Lawrence is clear that the product was created for those who want to give a funny gift. Text at the top of the site reads "The Perfect Gift for Anyone who has Everything" and a banner states: "You found us! Now you can purchase one of the most unique gifts on the internet."
St. Lawrence told Fox 10: " The people that come to me, If I think they don't understand the terms and conditions, that this is tongue and cheek, I won't sell it to them."
Speaking to WFLA about the jokingly proposed Area 51 raid, he reiterated the policy is activated "if you go in and don't come out" but gave helpful advice to anyone considering it: "Stay home because this is a military site and they probably take blocking people from getting in seriously."
According to the Facebook account that sparked the viral meme, which listed the date of the raid as September 20 between 3 and 6 p.m., 1.9 people have already signed up to attend. "We will all meet up at the Area 51 Alien Center tourist attraction and coordinate our entry. If we naruto run, we can move faster than their bullets. Lets see them aliens," the page's description reads.
A military spokesperson told The Washington Post: "The U.S. Air Force always stands ready to protect America and its assets."