Florida Family Find 6-Foot Alligator Lurking Underneath Their Car
Florida residents got the shock of their lives after discovering an alligator underneath their parked car in the early hours of the morning.
Gators aren't an uncommon sight in the Sunshine State, but you usually don't find them admiring your parking skills.
But that's exactly what one six-foot long reptile was doing at around 3 a.m. in Immokalee.
Deputies from the Collier County Sheriff's Office were gathered around a white vehicle in an apartment complex's parking lot, after spotting the reptile had snuck underneath.
The owner of the car, named as Janie McIntosh by local outlet ABC-7, spotted the cops in the early hours of Saturday, and sent her grandson, Germaine James, to investigate.
As he approached the vehicle police told him to "freeze," the site said, before they pointed to the toothy predator lurking by the tires.
The police called for special gator handlers to secure the carnivore, who used a pole to drag it out from beneath the car, but not without a fight.
James was quoted by ABC-7 recounting the experience, saying: "Goosebumps everywhere like, dang! Never been this close to an alligator. It was nerve-wracking a little bit. Long, big, aggressive, feisty, death rolling, tail swiping. Yeah, he was ready."
Deputies confirmed the gator was relocated to a more "suitable environment."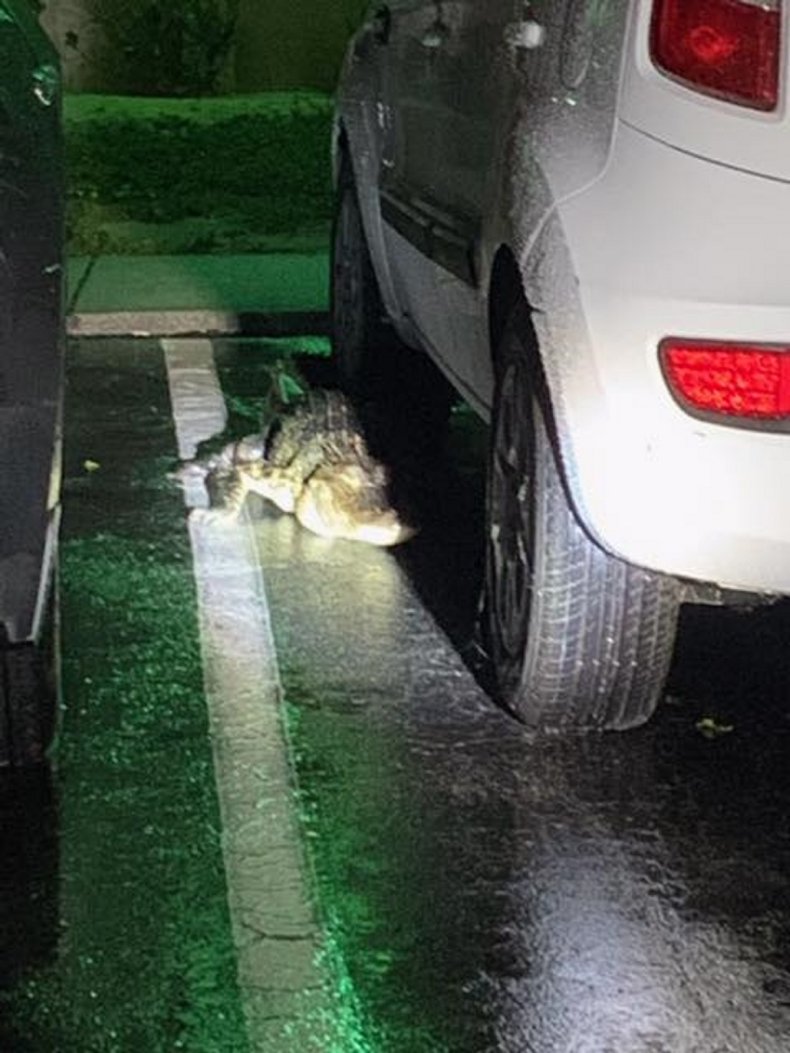 Collier County Sheriff's Office shared snaps of the early-morning excitement to their Facebook page, which they captioned "#onlyinFlorida."
They said: "Deputies spotted a 6 foot alligator crossing W. Delaware Avenue into the Immokalee Apartments just before 3 a.m. this morning. The gator hid under a resident's vehicle just before he came outside to retrieve something from his car.
"The State Alligator Trapper responded and was able to collect the gator and relocate it to a more suitable environment."
The post attracted hundreds of likes, as Kevin Burke wrote: "I know we're supposed to watch for gopher tortoises under our cars, but..."
NeNe Sirmans commented: "We have to be very careful no matter where we are. Glad no one was injured."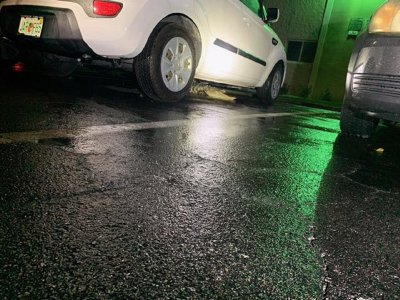 Although Tammy Alt thought: "Poor gator... Just moving from one lake to the other... At least it waited to the middle of the night when everyone SHOULD be sleeping."
In recent news, a toddler spotted what they thought was a "turtle" lurking in a sewer outside a restaurant, only for their dad to realize it was an alligator.
Joseph Brenner, from Jacksonville, Florida, revealed his 2-year-old son spotted the reptile.
Brenner shared the snaps to Reddit on October 19, and in a video posted he can be heard saying: "Yo, look at this in the sewer outside of Cantina. There is a ginormous alligator and it is alive as hell."