A large alligator has been filmed prowling an apartment complex in Florida.
Footage taken by Tampa resident Sara Stubben showed the predator strolling along a walkway at midnight. She said she had almost run into it as she walked her dog.
"I knew there was something living in our pond because I always saw ripples/splashes, but I didn't realize it was this big," Stubben said in a Facebook post. The 30-second video, which she shared on March 20, showed the alligator passing several properties.
She told Newsweek the alligator was at least 6 feet long, which is larger than most that are normally seen around the neighborhood. She said she believes the gator was a juvenile.
"We took the video at midnight," she said. "We had just gotten home from picking my husband up at work and the alligator was right where we normally walk! This was the first time I've ever seen a gator out and about in the complex. We've seen a few sunning themselves by the ponds or in the water."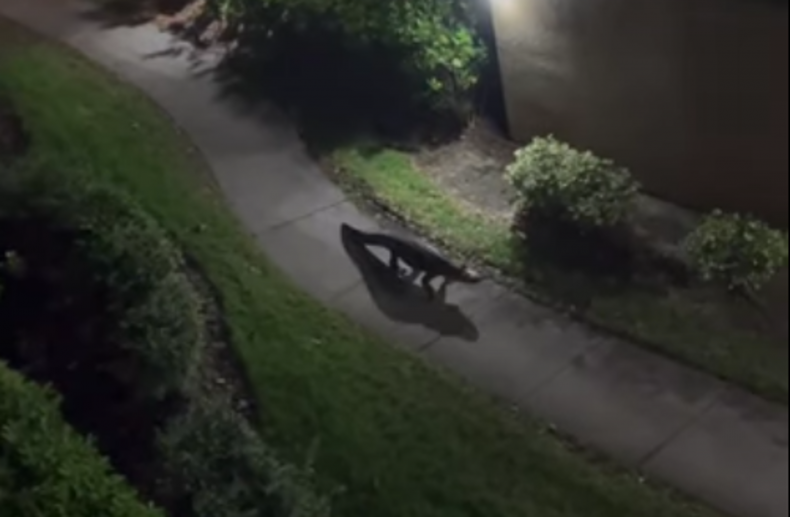 The Florida Wildlife Commission estimates there to be around 1.3 million alligators in the state. They are found across all of Florida's 67 counties and inhabit any wild areas that can support them. Alligators are often found in residential and recreational spots where there is access to a water source. Golf courses are a regular haunt, for example, with alligators often filmed trotting across the greens.
Alligators are so abundant in Florida the state runs a nuisance alligator program. To qualify, an alligator must be at least 4 feet long and be believed to pose a threat to people, pets or property.
Alligators trapped as part of the program are killed as they often try to return to their capture site. Many residents avoid using the service unless it is absolutely necessary.
Alligator attacks are relatively rare. Research published in 2019 looked at around 600 attacks that had taken place since 1971. Around half of these were unprovoked, about 60 unintentionally provoked, while just over 200 involved a person intentionally provoking the animal. Over 90 percent of attacks took place in water or close to the shore, and 81 percent of victims were male. One in three attacks involved people that had been trying to feed an alligator.
Stubben said she does not go out at night by herself and the latest sighting has made her more wary. "I'm definitely a little more concerned about my husband taking our dog out, but he just keeps an eye out," she said. "This is the alligator's home too."