Watch 8ft Alligator Get Dragged Out of Family Swimming Pool in Florida
A large alligator was found in a family's swimming pool in Florida recently, prompting an intervention by wildlife control and a struggle to get the animal out.
In footage posted Tuesday (January 11) to the Facebook page of Hodge Pool Service, who operate out of Venice, Florida, the animal can be seen moving slowly through the pool before the arrival of the authorities.
Jon Hodge, who runs Hodge Pool Service in Venice, captured the footage. "The house is for sale and the homeowners were not at home. The alligator tore through the pool screen and made itself at home," he told Newsweek.
"It was intimidating being that close to a creature with so much power. I hope to never come across one again in the pool. I enjoy admiring them at a safe distance."
Florida Fish and Wildlife Conservation Commission (FWC) were called in by the business and worked to safely move the animal on and out of danger.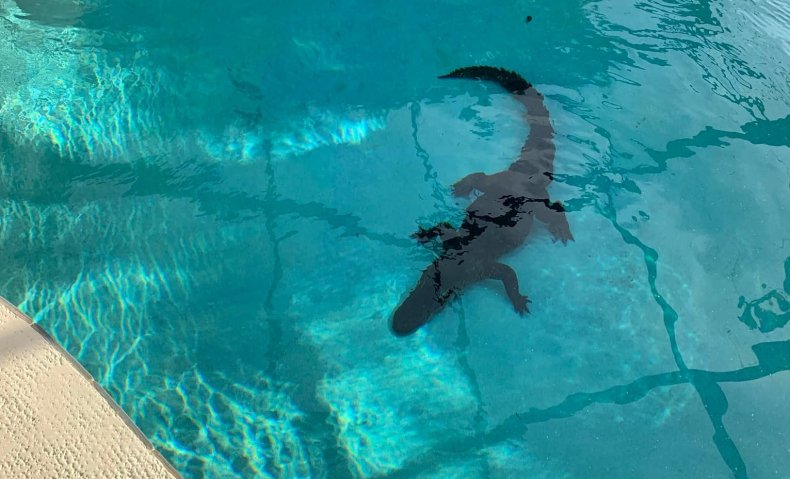 Subsequent footage showed the FWC struggling to lift the animal free from the water as it thrashed around, showing considerable power. Eventually they managed to get the reptile free of the pool and take it to a safer location.
Hodge said the alligator was between six and eight feet long.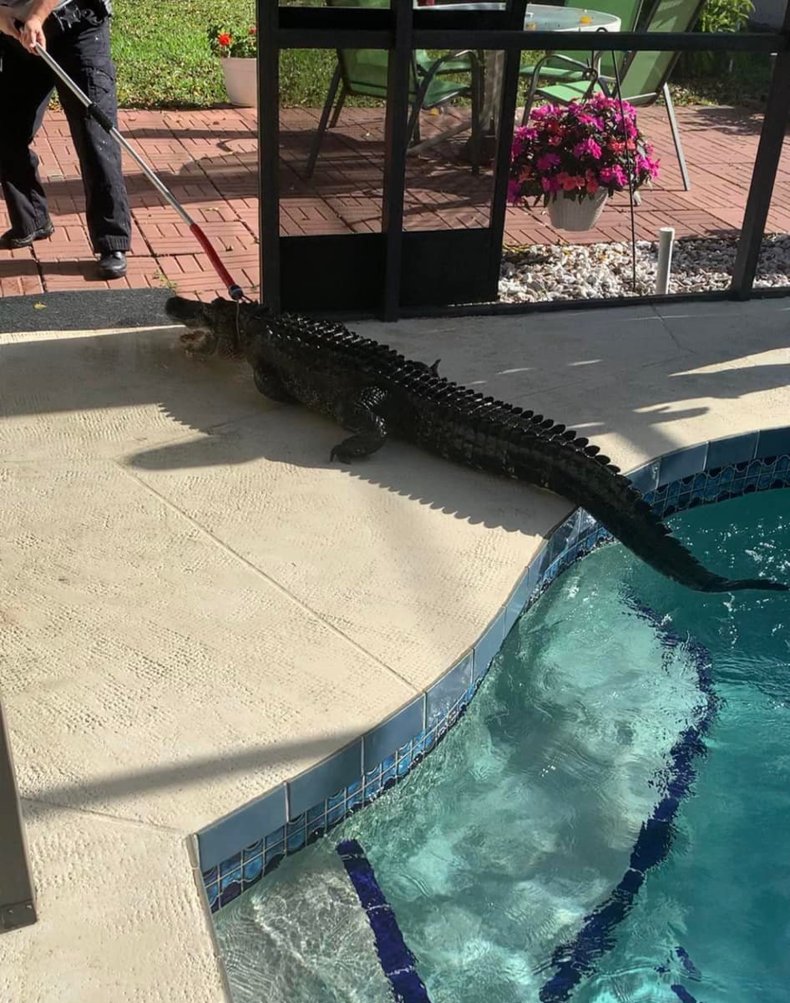 Hodge that while encounters with smaller wildlife were common in his line of work, this was out of the ordinary.
"I have never come across any alligators while servicing pools before. Some snakes and small rodents can be common but not alligators," he said. "The FWC said it was between 6 and 8 feet."
While it may be the first time Hodge Pool Services had faced an alligator, encounters with the animals can be frequent in Florida. An alligator was filmed on January 7 running across a golf course in Bradenton Florida with a huge fish in its mouth.
There are as many as 1.3 million alligators in Florida according to the FWC. Interactions with humans are so common the FWC runs a Statewide Nuisance Alligator Program (SNAP.) This service allows people to call a hotline to report problem gators. A nuisance alligator is one that is at least four feet long and poses a potential threat to people, pets or property.
The organization urge people to observe basic safety precautions when it comes to keeping themselves and the animals out of harms way.
Avoiding feeding alligators and keeping a good distance away from them if seen is strongly urged. The FWC also suggest swimming only in designated spots during the day, and keeping pets on the leash and away from the water.