Florida Woman Bitten by an Alligator After Stepping on It Thought It Was a Log
A woman carrying out research for the South Florida Water Management District (SFWMD) had a narrow escape when she mistook an alligator for a log.
Kelsey Pollack, 31, was researching tree islands for the SFWMD at the Arthur R. Marshall Loxahatchee National Wildlife Refuge on Thursday morning.
The staff contractor was waist deep in water wearing hip waders when she stepped on what she thought was a log.
She discovered her mistake when the creature bit her on the leg and swam away.
Pollack managed to scramble to safety up a tree. Her co-worker called emergency services and she was rushed to hospital, according to CBS 12.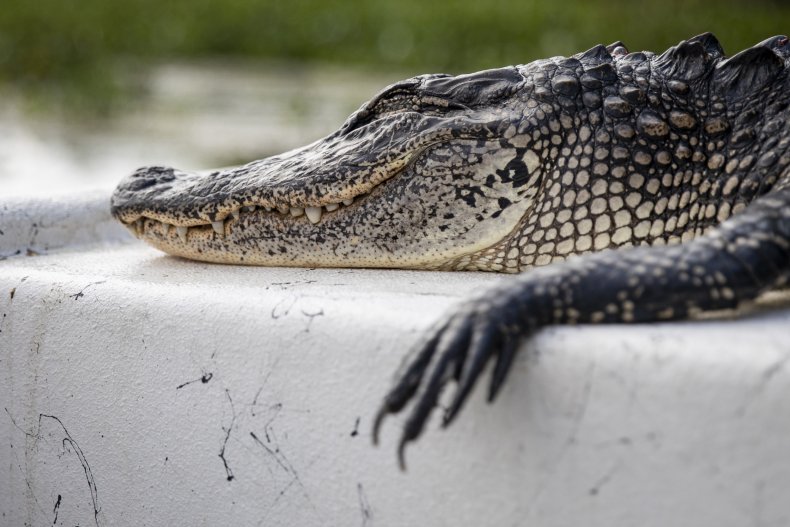 SFWMD said that Pollack's injuries are not life threatening and she has been given "quite a few stitches." It said that the area where she was bitten would not be a danger to others because it was not open to the public.
The U.S. Fish and Wildlife Service said that it was only the second time since 1951 that an alligator had bitten someone at that park.
However other visitors said the incident would make them more careful in future.
"You shouldn't be stepping on alligators, but if you don't know it's there, they're gonna bite you 'cause you're in their territory," said Mark Chiavola, a visitor from Delray Beach.
"I think we need to respect nature because we're walking into their area," said Steffanie Dolch, a visitor from West Palm Beach, according to CBS 12.
The Florida Fish and Wildlife Conservation Commission is investigating the incident.
Also in Florida, Cynthia Robinson said a 10-foot alligator ate her pet dog while they were out on a family walk around a pond last month. Robinson, of Polk County, said the animal attacked her 100-pound dog from behind and pulled it into the water.
That same month in Florida, a man managed to escape with minor injuries after leaping into a canal to rescue his pet dog, a chocolate Labrador, from the jaws of an attacking alligator.
Meanwhile in Georgia in August, a 360-pound alligator that was 10 feet and 6 inches long was captured and killed following reports that it had chased a kayaker in a pond.
Men licensed by the Georgia Department of Natural Resources took two hours to trap the animal, which was removed from the pond and taken to be processed for meat.
The Florida Fish and Wildlife Conservation Commission notes there has been an increase in alligator encounters due to "tremendous human population growth" in the state, with many people living close to water.