Video of Attorney Urging Republicans to Move to Georgia to Vote in Senate Runoff Elections Prompts Probes
After a video of a Panama City, Florida attorney urging Republicans to move to Georgia to participate in the upcoming Senate runoff elections went viral, the Florida Bar and the office of the Georgia secretary of state have both launched investigations into the lawyer.
The video was shared of attorney Bill Price addressing Bay County GOP members, telling them to move to the Peach State to help ensure Republicans win the runoffs. The video was shared on Facebook live, but has since been deleted.
In the aftermath of the video, WSB-TV reported that the Florida Bar opened a file on Price to see if he broke any rules. The probe could become an active investigation or lead to the bar's "monitoring of the event in the probe."
In the video, Price explains that he plans to vote for Republican senators Kelly Loeffler and David Perdue in the runoffs. "We have to do whatever it takes, and if that means changing your address for the next two months, so be it. I'm doing that. I'm moving to Georgia, and I'm gonna fight, and I want you all to fight with me," he says in the video.
At another point during the clip, Price answers Republican supporters, saying that they can also move using his brother's Georgia address or other residences in the state.
"If they need a driver's license, I'm gonna get a driver's license. If they need mail, I'm gonna have mail," Price says in the video.
A press release from the Georgia secretary of state indicated that Price did try to "register to vote fraudulently," but his status was still pending.
Price told WSB-TV that he'd simply made "humorous comments" (he'd jokingly invited the Bay County Republicans to be his "roommates" in Georgia), and his brother said that it was "tongue-in-cheek."
Price's statements also prompted an investigation from Georgia Secretary of State Brad Raffensperger. In a press release, the official warned that tampering in the election is a felony offense, punishable with up to 10 years in prison and/or a $100,000 fine.
On December 2, Raffensperger had released a statement announcing an investigation into groups, such as America Votes, Vote Forward and The New Georgia Project, which he said have encouraged fraudulent voting.
"Make no mistake, individuals who attempt to undermine the integrity of Georgia's elections will be investigated and prosecuted to the fullest extent of the law," Raffensperger said. "Those who move to Georgia just to vote in the Senate runoffs with no intention of staying are committing a felony that is punishable with jailtime and hefty fines. They will be found, they will be investigated, and they will be punished."
Raffensperger and other officials had previously warned those who are planning on moving to Georgia solely to vote in the runoffs. "If you voted for Senate in one state and moved here to another state—I know that's another thing that could potentially go before the courts because you've already cast a vote for a body that could be seated in January. Don't game our system," voting system implementation manager Gabriel Sterling said at a November press conference.
Newsweek reached out to the office of the Georgia secretary of state for comment, but did not receive a response in time for publication.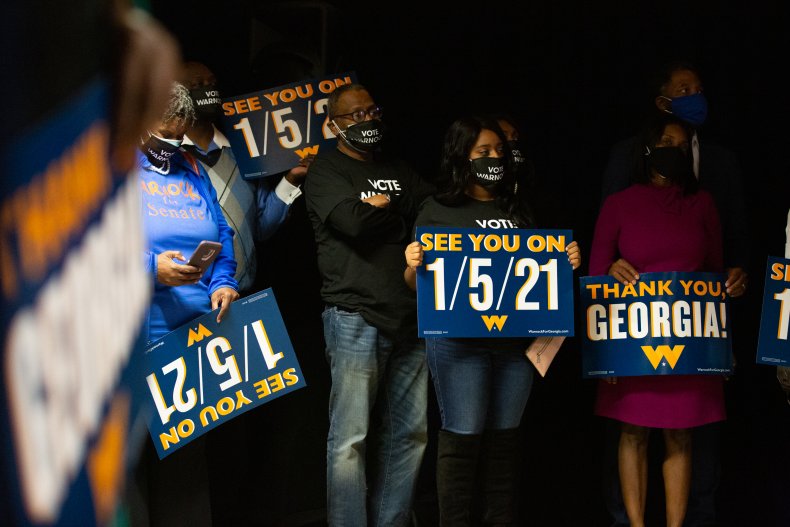 Correction: An earlier version of this story referred to the Florida Bar as the Florida Bar Association.