Florida Bars Are Shutting Down Again After New Positive Coronavirus Cases
About one week after almost all Florida counties transitioned into Phase 2 of the state's reopening plan, a handful of bars temporarily closed again after customers tested positive for the coronavirus over the weekend.
At least three bars in northern and central Florida announced closures because of virus concerns between Friday and Sunday, as the state's Department of Health (DOH) confirmed record increases in additional virus diagnoses following days of similar numbers.
Two of the three bars are located in Jacksonville Beach. On Saturday, CBS Jacksonville reporter Jamarlo Phillips shared a photo to Twitter that pictured Lynch's Irish Pub empty. Local news reports that followed cited comments from the pub's owner, Keith Doherty, confirming it would close for sanitation, after recent patrons tested positive for the novel virus. On Sunday, Phillips shared a screenshot of a statement shared to Facebook by the owner of the Wreck Tiki Lounge, another Jacksonville Beach bar, announcing its temporary closure.
"Our establishment has become aware of positive tests for COVID-19 and have visited our business," wrote owner Fernando Meza in the statement. "We will be closed the next few days to sanitize the bar and send our staff to get tested."
Newsweek reached out to the owners of Lynch's Irish Pub and the Wreck Tiki Lounge but did not hear back before publication.
This past Friday, an announcement posted to Facebook by Kiwi's Pub & Grill in Florida's Altamonte Springs confirmed its temporary closure as well.
"It saddens me to say that Kiwi's will be closing temporarily effective immediately. We have been informed by 6 different people today that they have been infected with the coronavirus and they have been inside Kiwis's within the last week. This may seem like an extravagant step, however we are taking no chances with the health of our staff and our customers," the announcement read.
On June 5, Governor Ron DeSantis permitted bars, taverns and pubs to accept customers at half capacity in nearly every Florida county under Phase 2 of his reopening guidelines. The order excluded Miami-Dade, Broward and Palm Beach counties, where local officials are determining their own reopening timelines.
Messages previously shared to Facebook by the three bars that recently closed in Jacksonville and Altamonte Springs suggested all four had reopened to some extent by the third week of May. Restaurants across Florida, along with retailers, museums, personal care service facilities and other establishments, started to reopen on May 18.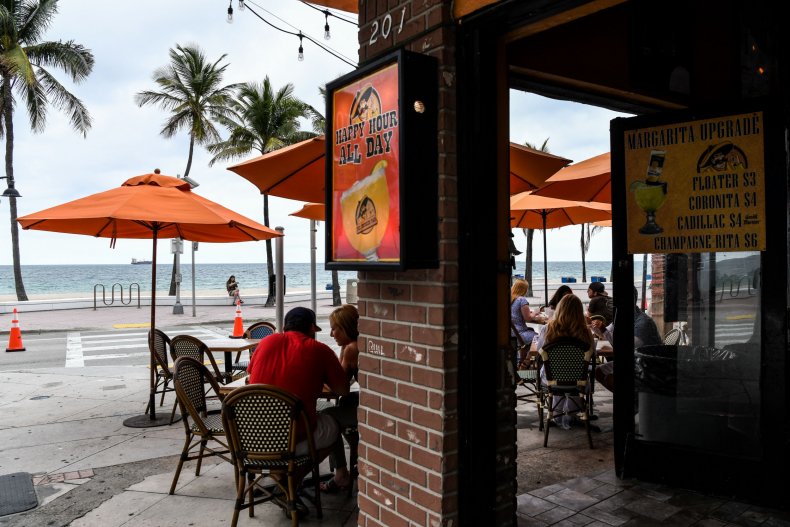 Florida has seen a spike in virus cases since the start of June. The DOH reported its highest daily increase in new cases on Saturday, with 2,581 additional diagnoses confirmed. The figure surpassed previous highs reported last Thursday and Friday. Sunday's latest report showed a slight decrease in new cases, to 2,016, compared with Saturday's data. However, Sunday's figure showed an increase higher than daily increases reported before Saturday.
Overall, 75,568 people have tested positive for the virus across Florida since the outbreak's onset, resulting in at least 2,931 deaths, according to Johns Hopkins University's tracker.
Newsweek reached out to the Florida DOH and DeSantis' office for comments but did not hear back before publication.