Florida Nightmare: Indiana Girl, 12, Who Picked up Flesh-Eating Disease on Vacation, Needs to Learn to Walk Again
A family from Indiana is warning about the dangers of the flesh eating disease Necrotizing Fasciitis after their 12-year-old daughter temporarily lost the ability to walk and nearly lost her life after swimming in the sea while on holiday in Florida.
Michelle Brown told FOX 59 how her daughter Kylei contracted the life-threatening infection during a family trip to Destin, Florida. Necrotizing Fasciitis is contracted when the water-borne bacteria enters an open wound. The 12-year-old had innocently dipped her toes in the water just days after scuffing her foot on a skateboard when she contracted the infection.
The family knew something was wrong with their little girl when, after returning to Indiana, her foot began to swell and Kylei developed a fever. When Michelle Brown rang the family doctor to make an appointment she was directed straight to the emergency room.
"When they told me we needed to go home and pack bags and get to Riley, my anxiety went from 0 to 110," Brown said. "I knew something was wrong."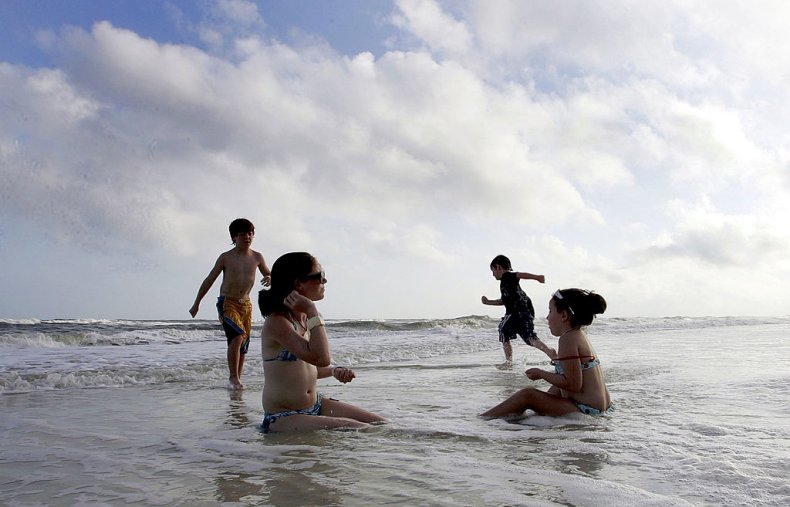 In the hospital Kylei's condition deteriorated as doctors tried to deal with what they believed at the time was a blood clot. "Her blood pressure was just continuously dropping," Brown said. "It was rough."
After Necrotizing Fasciitis was correctly diagnosed doctors opted for surgery. The aggressive response was needed to save the young girl's leg and her life.
"The emergency surgery was to hopefully save her leg, but more importantly, to save her life," Brown said. "If it wasn't for the quick responses and aggressive treatments, I wouldn't have her," the mother said.
Safely back at home Kylei is on a drip for antibiotics and is beginning the difficult process of learning to walk again. "I've told my mom I just want to be normal again with my leg," Kylei said as she starts therapy to regain strength in her leg.
According to the Center for Disease Control and Prevention (CDC) Necrotizing Fasciitis kills one out of every three people who contract the infection. It is crucial medical treatment is found quickly to treat it. The CDC warns those with open wounds they should avoid spending time in hot tubs, the open water or swimming pools where the deadly bacteria can spread.
Michelle Brown has said she is most concerned about making sure no family has to go through what the Browns have gone through, even if she counts herself lucky. "It's just so hard seeing friends and family on the beach having fun because we were there doing the same thing, and I almost lost her," she said. "It's hard for me to think about if I had waited one more day, or even a couple more hours," the mother added. "We're just very fortunate."