Florida Becomes Third State to Top 900,000 Coronavirus Cases, Behind Texas and California
Florida health officials confirmed close to 8,000 new cases of the coronavirus on Wednesday, pushing the state's overall infection count past 905,000 positive tests since the pandemic's onset. The most recent update follows weeks of increasing infections in Florida after transmission subsided notably between mid-July and late September.
With Wednesday's additional diagnoses, Florida became the third U.S. state to record over 900,000 virus cases, after Texas and California. As of Wednesday afternoon, Texas and California have confirmed more than 1.07 million and 1.05 million statewide infections, respectively, according to Johns Hopkins University's data. California, Texas and Florida are the nation's most populous states.
Florida's per capita rate of virus diagnoses, measured as the number of cases confirmed per 100,000 people, stood at 4,332 on Wednesday, according to the state's Department of Health. That ratio was lower than some recorded by health departments in less populous states where virus cases have also surged in recent weeks, such as North and South Dakota, Iowa, Wisconsin, Nebraska and others across the West and Midwest.
Even so, the uptick in Florida's infection numbers, coupled with its relatively high test-positivity rate, which exceeded 8 percent on Wednesday, is not without consequences. A high volume of cases and subsequent hospitalizations are concentrated in denser areas, like Miami-Dade County, where an influx of COVID-19 patients have been admitted to local medical facilities. Data showed that roughly 18 percent of the county's intensive care unit beds remained available on Wednesday, while most counties statewide reported that a majority of their ICU beds were occupied.
Florida surpassed 900,000 confirmed virus cases on the same day its education commissioner, Richard Corcoran, announced new protocols that will give students the option to learn remotely through the end of the current academic school year. An executive order issued in July allocated funding to Florida school districts that allows them to accommodate students who choose to attend school virtually.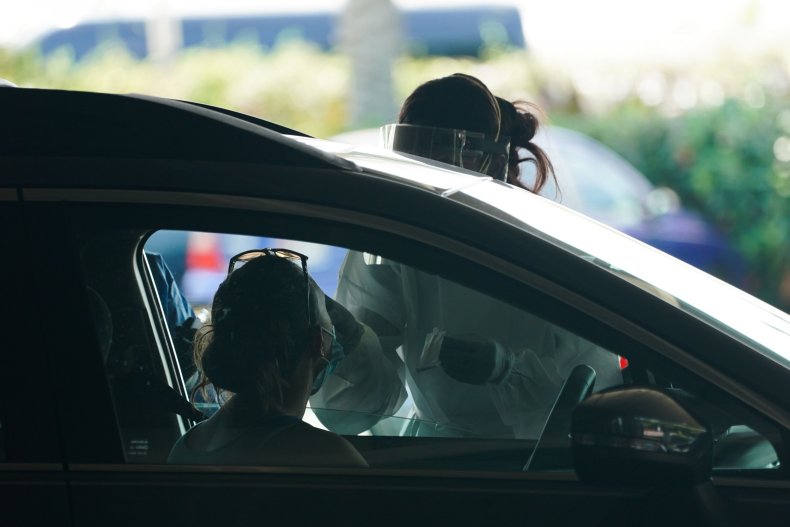 The terms of the order extend through the end of the fall semester. However, during a Board of Education meeting on Wednesday, Corcoran reportedly said officials are working to finalize an amended order that would continue to fund schools' remote instruction until the academic year ends. He noted that details of the final order would likely be settled before Thanksgiving, according to local news outlets, including The Miami Herald and WPTV.
Newsweek reached out to the Florida Department of Health for further comment but did not receive a reply in time for publication.