Florida Republican Wants to Make It Illegal to Approach Police Officers
A bill introduced in Florida would make it a crime to approach or harass first responders following an initial warning to back away.
Senate Bill 1126, which is sponsored by Republican state Senator Bryan Avila, aims to crack down on people "impeding, provoking, or harassing" police officers, firefighters or medical workers on duty.
The bill would make it unlawful for any person, after receiving a warning, not to further approach, violate such warning, or remain within 30 feet of a first responder who is engaging in their legal or emergency duty.
It would be illegal to "interrupt, disrupt, hinder, impede, or interfere" with the first responder's ability to perform their duty, provoke a physical response from the first responder, or directly or indirectly harass the first responder.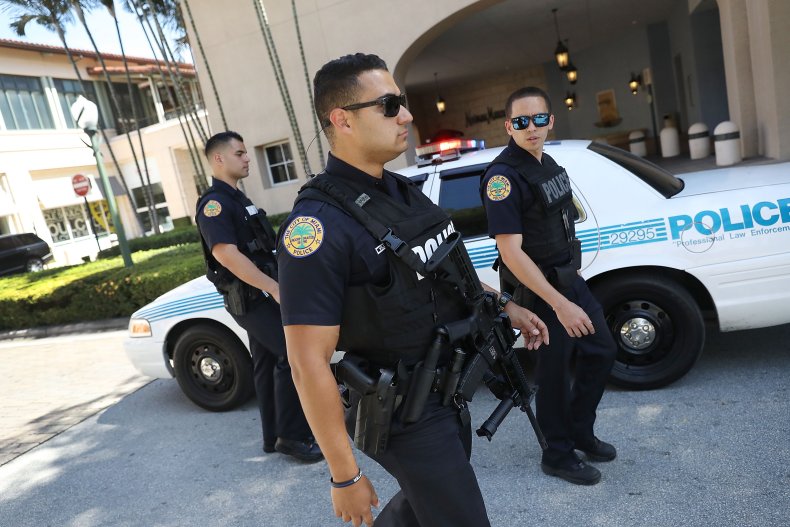 The bill would also make it unlawful to "make so much noise that a first responder is prevented from performing their official duties or providing medical aid."
Any person found violating the law would be charged with a first-degree misdemeanor, punishable by up to one year in jail and a fine of up to $1,000. If passed into law, Senate Bill 1126 would come into effect on October 1.
Avila, who represents Florida's 39th District, frequently expresses support for police and other first responders on social media.
On Tuesday, the state senator posted a picture on Facebook of cases of donuts he sent to a local police force.
"Many thanks to Chief George Fuente and the Hialeah Police Department for everything they do for our residents," Avila wrote. "This morning, my team dropped off a token of our appreciation for their hard work, unwavering dedication, and selfless service."
In an interview with A Day in Miami, Avila explained the reason behind the first responder bill.
"Our police officers, our firefighters are our paramedics, they're always certainly in the line of fire," Avila said. "This bill is really meant to create a sort of a buffer between somebody who doesn't have the best intentions in mind, and them being able to conduct their business.
"It is really meant to protect our first responders while they are in the line of duty and essentially creates a sort of a 30-foot boundary at which point, let's take a police officer, who is caring about their duty and essentially give somebody a warning not to come any closer.
"Then at which point that person does not abide by that request from that police officer, then this legislation protects that police officer and subdues the person that really doesn't have the best intentions in mind," he said.
The bill was criticized by the left-wing social media group Occupy Democrats, which called it "fascist" on Twitter.
"The Republican-controlled Florida Legislature proposes a fascist new bill that would make it illegal to approach a police officer at a scene after being warned to stay away — giving cops even MORE power that they can abuse," the group tweeted on Wednesday.
Newsweek reached out to Avila for comment.