Florida Boaters Head to Cuba for Solidarity Protest Off Island's Coast
Boaters in South Florida gathered Friday morning at the Bayside Marina in Miami, where they met before setting off toward Cuba in a show of solidarity with citizens protesting the island's Communist Party.
News station Local10 reported that the boaters planned to refuel in Key West before stopping about 12 miles off the Cuban coast. They said they wanted to support the thousands of people there as they endure a humanitarian crisis and demand an end to decades of one-party rule.
Boaters said they would not be entering Cuban territory in an effort to avoid escalation and potential consequences.
"The cause for this is so that we can get humanitarian approval that we're there supporting them and fighting with them," said one organizer, John Lopez. "We're trying to avoid anybody who tries to make it to land because we don't know the consequences of that, and I would hate to see anybody get shut down because of trying to make it to land."
The boaters added that they aren't trying to bring anything to the island but demonstrate to Cubans that they have allies in the United States. The group plans to light up the sky with Chinese lanterns, fireworks and flares at sunset.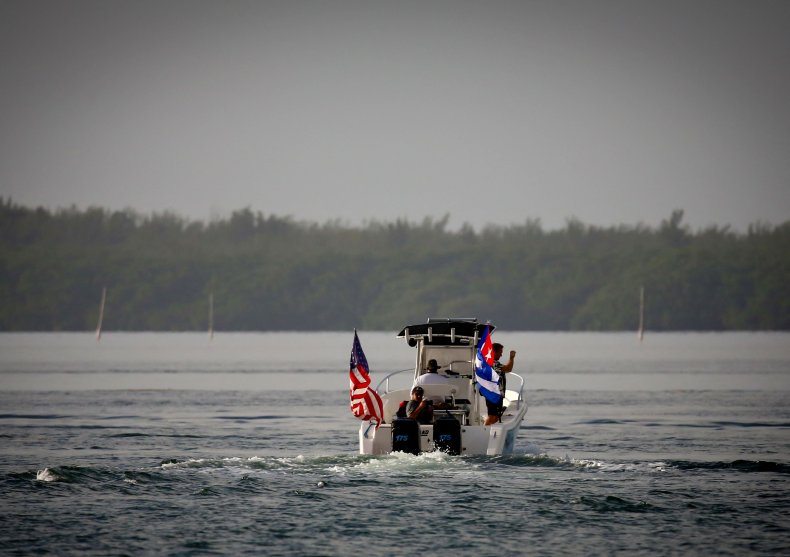 On Thursday, the Biden administration issued sanctions against Cuban official Alvaro Lopez Miera and a special forces unit known as the Bonias Negras for its actions against protesters as citizens rise up against the island nation's authoritarian regime in historic demonstrations.
Bonias Negras is an elite group charged by the government with cracking down on protesters, who are calling for an end to the Communist Party amid critical shortages of medicine, food and health care amid the pandemic.
Sanctions issued under the Trump administration have spurred a serious economic crisis that protesters say inspired the national demonstrations that began on July 11.
"Today, my Administration is imposing new sanctions targeting elements of the Cuban regime responsible for this crackdown—the head of the Cuban military and the division of the Cuban Ministry of the Interior driving the crackdown—to hold them accountable for their actions," President Joe Biden said Thursday.
Officials and activists say Cubans are being detained and sentenced to jail without due process for participating in the uprising. Cuban President Miguel Diaz-Canel said on state TV that trials had begun for protesters charged with crimes like inciting unrest, assault, vandalism and propagating COVID-19, infractions that could carry 20-year prison terms.