Video: Florida Police Parade Dozens of Suspected Fentanyl Dealers on Social Media—'This is What Happens If you Deal Drugs'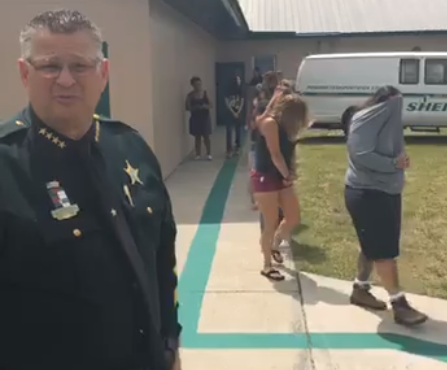 Florida police identified more than 100 suspects accused of dealing fentanyl, heroin and methamphetamine yesterday, bringing a months-long probe to a close.
Officials released footage yesterday showing suspects being paraded from a police building, taking the opportunity to issue a warning to potential drug dealers. The sheriff's office said the seized goods were "literally enough to kill every single resident" in the county.
"This is what happens if you deal drugs in Brevard County. You end up going to jail. This is one of the biggest cases our agency has ever worked or the county has ever seen. The individuals you see here were preying on the addictions of others by selling drugs. They are going to jail, and that's where they need to be," lead sheriff Wayne Ivey said in the Facebook Live video.
According to the Brevard County Sheriff's Office, which spearheaded the bust, deputies seized 75 firearms, more than $100,000 in cash and a slew of various hard drugs.
The batch included nine pounds of meth worth $81,000, three pounds of fentanyl valued at over $100,000, a kilo of heroin valued at up to $72,000 and a kilo of cocaine worth up to $32,000. "These people were making a pretty good living dealing poison to our citizens," Ivey said.
The sheriff named the three suspects who allegedly led the scheme as Brandon Huff, 35, Jonathan Walker, 42 and Megan Wilborn, 31. The police statement, which described opiate addiction as a "nationwide epidemic," said Brevard County had seen a recent spike in overdose deaths.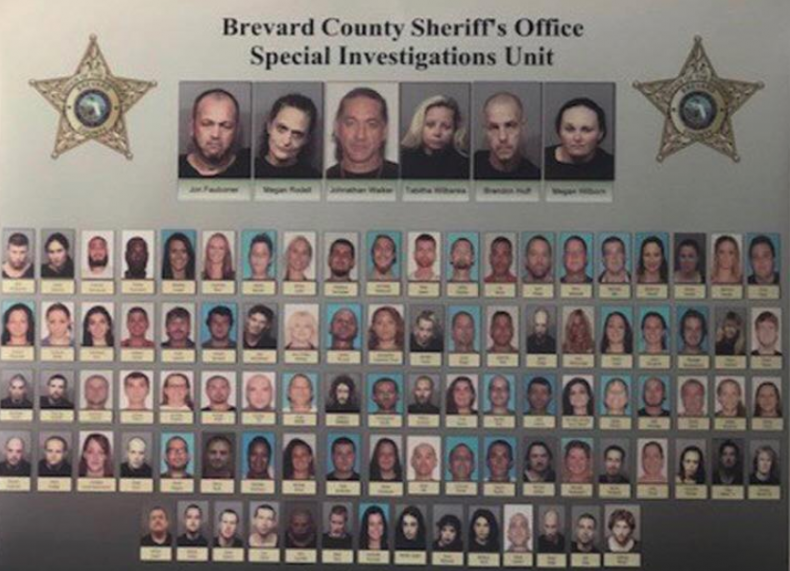 Medical examiner records state that 650 people have died from opiate-related overdose deaths in the past ten years, it noted, adding fentanyl is becoming "dominant in the opioid markets."
The 100 defendants are now facing charges that range from conspiracy to trafficking. Some had been detained under the Racketeering Influenced and Corrupt Organizations Act (RICO). If convicted, the charges could bring penalties of between three and 25 years in prison.
As of yesterday evening, 60 arrests had been made out of 104 total warrants.
In a press conference yesterday, state officials—including Florida Governor Ron DeSantis and First Lady Casey DeSantis—stood in front of a large board showing the suspects' mugshots.
"These are the faces of your next door neighbor, these are the faces of people you grew up with and went to school with," Sheriff Ivey told a pool of reporters. "These are the people who were selling this poison to everyone out there. When you look at the amount of fentanyl that was seized as part of this... [to] have that on the street in any capacity, you're looking at lives lost."
The U.S. Drug Enforcement Administration (DEA) says fentanyl is 80-100 times stronger than morphine.
The opioid is often mixed up with heroin, which can result in an overdose for users unaware of what they are taking. The sheriff's office warned it is a "threat to anyone who comes into contact with it as it can be absorbed through the skin or accidentally inhaled."
"Our team removed over 100 predators from our community who chose to create and then prey upon the addictions of others for their own personal greed," the official BCSO statement stated.