Florida Brewery Puts Adoptable Dogs on Beer Cans, Finds Two Pups Forever Homes
A Bradenton, Florida brewery is hoping to get a couple of their four-legged friends adopted while serving up some brew.
Motorworks Brewing has partnered with Shelter Manatee, a local Florida pet adoption group and part of Manatee County Animal Services, to release a four pack of Kölsch beer featuring the faces of four dogs in need of adoption. So far, two of the four dogs featured have found their forever homes.
According to the brewery's official website, all proceeds raised by the sale of the four packs will go to help Shelter Manatee build a new enclosure.
The cans were partially inspired by the brewery's regular "Yappy Hour," held at their own outdoor beer garden on every third Sunday. At Yappy Hour, leashed dogs may enjoy gourmet treats and mingle with other dogs while their owners tipple and socialize. All proceeds go to various animal charities via Motorworks Brewing's partnership with the Animal Network.
"This month's [partnership] happened to be with Shelter Manatee. And we were all three of us talking and just kind of said 'Hey, how can we raise awareness and the most funds for the shelter that's trying to build their new space?'" Barry Elwonger, Director of Sales and Marketing for Motorworks Brewing, told WFLA.
"Came up with the concept, went and shot some assets of the dogs and our in-house graphic artist put together some cans and we really turned the project around pretty quickly," he added.
"There's hundreds more dogs that are looking for homes we wanted to showcase. The shelter has some really wonderful dogs and [we encourage people to] go and check it out and look into a rescue," Elwonger told WTVT.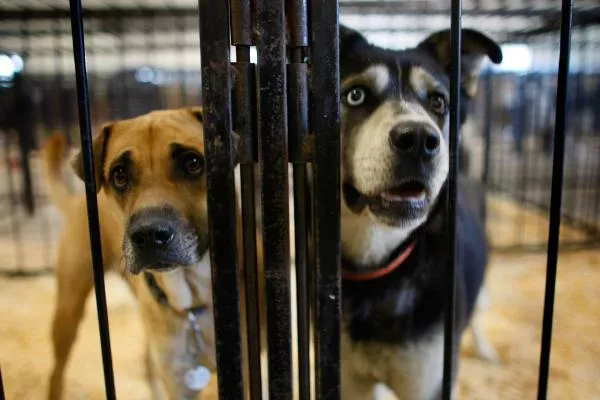 Approximately 150 of the available four packs have been sold thus far, nearly half of the brewery's stock, and they're available as four packs or in cases of 24 until it is completely sold out. Of the four featured dogs, "Candy" and "Day Day" are still open for adoption, as are hundreds of other dogs at Shelter Manatee.
Candy, a german shepherd/mastiff mix who has been with the shelter since June, is described as "smart and full of energy" by shelter workers speaking with WFTS.
"She loves nothing more than playing in one of our yards with a ball. A shelter environment, where she's in a kennel for most of the day, is not good for a dog like that," said Hans Wohlgefahrt, Manatee County Animal Service's outreach and event specialist.
"She's so friendly, she's like a tank, but with a heart of gold," Wohlgefahrt said of two-year-old Day Day to WTVT.
"In any given month, we can get up to 400 pets here. We are always looking for other strategies of getting exposure."
"We are overjoyed that the story has continued to grow. At this point, over half of the cans have been sold and we expect that the first batch will sell out in the next few days. We are already discussing producing a follow up batch," said Barry Elwonger in a statement to Newsweek when reached for comment.
Motorworks Brewing isn't the only brewery that's reached out to help canines in recent months.
A North Dakota brewery, Fargo Brewing Company, partnered with their local rescue, 4 Love of Dogs, to create a series of cans featuring pit bulls, and other hard-to-place dogs they called "one-der dogs." The November campaign, featuring six dogs and involving 40 cases of lager, so far has resulted in one adoption.
Elsewhere in 2019, a New Jersey pizzeria, Angelo's Pizza in Matawan, posted a call on their Facebook page asking people to submit pictures of their missing pets, which were then distributed with fliers attached to every pizza they delivered. The post went viral, spreading as far as Australia.
Angelo's has helped reunite at least one dog with its owner thus far, and the effort has spread to two other local businesses, The Little Cupcake Bakeshop and La Forchetta Ristorante Pizzeria, a franchise owned by sisters of Angelo's owner, John Sanfratello.
Updated (1/24/2020 12:07 a.m.): With a comment from Motorworks Brewery's Barry Elwonger.
{{#isDisplay}} {{/isDisplay}}